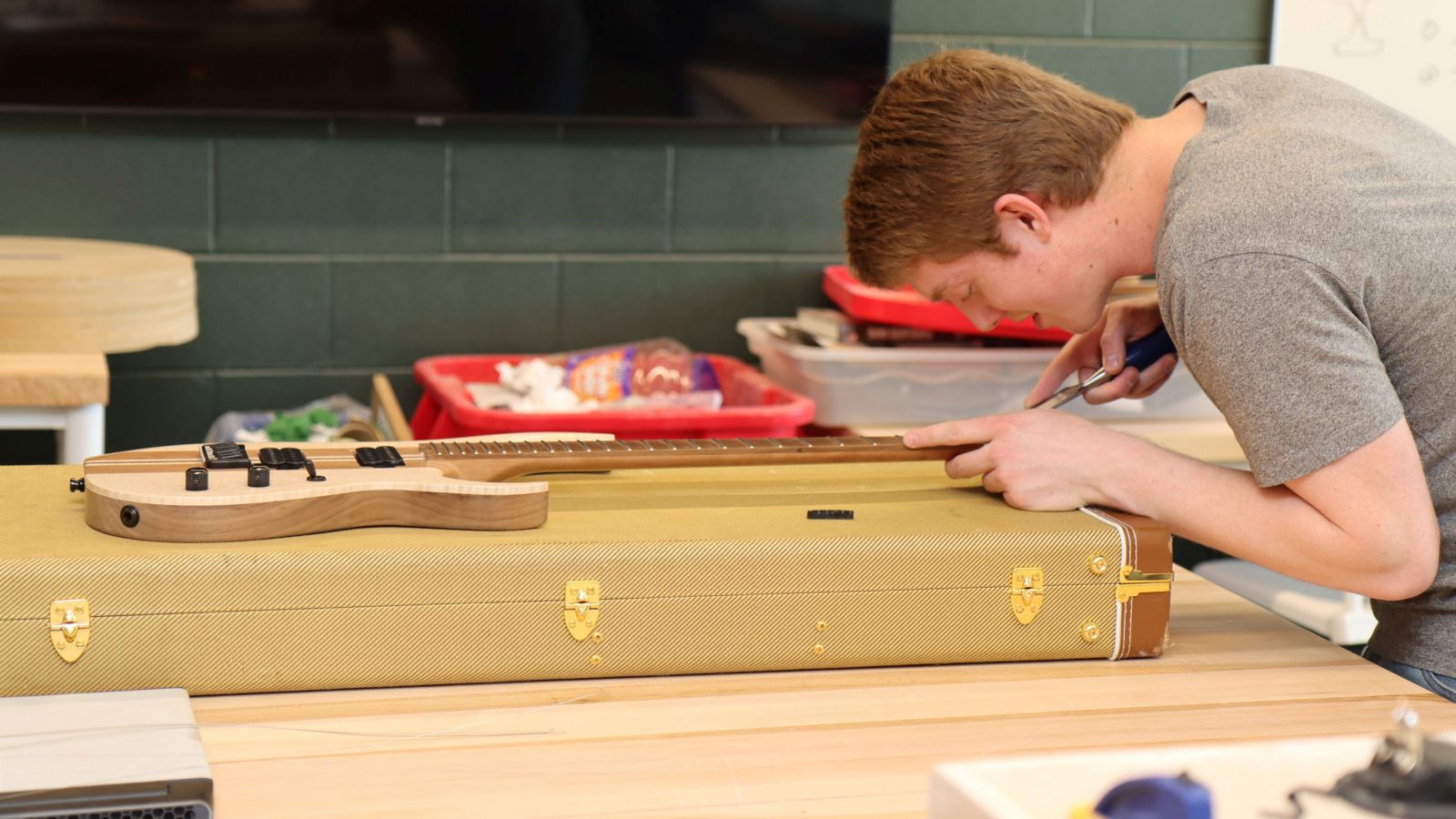 Gryphon Mawhorter has been making guitars for as long as he's known how to use power tools. A junior in audio engineering technology (AUET), it was clear to Mawhorter long before he reached Purdue University's Polytechnic Institute that simply playing guitar wasn't going to cut it for him.
"I've been playing since fourth grade, but at some point in my senior year of high school I prototyped the first one for myself," Mawhorter said. After receiving a secondhand CNC router (an electrically-powered woodcutting machine) from an uncle for his birthday, the journey to continually improve his guitar designs began.
Tailoring the learning experience

Since Mawhorter was "already into making guitars" by the time college came around, he wanted something that could enhance his skills in the musical world without having to abandon working with guitars hands-on. "Then I saw that Polytechnic had a relatively new AUET degree and that seemed perfect. That was right in line with what I couldn't learn on my own, but really wished I could. And then I went for a minor in wood products manufacturing just to further my current skills."
When speaking with Mawhorter, it can be difficult to believe his woodworking skills needed further development in the first place. To date, he has built six guitar designs – four guitars, one electric mandolin and a bass which he's already sold to a customer. When one digs into how he taught himself, Mawhorter's dedication to self-improvement is very clear. He spent his high school graduation money on woodworking equipment, and he personally made "pretty much all the furniture" in his current apartment.
But Mawhorter insisted that he still had a lot to learn when he got to the Polytechnic Institute, both within the audio engineering technology curriculum more generally and specifically from Mark French, who teaches MET 34900 (Stringed Instrument Design And Manufacture). The course, commonly known as "guitar lab," has proved to be immensely popular at Purdue and gives qualifying students the opportunity to walk away from the class at the end of the semester with their own handcrafted guitar.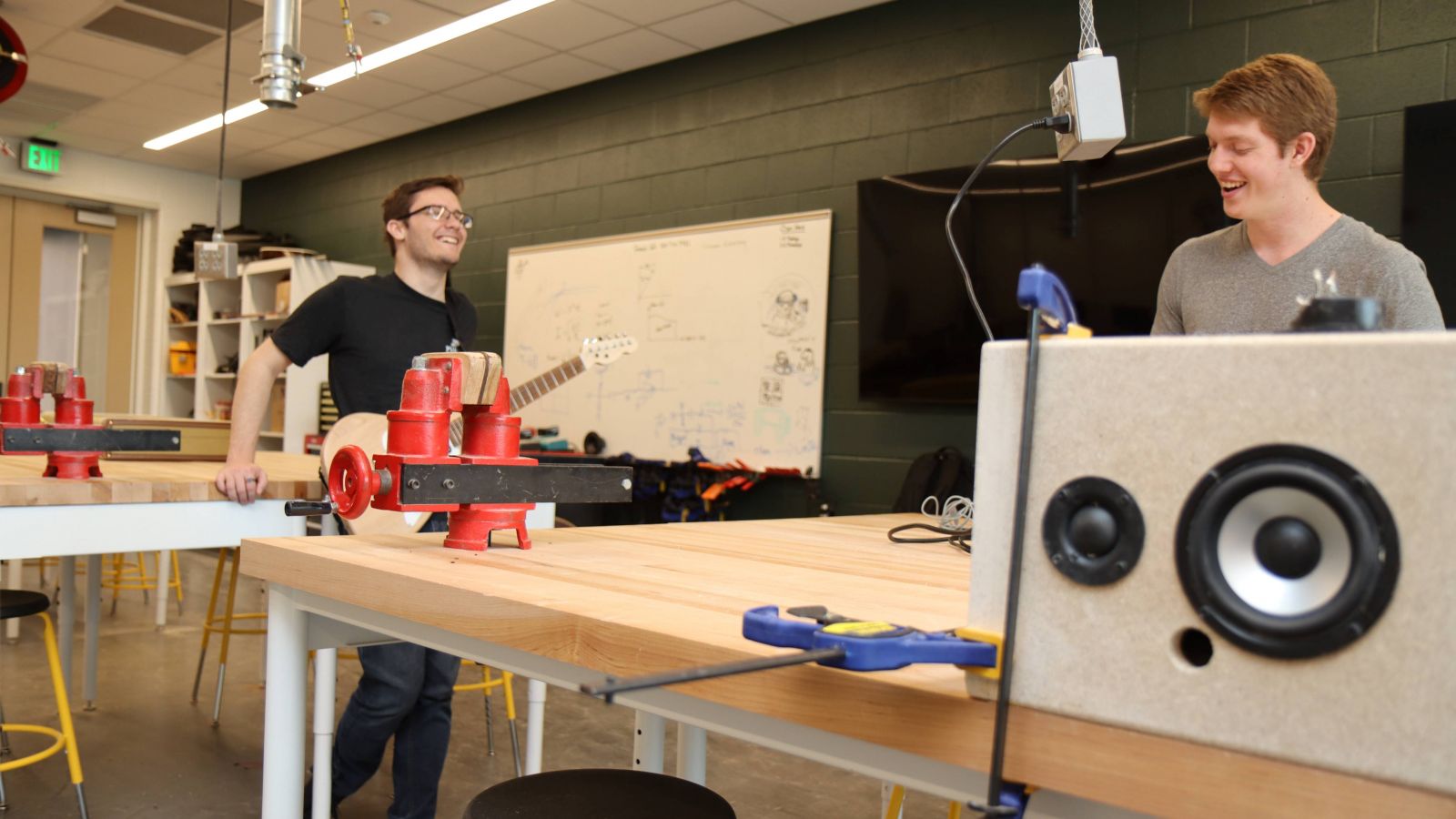 Brought into the fold

French's and Mawhorter's interests converged over this shared passion, which has led to a mentorship extending past the guitar lab course. Mawhorter now serves as French's lab supervisor at the class facility in the newly-opened Lambertus Hall.
In addition to his newfound lab duties where he helps students, Mawhorter hopes to continue advancing his own abilities alongside French, professor of mechanical engineering technology, and other peers in audio engineering technology and similar disciplines.
"It's been a really great experience to help other students as best I can with the knowledge I have, because that helps me learn more too," said Mawhorter. "I had a pretty decent self-taught background even before the class, but I've gotten to see [Mark] do a lot of his build process and I think we've learned from each other."
Mawhorter feels comfortable on the machines, but he says "Mark mostly builds acoustic guitars nowadays, which I haven't even dabbled in because they are almost totally handmade. His process for that seems very tough and impressive."
For French's part, he stated that Mawhorter is "absolutely thriving" in Purdue Polytechnic's guitar lab – and the two of them attribute a great deal of Mawhorter's success to the freedom of the Polytechnic's students to bring their preexisting interests into their formal education.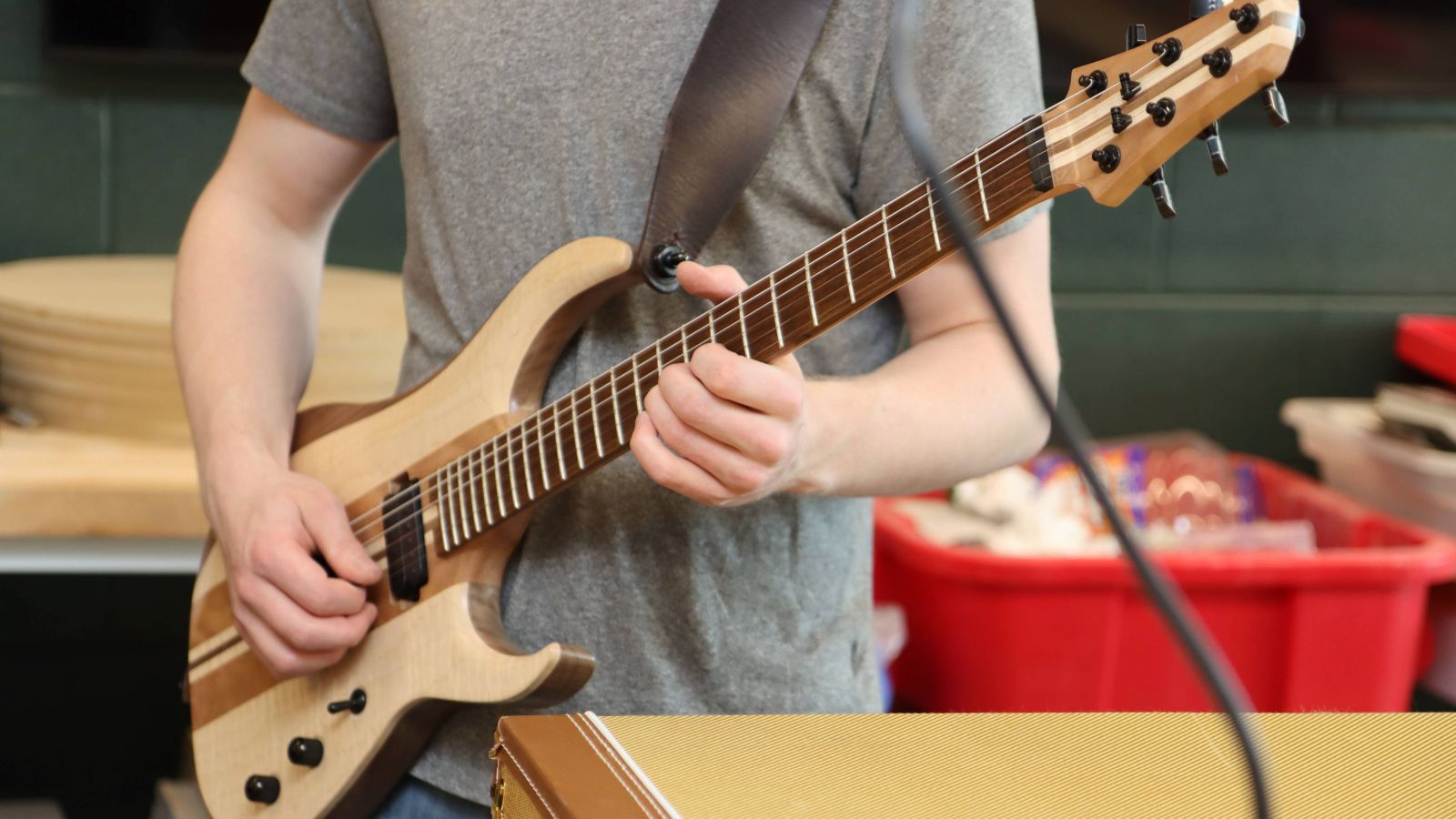 Hands-on learning

"I knew I didn't want to just get experience working in an office and nowhere else," Mawhorter said. "I'd love to be able to work for a guitar manufacturer at least for a while so I can get more industry knowledge. But longer-term, it would be awesome to branch off and do my own thing. When it came to deciding on college, I knew that Purdue Polytechnic was a lot more hands-on than my other options. I wanted to keep getting better at the things I'm good at, which meant getting practical lab experience in."
Mawhorter had a fully-online first year due to the COVID-19 pandemic, which has given him perspective on how important the tangible, hands-on nature of laboratory work is, especially in the wake of the guitar lab moving to Lambertus Hall's improved and expanded facility.
"If lab time wasn't available, I definitely would miss that experience. I mean, labs are a lot of work, but when I go to any of my labs I always find myself enjoying it," Mawhorter reflected.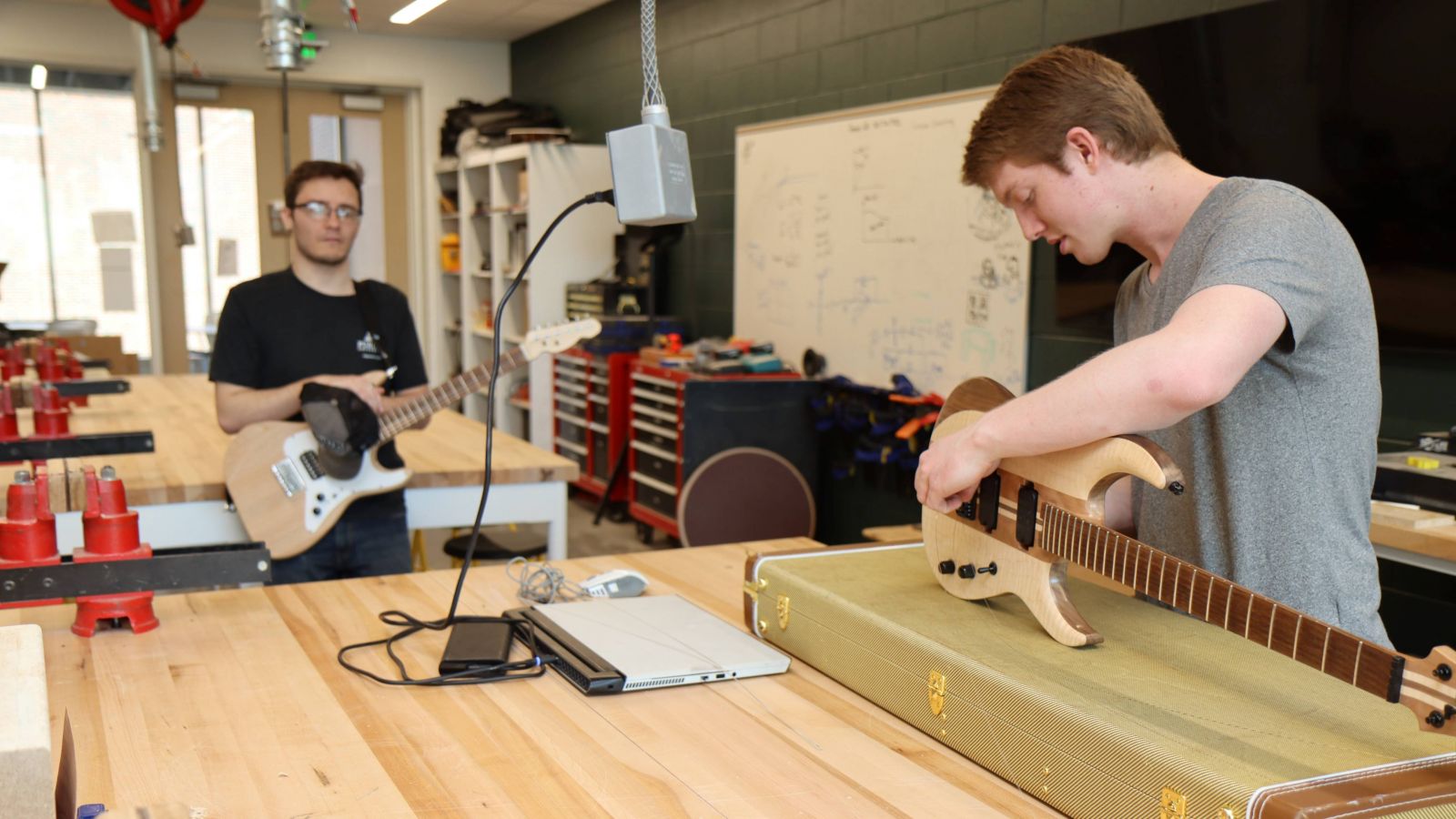 In his position as guitar lab's supervisor, Mawhorter has also seen the positive effects the experience has on students, both when they possess a prior interest in woodworking and musical instruments and when they're encountering it for the first time.
"If you've taken a lot of theoretical classes, the benefit you get in the lab context is that you learn how to apply it," he said. "For some, that's just natural – some guitar lab students just have a mindset for making things. The good thing is that, for the students who need a lot more help, the ones who have that 'making' mindset can actually be the ones who help others."
Lessons beyond the classroom

Mawhorter even performs live with his latest creation – always with a backup guitar, just in case something goes wrong.
He is particularly proud of it; it was one of two guitars he made during the 2022 fall semester, and this particular one was a class project for a different lab course (FNR 48410, Furniture Design for CNC Manufacturing) outside of the guitar lab.
"I walked into the guitar lab at the end of the semester with this instrument nobody had seen, and they were pretty surprised by that," Mawhorter said.
Mawhorter has picked up the pace in the past year. He began gifting guitars, as well as building both a custom bass and two remade models of his current guitar, one of which will have a much more complex art design and finish. These latest orders will actually be for profit, the logical conclusion given how far his abilities have advanced. Mawhorter said, "I finally have a level of confidence where I am more than happy to take orders from people. I know they'll get something that's worth the money based on everything I've learned about making these instruments."
Additional information