The Purdue Polytechnic Institute has achieved an all-time high enrollment for the fourth consecutive year. In fall 2020, 5,148 students are studying at our West Lafayette location, including 4,372 undergraduates and 776 graduate students.
"This impressive milestone is due to the hard work of our faculty and staff over the past seven years and is a direct reflection of our successful pivot to more online instruction during the global pandemic," said Dean Gary Bertoline. "We are thrilled that student interest in Polytechnic majors continues to be strong."
The quantity of new beginners in fall 2020 increased to 943 students, a change of +88% since 2013. During the same period, the University's new beginner growth rate was +40%.
In fall 2020, 21.3% of Polytechnic undergraduates were female, a seven-year change of +84%. During the same time frame, the quantity of male undergraduates increased by 30%.
Underrepresented minority student enrollment has grown at a 39% rate in the last seven years and is currently 11.7% of the Polytechnic's undergraduates. Overall, 12% of the University's domestic undergraduate students are minorities.
Since 2013, the Polytechnic's graduate enrollment, including students in traditional, online and hybrid graduate programs, has changed by +60%. The University's graduate enrollment grew by 19% during the same period.
Bertoline expressed gratefulness to Polytechnic faculty and staff for enabling four consecutive years of record enrollment.
"To each and every one who played a role in our growth," he said, "my message is this: 'Thank you, and well done!'"
First-year students' academic excellence and college readiness

New beginners in Purdue Polytechnic have achieved average ACT and SAT scores that are among the highest in the college's history.
*Beginning in fall 2017, SAT results reflect new scoring and are not comparable to previous years.
Polytechnic enrollment gains continue to outpace the University

Over the last seven years, the Polytechnic has achieved a 39% increase in undergraduate student enrollment and a 60% increase in graduate student enrollment. Our college's gains continue to outpace the University's undergraduate and graduate gains in the same time period. The total enrollment of 5,148 students in West Lafayette for fall 2020 is the highest in the college's history.* An additional 792 students are enrolled in Polytechnic programs at our locations in Anderson, Columbus, Indianapolis, Kokomo, Lafayette, New Albany, Richmond, South Bend and Vincennes.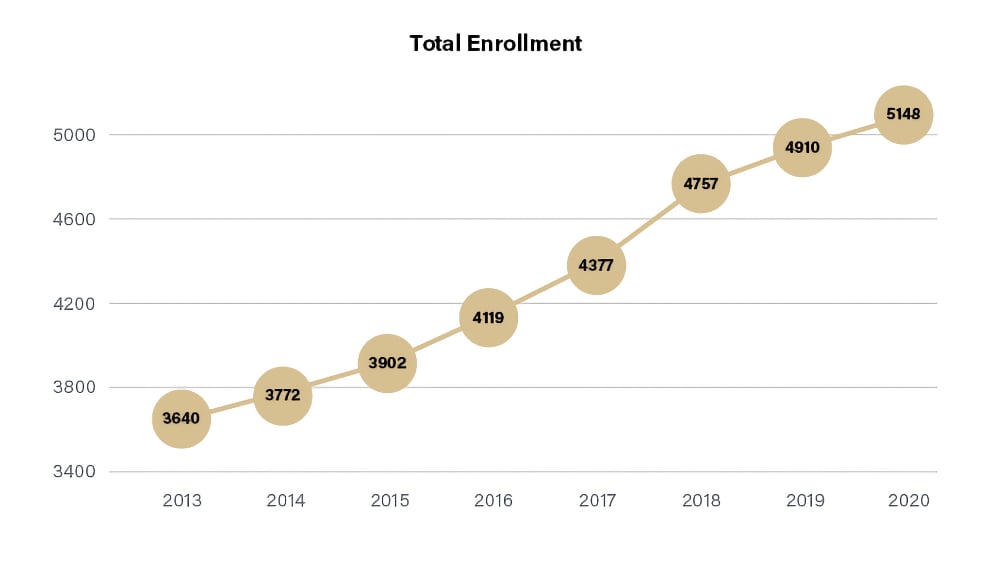 *All data and information is for Purdue University's main campus in West Lafayette, Ind.
Additional information