High school students who consider attending Purdue University have long obtained information about academic majors, learning environments, and life as a Boilermaker from websites, print materials, campus visits, and other traditional methods. To encourage prospective students to learn more about Purdue Polytechnic and its majors, staff members are discovering new ways to reach out.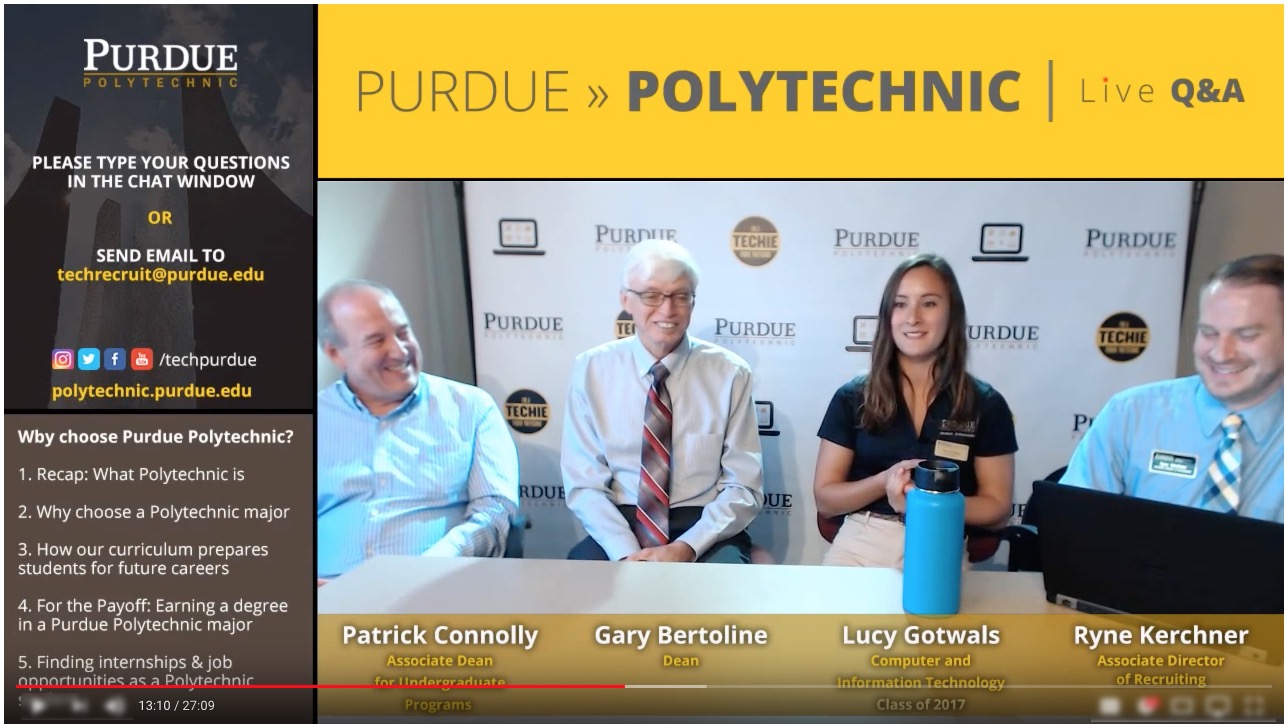 Ryne Kerchner, associate director of recruitment, has hosted a series of live broadcasts for high school seniors via Purdue Polytechnic's YouTube channel, providing them a way to talk with students, faculty, and staff without leaving home. To date, five broadcasts have featured several undergraduate students and faculty members, the dean, an associate dean, an Office of Admissions representative, and a recent Polytechnic graduate. Kerchner gathers panelists to discuss specific topics and to answer questions sent by viewers via YouTube's live chat feature.
"We all know how tech-savvy today's students are," Kerchner said. "By reaching out to them in an interactive online setting, we hope more high school students will discover that Purdue Polytechnic is unique and that we have a major which matches their interests."
Additionally, Doug Schreiber, associate director of outreach and recruiting in the Department of Technology Leadership & Innovation, and Kerchner are both attending several Boiler Bridge gatherings, a series of free community events in September and October held in cities throughout Indiana for college-curious youth and their parents.

"Boiler Bridge is helping us make personal connections with families around the state," Schreiber said. "Ryne and I are glad to represent Purdue Polytechnic at these events."
Schreiber and/or Kerchner plan to visit with prospective students and their families at the following events:
They previously attended the September 12 event at the Miami County Fairgrounds.
Additional information: