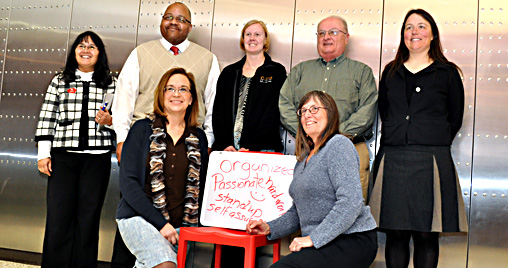 "We need more girl power in the power industry," said one student. "Women in technology rock!" exclaimed an administrator. "It's everyone's responsibility to take action (women included)!" added a graduate student.
Nearly 120 students, faculty and staff shared similar sentiments during the Red Chair Event, sponsored by the Women in Technology (WIT) student organization in March. As part of the national Sit With Me campaign, they embraced the slogan "sometimes you have to sit to take a stand" and invited others to offer insights about women in technology.
Participants wrote their thoughts on a white board and were photographed in the red chair.
The red chair is a symbol used across the country for the Sit With Me campaign started by the National Center for Women and Information Technology (NCWIT), a non-profit coalition that works to increase diversity in computing and information technology.