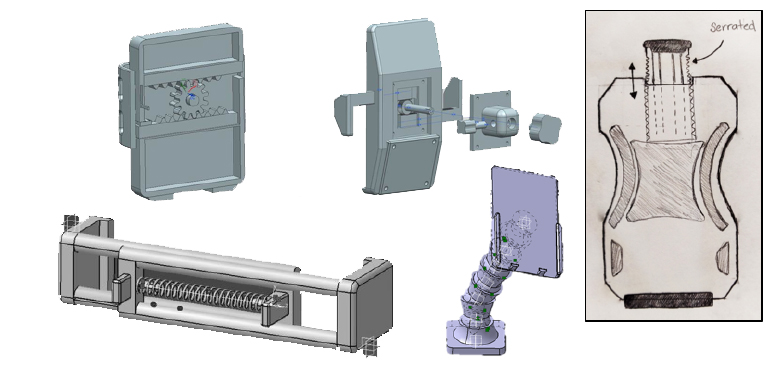 Computer graphics technology students from Purdue University offered their solution to distracted driving due to smartphone use during a recent competition sponsored by Partners for the Advancement of Collaborative Engineering Education (PACE).
Rosemary Astheimer, continuing lecturer in computer graphics technology, offered the opportunity to her students enrolled in CGT22600 (Introduction to Constraint-Based Modeling), and five teams participated. The course is offered by the Purdue Polytechnic Institute, one of 10 academic colleges at Purdue.
"When I first heard about the PACE competition, I was thrilled because it fit perfectly into the Polytechnic's initiative to produce graduates that have not only deep knowledge, applied skills, and experiences in their chosen discipline, but also problem solving, critical thinking, communication and leadership skills sought by industries and communities," Astheimer said.
Students were tasked to work in teams to design a device that could accommodate any of the four most popular smartphones and attach to an off-the-shelf bracket installed in an automobile. The solution was required to be an assembly that would minimize movement of the phone in the holder while ensuring access to power the phone. The goal of the project was to reduce distractions while driving that can be caused when using a smartphone as a navigation assistant, which in 2013 resulted in 3,154 deaths and an estimated 424,000 injuries in the United States.
The teams' performances were evaluated by employees of the General Motors Vehicle Tech Center in Warren, Michigan:
Alexander Barnosky, design group manager
Todd Oswald, design lead trim exteriors
Janet Goings, associate director & lab group manager
Nancy Neikrk, project manager at GM Knowledge Center
Laura McCausland, PACE Partner manager.
Also present at the evaluations were Astheimer, teaching assistants Shawn Ruemler and Alex Miller, and Amy Mueller, clinical assistant professor of computer graphics technology at Purdue.
"I was impressed with the ideas and approaches that the teams came up with and with the feedback that the judges were able to provide in a constructive way," Astheimer said. "I think the students found it beneficial to hear directly from industry experts that they were taking the same steps used in industry today and enjoyed the opportunity to interact and gain real world experience interacting with them."
Teams were evaluated on form, fit and function of their designs, presentation, and teamwork. Teams that placed were:
First place: Curtice Davidson, Conor Linkfield, Ryan McVeigh, Joel Phillips
Second place: Jordan Riddle, Jonathan Siefers, Devon Survance, Erick Wireman
Third place: Yao Li, Yimei Wan, Zeying Xu, Yuhaibo Yang, Zhendi Zhang
Fourth place: Callie Braithwaite, Samuel Ensign, Brittany Flamik, Keenan Schon, Ricky Medina
Fifth place: Sadat Ahsan, Kafis Bernadin, Kevin Russell, Joey Pietrzak