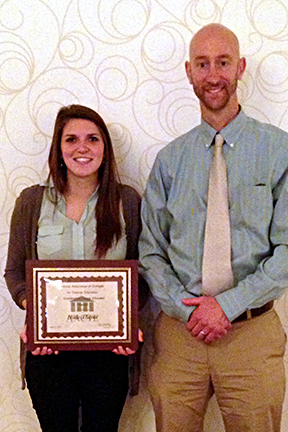 Hilde Thayer is one of five Purdue students named Outstanding Future Educators in Indiana for the 2013-2014 academic year.
Thayer, from Lafayette, Ind., is majoring in engineering/technology teacher education.
Any preservice teacher who student taught during the 2013-2014 academic year was eligible. Honorees are selected based on the strength of their nomination, scholastic achievement, student teaching experience and community involvement.
All award winners were recognized by the Indiana Association of Colleges of Teacher Education April 11 with a day of professional development, a luncheon and an awards ceremony.
The other Purdue honorees were: Keri Allen, elementary/special education; Ciara Carter, elementary education; Laila Lemcharfi, family and consumer sciences education; and Katelyn Pahud, elementary education.
Read more about Thayer's journey as future educator.
(Photo: Thayer is pictured with her professor Nathan Mentzer, assistant professor of technology leadership and innovation.)