Thirty teams of seniors in the School of Engineering Technology presented their final posters April 29 to complete their senior capstone experience.
The teams worked on sponsored projects with 19 companies and universities. The yearlong projects typically ask students to improve a process to increase safety, efficiency or automation for a customer. Projects range from products with a target audience in mind to improvements in a manufacturing process.
For example, two projects for FirstBuild, a co-creation community backed by GE Appliances, focused on improvements to cooking appliances. Students worked on "Eliminating the Knob: A Hands-off Approach to Venthood Control" and "Adjustable Height Range with Rotating Cook Top for Wheelchair-Bound Individuals." See their mid-year reports to the sponsor.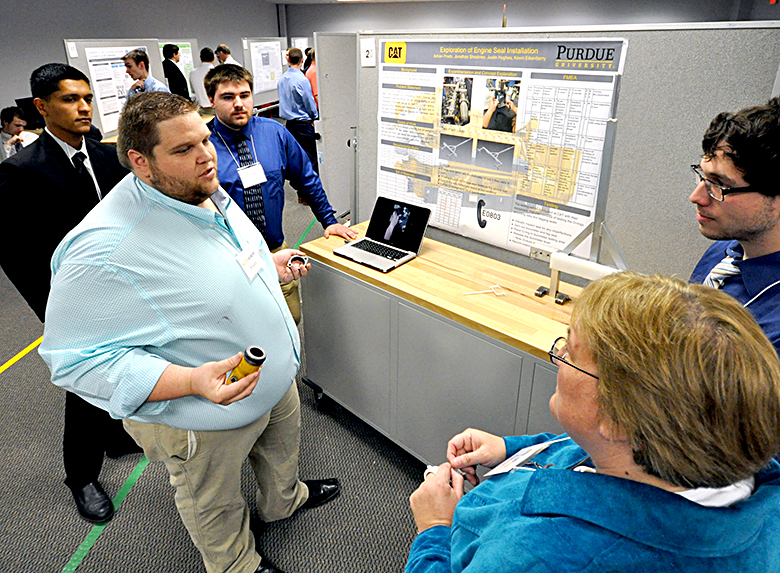 Two other projects concentrated on the inspection process in a manufacturing environment.
A group of four students tackled the Engine Seal Installation project for Caterpillar (photo above). The company asked the students to experiment with different ways to test water neck manifolds during the installation phase instead when an engine is completed. The team designed a two-point lever system for operators to use. It will be tested in the Caterpillar plant soon. (Project: Exploration of Engine Seal Installation; team members: Adrian Prado, Jonathan Shockney, Justin Hughes, Kevin Eikenberry.)
Another group took on the challenge of creating an automated vision system to inspect electronic products. The project was one of three international projects. Sponsored by Flextronics, the project was a collaboration with students at Gdansk University of Technology in Poland. The Purdue students will travel to Poland later in May to present their project to the sponsor. (Project: International Company Sponsored Capstone Project to Innovate and Enhance an Automated Vision System; team members: David Latka, Pranav Ravikrishnan, Nicole Attar, Megan Switzer.)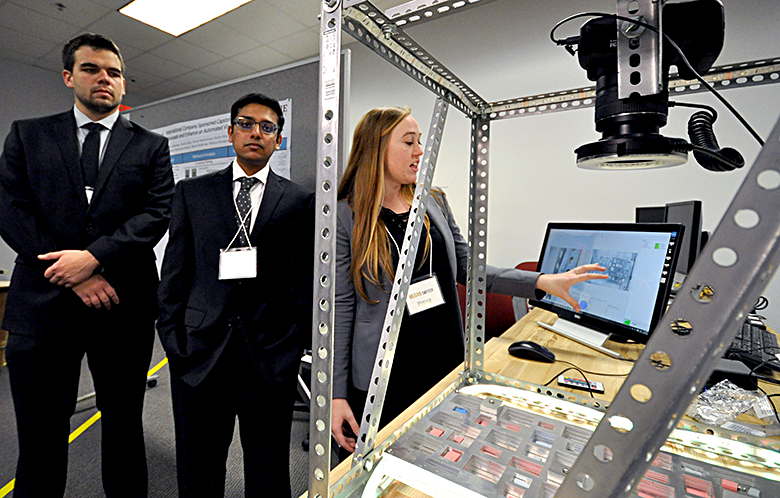 The complete list of the 2015-16 sponsors and their projects includes:
General Motors: Automated Conveyor Chain Inspection System
Subaru: Vehicle Line Transfer Errors Corrected by Vision System & Transfer Modification
GE Aviation: Automated Polyfilm Removal from Prepreg; High Accuracy CMC Nozzle Micro-Positioning Fixture; Portable Verification Vision System; Automated Loading of Electrode Collets for Electrical Discharge Machining; Integration of Laser Projections for Accurate Placement of LEAP Components
FirstBuild: Eliminating the Knob: A hands-off Approach to Venthood Control; Adjustable Height Range with Rotating Cook Top for Wheelchair-Bound Individuals
PowerSys: Analysis and Optimization of Off-Grid Power Systems
Kimball International: Re-Imagining Lounge Furniture with Mechanical and Wireless Charging Technologies
Caterpillar: Development of an Advanced Leak Detection System for Diesel Engines; Exploration of Engine Seal Installation
John Deere: Power Outage Map Interface Utilizing Schneider Electric Smart Meter Monitoring Software; Bin-Picking Using Baxter Robots and Object Recognition via 3D Vision
Internal Idea: Optimizing a Hydronic HVAC Temperature Differential using the Ideal Gas Law
Molex: Triaxis Camera System for Unmanned Aerial Vehicles
Biowall: Autonomous Vision System Analyzing Plant Health
Eaton (Forging): Improving Quality Assurance of Gear Blanks with New Automated Chute Design
Eaton (Clutch Assembly): Pre-Shipment Verification Systems via Vision System with Photo Archiving; Redesigning Data Acquisition and Reporting for Eaton Corp. Clutch Testing
Eaton (Hoses and Fittings): Skiving Hydraulic Hoses Using Innovative Techniques in an Industrial Setting; Re-engineering a Past Design: The Tag Wrapping Machine
Fiat Chrysler Automobiles: Automatic Asset Location Tracking
UTEC: Modeling the Future: Retrofitting Peruvian Homes with Sustainable Energy Systems
Northrop Grumman/UTEC: Internet Connected Weather Station
Flextronics/Gdansk University of Technology: International Capstone Project to Inspect Electronic Products using an Automated Vision System
Gdansk University of Technology: International Collaboration in the World Cup for Solar Powered Boats
Stryker Netherlands: Device to Facilitate Safe-Seated to Standing Patient Transfers
Lenze Corp.: Improving Motor Functionality and Life Expectancy through International Collaboration