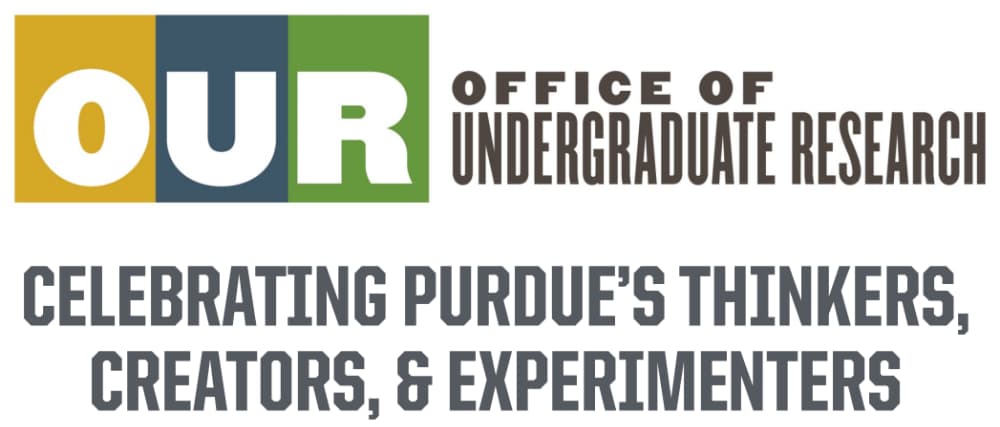 Undergraduate students in Purdue University's Polytechnic Institute presented research projects at the 2021 Purdue Fall Undergraduate Research Exposition, which took place November 15-22, 2021.
Working on their own or as a member of a team, students presented projects that were slotted into one of four categories: Innovative Technology / Entrepreneurship / Design; Mathematical / Computation Sciences; Physical Sciences or Social Sciences / Humanities / Education. Research projects featuring Polytechnic students are detailed below, and mentors who are Polytechnic professors are also listed here. For an unabridged list of all projects and mentors, see the expo's abstract booklet.
Innovative Technology/Entrepreneurship/Design

Byeongchan Jeong, Youngjoo Moon and Juhyung Kim (College of Engineering) and Heera Choi (Purdue Polytechnic), "Study Spot Availability Tracker"
Abstract: Purdue University has now seen the largest incoming class for Fall 2021 with more than 10,000 freshmen. The increasing trend of the student population has impacted students' daily lives and studies. From the survey that we have deployed over the summer, out of 57 students who had participated, 45 students or 80% of students felt uncomfortable finding seats to study. We have identified that the majority of students were studying at WALC and HICKS mostly around 6–8 p.m., but not at other studying areas. Overall, students were having trouble finding places to study, while there were plenty of vacant spaces around the West Lafayette campus.
To overcome this problem and effectively take advantage of the various studying spots around Purdue, we propose the "Study Spot Availability Tracker," a system that indicates seat occupancy in buildings that have a place to study. The tracker will detect the availability of each seat and display its occupancy through a web environment as well as a mobile application. The first and current existing prototype that was used to present at Purdue PESC Pitch Competition, utilizes a single ultrasonic sensor, but the team is planning on improving the detecting capability of the trackers for better accuracy. The current option for future improvements is either using multiple ultrasonic sensors or a single passive infrared (PIR) sensor, and the decision will be made by going over its cost-efficiency and practicality after thorough testing of the prototypes created using each sensor. To consider for diverse environments of the studying spots, we are also considering implementing thermal grid sensors for spots where the previously discussed two sensor options would be less applicable. Furthermore, statistic data regarding library usage trends will be collected and stored on the database through the PAL network and displayed on the website or mobile application on the room schematic.
The mobile application will be provided through the web environment, where the students can easily look up through their mobile devices. The website will be updated whether the seat is available or not simultaneously as the data gets updated. The website will use the link through Purdue pages on the World Wide Web, and the layout will be formed by libraries and the image of the spot so that students can easily know which seat they are looking at. By using an easily accessible platform, students will have real-time information on seat occupancy and effectively plan their place to study for the day.
Jaeeun Kim (Purdue Polytechnic), "Vision-based Multi-robot Navigation in Outdoor Environments"
Mentors: Byung-Cheol "B.C." Min, associate professor of computer and information technology, and Wonse Jo, graduate research assistant
Abstract: This study introduces a new method to engage multi-robot systems in outdoor navigation using affordable and reliable vision-based approaches. Outdoor navigation has been a challenge to many robotics systems, especially for multi-robot systems. Existing methods such as simultaneous localization and mapping (SLAM), motion capture system, or global positioning system (GPS) often require expensive equipment or compensate for precision. The proposed method only requires a generic webcam and OpenCV library. This allows, in a leader-follower problem, follower robots to identify and follow the front robot through image processing. And the leader robot receives input from a human operator who uses an external computer to control the robot. We tested and validated this proposed method with Clearpath Jackal mobile robots.
Katherine Klokkevold and Weston Keeven (Purdue Polytechnic), "The effect of thin interfacial layer on the mechanical properties of metal/Zerodur heterogeneous bonding"
Mentors: Sunghwan Lee, associate professor of engineering technology, and Michael Clevenger, graduate student
Abstract: Ceramic materials have been gaining increasing attention in a broad range of research and industry fields due to their unique mechanical, electrical, and optical properties. Because of this there has been an increase in ceramic to metal bonding in the use of displays, sensors, and other advanced applications. However, the bonding of ceramic to metal has been challenging due to the low wettability of ceramics, on which the adhesion of molten adhesive bonders is limited. In addition, the large difference between the coefficients of thermal expansion of the two dissimilar bonded materials develops significant mechanical stresses at the interface and potentially leads to mechanical failures. The three parts of research that were done to strengthen the ceramic to metal bond included optimization of interfacial thin metal films at the bonding interface, selection of bonding material, and creating a low-temperature bonding process at 250°C or below.
Vapor-phase deposition is a widely used thin-film processing technique in both academic research laboratories and manufacturing industries. Since vapor phase coatings do not require wettability or hydrophobicity, a uniform and strongly adherent layer is deposited over virtually any substrate, including ceramics. Through research, we will report on the effect of vapor phase-deposited interfacial metal layers on the mechanical properties of bonding between stainless steel and Zerodur (lithium aluminosilicate-based glass-ceramic). Direct-current magnetron sputtering was utilized to deposit various thin interfacial layers containing Ti, Cu, or Sn. In addition, to minimize the unfavorable stress at the bonded interface due to the large coefficient of thermal expansion difference, a low-temperature alloy solder, that is chemically and mechanically activated at temperatures of approximately 200 °C, was used.
Amaya McNealey (Purdue Polytechnic), "Optimizing Solar Energy ROI: A Case for System-Level Monitoring Dashboards to Validate Performance Expectations"
Mentors: Lisa Bosman, assistant professor, and Esteban Soto, a Fulbright Fellowship graduate student in the Department of Technology Leadership & Innovation
Abstract: Solar power generation has increased exponentially in the last decade. It is expected to play an essential role in generating renewable energy in the United States and the world in the future. One of the critical points for the return on investment of photovoltaic systems within the solar energy industry is to maximize energy generation. Yet, the problem is that solar energy systems do not have a system-level monitoring, so there is no way to know, in real-time, if the solar energy system is performing as expected. This study evaluates the estimated performance (viaindustry standard, PVWatts) to the theoretical performance (via weather sensors) to the actual performance (via power sensors) based on a variety of derate factors: age, seasonal generation, inverter type, and panel type. The findings justify the problem and demonstrate the need for a solution (e.g., solar energy system-level performance monitoring) to support further adoption of solar energy systems.
Pranav Shashidhar, Vichapat Upatising and Gladys Jordana (College of Engineering), Saket Kallam and Naren Ram (Purdue Polytechnic), Shaan Chanchani and Rohan Patil (School of Management), and Lael Keller (College of Liberal Arts), "VIP BIDC IoT"
Abstract: The Bechtel Innovation Design Center (BIDC) at Purdue facilitates students creating and exploring advanced manufacturing. This dynamic environment of innovation and creativity also presents safety risks for the people working inside the building. The VIP BIDC IoT team aims to mitigate and manage the risks through leveraging data analytics and machine learning on IoT edge nodes. The project aims to collect data using Internet of Things nodes that monitor the environment of the space through the sensors attached to the device. By processing the data through various algorithms, we can get a better understanding of the present situation. The BIDC employees and volunteers cannot know about every single safety issue that happens in their facility, especially if it is invisible. However, a widespread sensor array with a built-in analytics system can provide them feedback and information in real time that allows them to make safety focused decisions to better protect their students. We use an STM32 prototyping board that allows us to create a modular and adaptable hardware system along with a wide series of algorithms that we parse our data through. This gives us an immense amount of flexibility in our deployment of the project. Our end goal is to develop a system that efficiently and effectively monitors a building to provide swift and accurate safety information.
Mathematical/Computation Sciences

Kartik Pattaswamy (College of Engineering) and Saurabh Singhal (Purdue Polytechnic), "AI for Small Unit Manuever"
Abstract: The focus of this project is to assist the US Navy with beta testing for a challenge they are hosting on autonomous robotic systems – AI for Small Unit Maneuver (AISUM). The objective of the challenge is to enable a drone to autonomously explore a building of interest, perform object detection and deploy our code on a real drone. This research focuses on two areas: (1) Transitioning from a simulation environment to flying a real drone and (2) Enabling the drone to perform object detection.
For the first objective, we focused on writing software to fly a real-life drone. Previously, we used the Microsoft Airsim simulator to simulate a 3D map of the building of interest to test navigation scripts. To transition our software for a real drone, we utilized the PX4 Controller to bridge the gap between simulation and actual actuators that fly a drone. We used VOXL m500 drone to test the navigation algorithms using PX4 Software-in-the-loop.
For the second objective, we developed a YOLOv5 for object detection on ordinary objects (tables, chairs, drums). We created a dataset on objects-of-interest to the Navy to create a model to determine the feasibility of how potential competitors could perform in a competition setting. We looked at metrics like confusion matrices, testing accuracy and precision to set a baseline of how our model performs on our dataset. Currently, we are looking into methods such as reinforcement learning to improve the testing accuracy and reduce misclassifications and low confidence of correction object detections.
Physical Sciences

Molly Rothschild and Mingyuan Liu (Purdue Polytechnic), "The Effect of Carrier Density-Tunable Work Function Buffer on Amorphous InZnO Thin Film Transistors"
Mentors: Sunghwan Lee, associate professor of engineering technology
Abstract: Amorphous oxide semiconductor (AOS) thin film transistors (TFTs) have been intently explored as they are used as pixel switching elements in active-matrix liquid-crystal display technology and active-matrix organic light emitting diode displays. Metallization contact plays a major factor on the performance of AOS TFTs as high contact resistance sacrifices drain bias applied to the channel leading to power loss and inefficient carrier transport during TFT operation. Prior studies have aimed to enhance contact behaviors. However, those approaches require fabrication complexities due to factors such as chemical incompatibilities between dissimilar metals. The present study uses an interfacial buffer layer compositionally homogeneous to the channel layer to better align work functions between channel and metallization without fabrication complexities.
IZO TFTs with various thicknesses of a buffer layer were fabricated using dc magnetron sputtering. Electrical properties of the conducting buffer layer were characterized from Hall effects measurements. TFT device performance was measured using a semiconductor parameter analyzer. Chemical states of major elements and work function values were evaluated in an X-ray photoelectron spectrometer.
We found the addition of IZO as a buffer lowers contact resistance by better aligning work functions of the channel and metallization enabling improved carrier supply performance from the source to the effective channel region. The enhanced contact and carrier supply performance led to higher field effect mobility (13.41 vs 56.49 cm2/Vs) and a lower threshold voltage (7.44 vs 1.18 V) improving AOS TFT performance for fast[1]switching display applications.
Social Sciences/Humanities/Education

Robert Hastidt (Purdue Polytechnic), "Minecraft Modders and Their Ownership of Mods"
Mentor: Kathryn Seigfried-Spellar, associate professor of computer and information technology
Abstract: Video game communities, especially who's game of choice is a PC or Computer game, have a prolific modding scene. Modders, creators of downloadable addons or modifications to the video game, have come to dominate a part of how gamers consume gaming content. Yet very little research has been conducted into how the Modders feel about their mods, or more specifically, who owns the mod as a piece of intellectual property. Its common that mod teams becoming video game developers, either working for the video game companies, or working on an independent project using the mod as a design basis. The objective of the study will be asking Minecraft Modders, who both are over the age of 18, have at least one mod with over 100,000 downloads on the website Curse Forge, and have a mod currently available for the current version of Minecraft, version 1.17, to answer a questionnaire related to their experience with Modding, their feelings about their mods, their relationship with Minecraft, and who they feel owns the mods they create. The hypothesis is that Modders will feel that they own the mods they created. Minecraft's community was chosen due Minecraft being one of the best-selling video games of all time, along with having an active modding community across numerous websites. The website CurseForge was chosen due to ease of access to data, popularity for modding, and the embedded feature for contacting Modders. The questionnaire has been developed but data about the Modders has yet to be collected.
Kathryn Mueller (College of Education) and Daphne Fauber (Purdue Polytechnic), "Investigating U.S. Undergraduate and Graduate Students' Dynamic Identities Through a Virtual, Cross-Cultural Course"
Abstract: Educators have limited opportunities to engage with an international community, necessitating a professional experience to explore their own identities to develop intercultural sensitivity. The goal of the project was to examine how educators from around the globe explored connections between personal identities and intercultural sensitivity when they engaged in a virtual, intercultural course, Global Social Justice Education (GSJE). In GSJE, educators from China, Kenya, Nepal, Tanzania, Turkey, the United States, and Zambia met online every other week to discuss and reflect on social-justice focused activities. Educators had opportunities to connect with people from a wide variety of cultures, backgrounds, and lived life experiences. Two of the core objectives of the course were to develop participants' intercultural attitudes and skills as well as understand multiple world views by engaging participants in diverse educational contexts. By conducting research on the course, a foundation for future professional development can be constructed.
Additional information