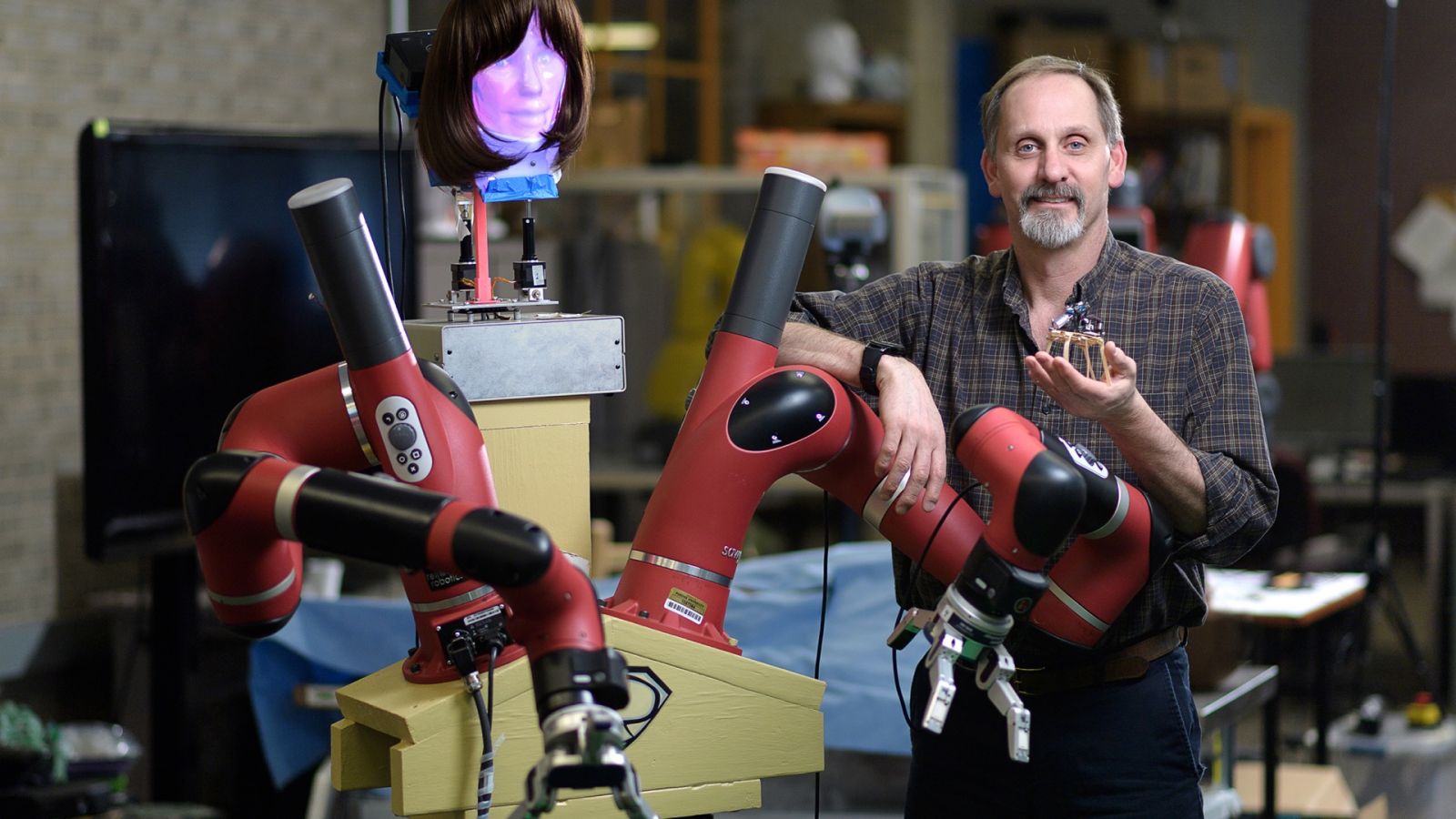 In April, a faculty review committee consisting of the Purdue Polytechnic Institute's named professors met under the direction of Carrie Berger, associate dean for research, to review nominations for the Daniel C. Lewis Professor in Purdue Polytechnic. The committee unanimously endorsed the nomination of Richard Voyles, professor of electrical and computer engineering technology and head of the Collaborative Robotics Lab, for the professorship.
"Professor Voyles is a very successful full professor in the Polytechnic and a scholarly leader in his respective area of expertise," said Gary Bertoline, dean of Purdue Polytechnic. "He has strong letters of endorsement and is a leader in our college. I fully endorse the recommendation from our review committee that Professor Richard Voyles become the Daniel C. Lewis Professor in the Polytechnic."
The professorship's five-year term is funded by Dan and Martina Lewis. Dan Lewis received his bachelor's degree in organizational leadership & supervision from Purdue in 1972. He went on to earn a master's degree in business administration from Fairleigh Dickinson University and an honorary doctorate from Purdue.
Lewis is the chairman of the board for the Salk Institute for Biological Studies and a retired senior partner with Booz & Company, a global management consulting firm. He is an expert in the aerospace industry, having an extensive track record of successfully leading multidisciplinary teams in strategy, operations, sales and marketing, and organization. He has spoken at major international conferences, such as the World Economic Forum, and at leading business schools on topics that include operations management, business and economic forecasting, and materials management.
Besides the Daniel C. Lewis Professor in the Polytechnic, Dan and Martina Lewis have funded the Daniel and Martina Lewis Early Career Faculty Endowment Fund and the Daniel and Martina Lewis Graduate Endowment Fund.