Travel directions

Using a navigation system? Enter the Purdue University Airport's address:
1501 Aviation Drive, West Lafayette, IN
Please be advised: Portions of State Street and adjacent streets in and around the Purdue University campus are closed for construction, so you may need to alter the suggested route accordingly. Please see this interactive construction map for details.
If you're coming from the north or south on Interstate 65, the following directions should be easy (though perhaps not the very shortest route):
Take I-65 to exit 175 (the Indiana State Road 25 exit).
Turn onto Schuyler Avenue. (Do not go north on Indiana 25!) Proceed southwest on Schuyler Avenue towards Lafayette for approximately 1 mile.
Turn right (west) on Sagamore Parkway. Stay on Sagamore Parkway for approximately 6.3 miles through and around the north side of West Lafayette.
Turn left (south) on US 52 / US 231. Stay on 52 / 231 for approximately 3.8 miles.
Turn right (south) on Airport Road. Student volunteers will direct you to a parking space. (Please see below.)
Parking

Please park in the lots adjacent to the Purdue University Airport. Parking is free. Student volunteers will help direct you to an available space.
Main parking lot or Overfill lot (see red boxes on map below)
Handicap (see blue box)
Sponsors (see orange box)
Students (see purple box)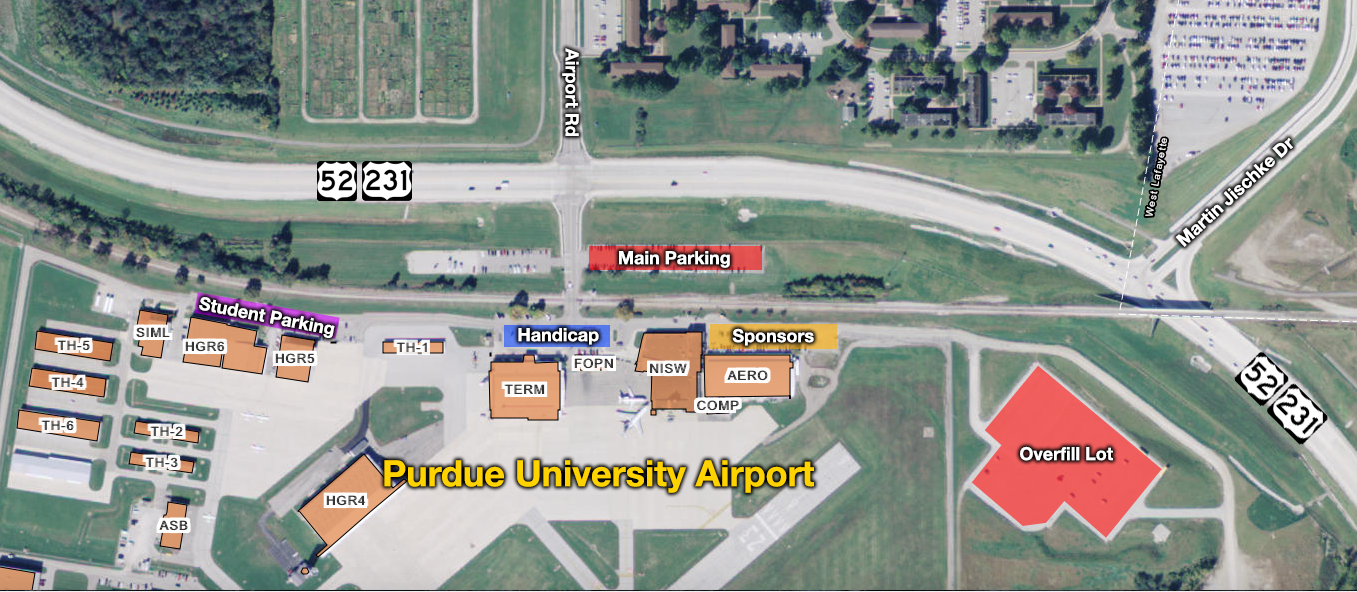 (Click the image to download a larger version of this map.)
Additional information