ENTREPRENEURS – AND A TRANSFORMATIVE ENVIRONMENTAL SOLUTION – ARE BORN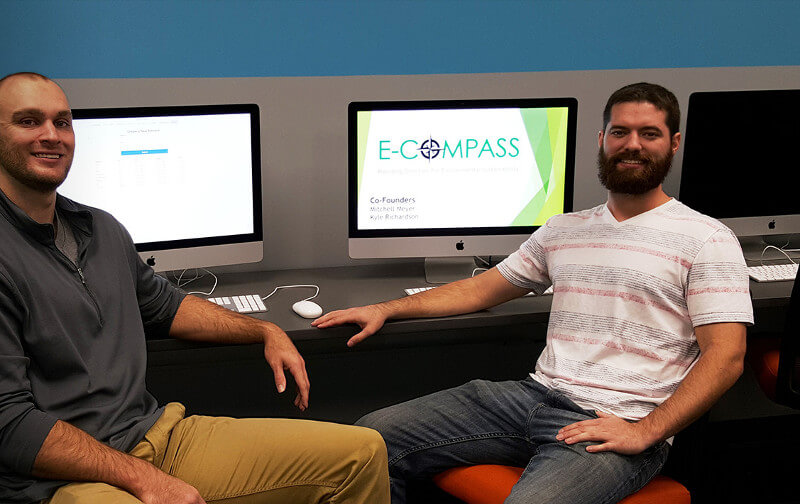 They met at a weeklong orientation for new employees of Samtec, a global interconnect company in New Albany, Indiana. Mitchell Meyer was a college graduate with a degree in environmental science and geology. Kyle Richardson — from Borden, Indiana (population: a few) — had a year of college under his belt. Both started in production and soon were in engineering roles, working with the Environmental Compliance group. This department documents specific materials used in products to satisfy regulations designed to keep hazardous material out of the environment.
It is a daunting task. Each year, Samtec ships millions of products in endless configurations to clients like Dell and Intel. Each item is inspected by hand. It didn't take long for Meyer and Richardson to determine there had to be a way to automate the materials declaration process, a potentially transformative change for Samtec and other companies.
"Our goal is to eliminate this labor by seamlessly providing up-to-date, accurate information for all possible parts and/or assemblies," Meyer said. "This ability would save companies like Samtec an incredible amount of time and money."
After garnering interest from Samtec, the pair decided to take their idea to fruition by entering Purdue Polythnic New Albany. Like many corporations, Samtec provides financial incentives to employees who pursue additional education or training. Meyer and Richardson enrolled in mechanical engineering technology specifically because of Polytechnic's focus on instilling students with the knowledge and tools of entrepreneurship.
"I wanted to learn about entrepreneurship because these are assets and skills I can use down the road. At Polytechnic, I have professors with industry experience and the approach is very different. It's about 'Here's an idea. Let's build it and test it.' It's real life," Richardson said.
Meyer also appreciates the Polytechnic's hands-on approach and its flexibility. "I work full time and Purdue Polytechnic is very flexible with its classes so I can work and go to school."
The pair's passion caught the attention of Polytechnic faculty member Tim Cooley. He suggested they enroll in a two-semester class on entrepreneurship that includes Lean Launch methodology, which teaches students how to take a new technology or company from concept to commercialization. They took his advice.
The class had added a proven structure to the pair's development of their materials declaration program, which they have since branded as e-compass. Under the mentorship of Rustin Webster, visiting assistant professor of engineering technology, and Richard Kopp, associate professor of computer graphics technology, they applied for and received funding from Polytechnic via a Commercialization and Research Grant. They plan to use the funding to continue advancing their idea so that one day soon, Samtec can automate the required materials breakdowns for environmental regulatory and customers requirements.
"Environmental issues are huge and becoming more important everyday. Being able to do this for Samtec and other companies is very cool," Richardson said. "And it will look good on our resumes!"