Technology Advanced Girl Scouts

Rising 6th, 7th and 8th graders!

Join Purdue Polytechnic and the Girl Scouts of Central Indiana for a four-day exploration of the "T" in STEM and see how technology can make the world a better place. You don't have to be a Girl Scout to join this camp but you'll be ready to take the pledge once you've finished it.
Learn how to use subjects like animation, cyber security, robotics, building information modeling or engineering technology, to enhance your skills and build a better tomorrow.
Our campers will live and eat within a Purdue residence hall, join the ranks of those that have complete the "Boiler Challenge" or bowled in the Union Rack and Roll as "Techies" and Boiler Makers.
Discover your research skills as we complete a themed research project and earn your badge in technology with the Polytechnic.
Camp Date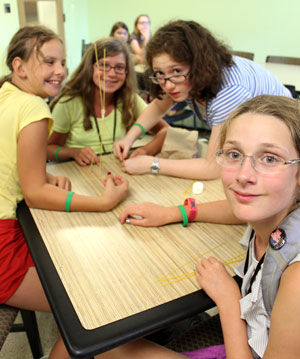 TAGS is scheduled for July 16-19, 2018.
Sample Schedule

9:00-11:45a Academic Sessions
12:00-12:50 Lunch
1:00-1:50p Envision Center Tour / Project Prep
2:00-3:30p Campus Scavenger Hunt & Fountain Run
4:00-5:00p Dinner (Ford Dining)
5:30-8:00 Rec & Wellness Center Tour and Play
8:15-9:00p Girl Scouts end of Day recap
9:00-10:00p Rest & Relax (next day prep or pack)
10:00p-8:00a Quiet Hours
Cost and Accommodations

$320 per person, including room and board and all activities. There is an additional $40 fee if you are not a Girl Scout that will register as a national Scout through September 2018.
Check-in time is July 16 between 8:30 and 9:30 a.m.
Registration

Registration is now open. Click this link to be routed to the registration page.
If additional information is needed or you require an accommodation or special assistance due to a disability, email techrecruit@purdue.edu or call 765.494.4935.
Questions?

About the program:
Contact the Polytechnic main office
765-494-4935
About registration:
Contact Kendra Nowell
(317) 924-6811
knowell@girlscoutsindiana.org