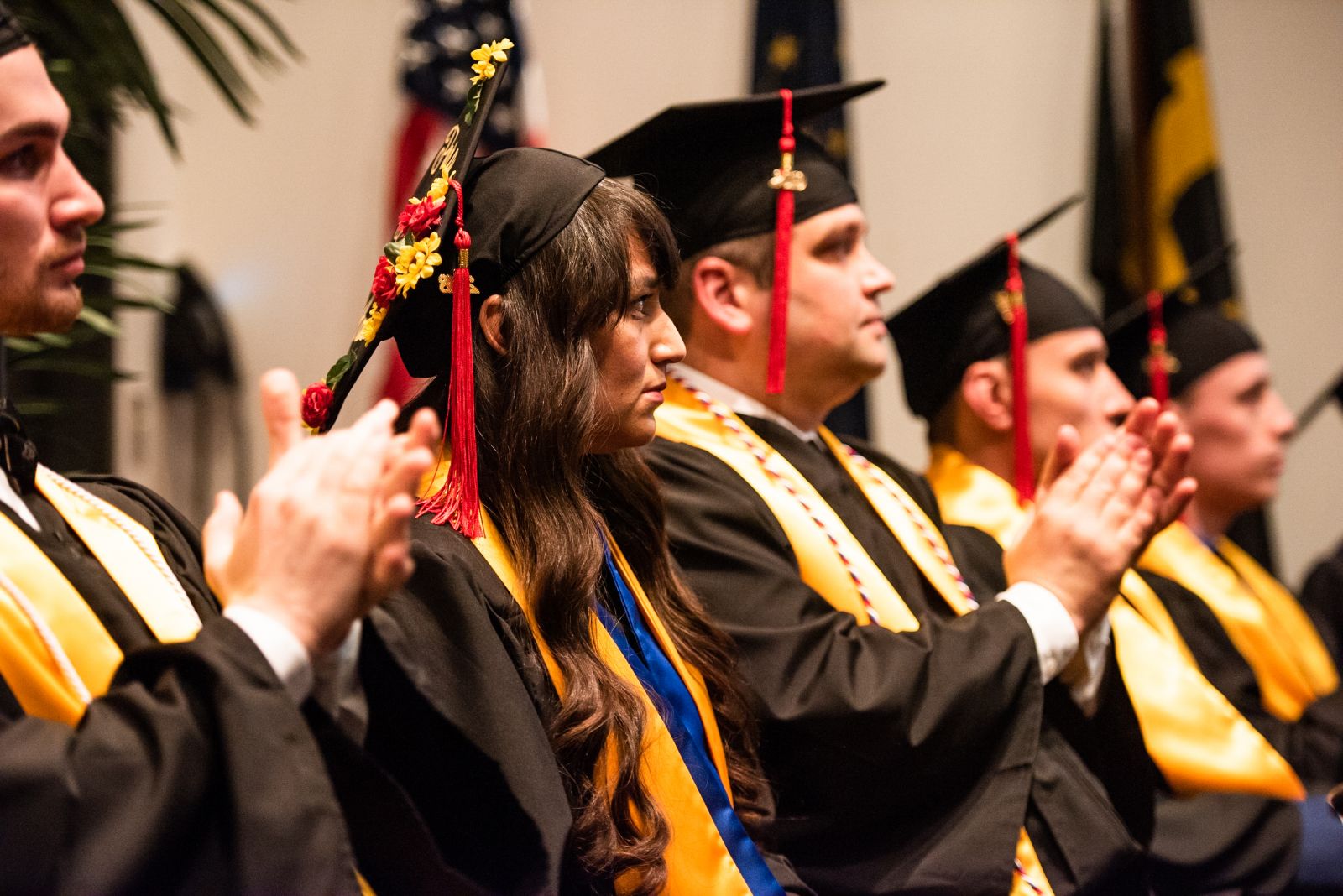 CONGRATULATIONS!

Commencement for December 2019, May and August 2020, graduates is scheduled for Wednesday, May 13, 2020. The Purdue University Commencement will be held in the Columbus Learning Center, beginning at 6:00 pm. A reception honoring graduates and their guests will follow the ceremony. Dr. Joseph Fuehne, Director for Columbus, will preside over the ceremony.
SENIOR PICTURE DAY
Purdue Polytechnic Columbus students graduating in December 2019, May, 2020, or August 2020, will have the opportunity to have a professional photo taken (at no cost). Professional dress is recommended. Graduation candidates will receive a digital copy of their professional image.
PURDUE POLYTECHNIC COLUMBUS CLASS OF 2020 COMMENCEMENT SURVEY
All graduation candidates are asked to complete the Senior Spotlight Commencement Survey. This survey aids our staff in planning the 2020 commencement, so it is vital that each candidate completes the survey. The link to the Senior Spotlight Survey will be emailed to candidates in February 2020.
PURDUE'S FIRST DESTINATION SURVEY
Graduation candidates need to complete the Purdue University Graduate Exit Interview. This is an online survey which can be completed in a few minutes. Candidates will be provided with a link to the survey a few weeks prior to commencement.
PRE-COMMENCEMENT CELEBRATION
This event will take place 4:30-5:45 pm in the Columbus Learning Center student commons. Additional details forthcoming.

COMMENCEMENT ATTIRE
All candidates who participate in the commencement exercise must wear the university-approved attire. Academic attire is purchased by the graduate. The regalia package includes the cap, gown, and tassel with medallion.
The Herff Jones website is now active. Students participating in the Purdue Polytechnic Institute Columbus commencement on Wednesday, May 13, 2020, will need to order their regalia from Herff Jones at www.herffjones.com/college/graduation.  ORDER DEADLINE: MARCH 26, 2020.
ANNOUNCEMENTS
Personalized graduation announcements are now available for purchase from Herff Jones. Order online at www.herffjones.com/college/graduation.  Order deadline: March 26, 2020. Announcements are OPTIONAL.
ACADEMIC HONORS
Students graduating with Distinction and Highest Distinction will be recognized during the ceremony.
May 2019, Summer 2019, & Fall 2019 Grads Academic Honors GPA
May 2020, Summer 2020, & Fall 2020 Grads Academic Honors GPA
Distinction
3.74
Distinction
TBD
Highest Distinction
3.96
Highest Distinction
TBD

HONOR CORDS
University honor cords will be distributed on graduation day to degree candidates who are candidates for graduation "with Distinction" or "with Highest Distinction".
STUDENT AMBASSADORS
Student Ambassadors will be distinguished at the commencement ceremony by wearing white cords.
VETERANS
Veterans of the United States Armed Forces will be distinguished for their honorable service to our nation by being presented with red, white, and blue cords.
GUESTS/GUEST TICKETS
Your graduation day is an important milestone to celebrate with your family and friends. Seating will be limited; however, as the seating capacity in the lecture hall is 200. Although we would appreciate all students participating in commencement, it is not mandatory. Therefore, once we know how many graduates plan to participate we will be able to let you know how many guest tickets you may have. Each guest must have a ticket to enter the Lecture Hall. Small children sitting on someone's lap do not need a ticket for entry.
Please contact a Purdue Student Affairs Administrator with any questions you might have regarding the commencement ceremony. Anji McKinney can be reached by phone at 812-348.2041 or by email at amckinne@purdue.edu and Whitney Ramer can be reached at 812-348-2027 or wnramer@purdue.edu.
SPECIAL NEEDS
Candidates who require special assistance to participate in their commencement exercise should contact Student Affairs Administrator, Anji McKinney at 812-348-2041 or amckinne@purdue.edu at least one month prior to commencement to make appropriate arrangements.
Candidates with physically restricted guests who require special seating should also contact Student Affairs Administrator, Anji McKinney at 812-348-2041 or amckinne@purdue.edu to make appropriate arrangements at least two weeks prior to the commencement ceremony.
COMMENCEMENT PHOTOGRAPHS
A professional photographer will photograph graduates in the Learning Center as well as take photographs of graduates receiving their diploma cover. Several group photos will be taken with the Purdue Polytechnic Deans, faculty, and graduates.
RECEPTION
A reception honoring the Class of 2020 and their guests will be held in the Learning Center Student Commons immediately following the ceremony.
PURDUE ALUMNI ADVISORY COUNCIL (PAAC)
The purpose of PAAC is to create awareness of and support for the college through event planning/management, scholarship support/fundraising, and community activities. Please stop by the PAAC table after the ceremony to meet several college alumni, learn more about PAAC, and pick up your gift. For more information on PAAC, please email paac47203@gmail.com.