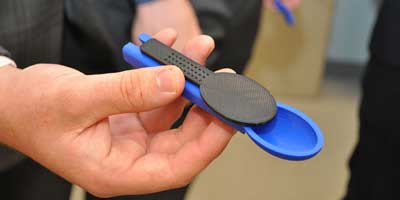 The Sealy/Seal Spoon

A sealable spoons for persons with movement disorders who might no longer be able to use conventional eating utensils
The Sealy Spoon is a simple solution for the huge human problem of gaining adequate nutrition. The team's main objective is to create a more effective solution for eating for those with movement disabilities and can no longer obtain adequate nutrition independently from their everyday utensil, while maintaining affordability and accessibility.
Booster Buddies

Needle anxiety and fear is seen in 70% of children ages 3-7, causing nurses to spend additional time during the visit calming the child and resulting in a poor patient-caregiver relationship and increased safety hazards from accidental sticks. The standard method that nurses use when administering vaccinations to an anxious child is to restrain them, occasionally with the assistance of additional nurses. Booster Buddies improves the experience of the entire visit by addressing both the anticipation leading up to the vaccination and the injection itself.
The product is a rocket-shaped device to administer the injection that hides the needle and syringe. The accompanying space-themed kit contains an interactive app for the child to play with before and after the appointment, a storybook to read in the waiting room, spaceship-themed decorations for the exam room with seek-and-find objectives and themed bandages as badges for their bravery after the vaccination.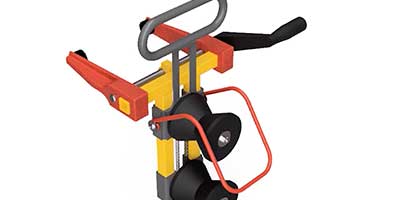 The Door Man

Fire fighters often need to feed heavy hose into a building at a rapid rate. This hose is thick, cumbersome and it requires a person standing at a doorway to feed it in and out, which takes up valuable manpower.
The Door Man solution is an attachable device that is similar in design to a baseball pitching machine. The device could be operated either remotely or be made "smart" in its motor response. It is designed to quickly latch onto a door frame and power the hose in and out. Even unpowered, the device could still provide the necessary pivot point to move the hose in and out.
Build Smart Clubhouse

Vanessa Santana, a first-year graduate student in the Department of Technology Leadership & Innovation (TLI), created Build Smart, a pre-packaged building kit for middle school-age children. Using Build Smart, youngsters learn technology by constructing a wooden, tabletop model house. The students equip their home with smart technology, including automated LEDs, fan, thermostat and doorbell using a variety of sensors and motors. During the process, the young builders learn about automation, construction, and design and build principles. The hands-on project also piques the students' career interests in industries such as construction, programming and engineering technologies.
"The project provides an engaging, authentic building experience to teach 21st-century skills, such as critical thinking and technological literacy," said Santana. "It also allows educators to meet the needs of ever-changing standards and legislation."
After winning the TECH 33000 - Technology And The Global Society division of TLI's Design and Innovation Challenge as a senior with Build Smart, Santana has sold the hands-on building project to a local curriculum vendor. The kits are being distributed to classrooms and youth organizations across Indiana.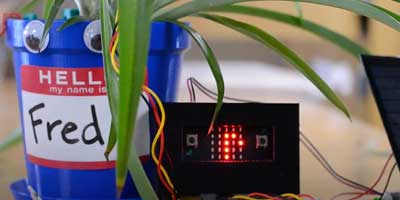 Planter Pal

This build-your-own kit is an educational, creative, and fun learning opportunity that helps elementary education teachers take care of their class plants while teaching basic block coding to students.
ModLimbs

Amputees need a more affordable and adaptable prosthetic device option that also does not have costs that add up over time. Our solution involves prostheses with adjustable and modular systems that are customizable and grow with their users. Modularity allows for individual prosthesis parts to be replaced rather than a whole unit. Components can be switched out for different activities rather than users needing to own more than one prosthesis. Adjustable height and socket widths create a prosthetic that individuals never grow out of!