The certification process for alternative fuels for the aviation industry is especially rigorous, making it difficult for new fuels to come to market. A graduate student in Purdue Polytechnic's School of Engineering Technology hopes to make the process easier by constructing bridges between fuel chemistry and performance.
"The gasoline in our cars provides power," said Petr Vozka, a graduate research assistant studying under Gozdem Kilaz, assistant professor of engineering technology. "But in aircraft, fuel is also used as the hydraulic fluid and the cooling medium, and it comes into contact with various airframe and engine materials. We need to make sure engine parts won't degrade for 30 years by contact with fuel."
When a manufacturer produces a new aviation fuel from biomass, it must provide a large volume to ASTM International, a global technical standards organization, for fuel formulation approval before the product can go into widespread use. The certification process takes up to five years and costs tens of millions of dollars, and "there's no guarantee your candidate fuel will be approved," Vozka said. "It's a huge challenge for manufacturers to develop and deploy sustainable aviation fuels."
Vozka's research focuses on qualitative and quantitative fuel analysis utilizing two-dimensional (2-D) gas chromatography and accurate prediction of fuel properties.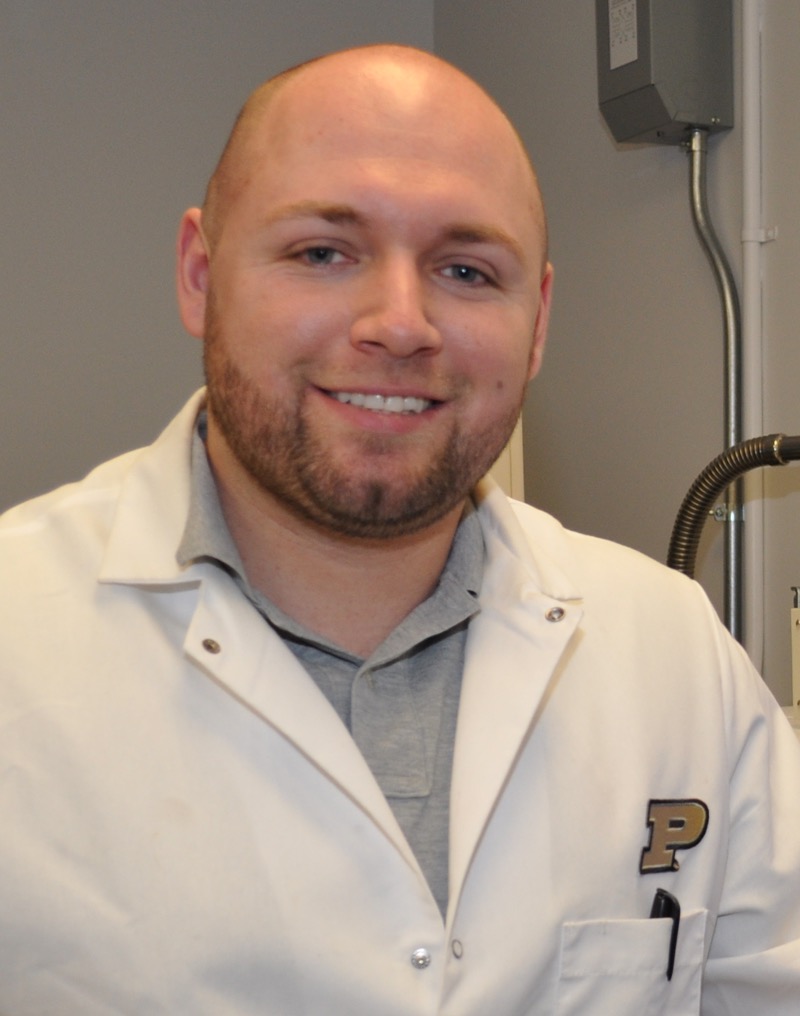 "A gas chromatograph is analogous to a person's fingerprint," said Vozka. "A qualitative fingerprint tells you who a person is; a quantitative fingerprint would tell you specific details, like the person's height and weight."
The Fuel Laboratory of Renewable Energy (FLORE), the site of Vozka's research, is equipped with two state-of-the-art 2-D gas chromatographs. Each test requires only a small fraction of a drop of fuel.
"Jet fuel has about two thousand components," Vozka said. "One instrument tells us which components are inside the fuel. The other instrument tells us how much of each component is present in the fuel."
Vozka's first task is to correlate the readings of both instruments. "If we can develop a way to predict a fuel's properties based on the detailed chemical composition," he said, "we can speed up the process of predicting its viscosity, flash point, freezing point, density, and other parameters that indicate how the fuel will act under different conditions." Achieving this goal could lead to a shorter, less costly approval process.
Vozka said that faster approval of new fuel formulations could help the United States Navy, a sponsor of the lab's research, become less dependent on crude oil sourced from other countries.
"Original engine manufacturers don't want to change the engines," said Vozka. "They want a 'drop-in' fuel that will work in an existing gas turbine engine without redesigning it. Understanding the chemistries of both the conventional and alternative fuels will be key to reaching this goal."
Better understanding of the chemical properties of new fuels could also lead to improved safety for firefighters. The Federal Aviation Administration's Aircraft Rescue and Firefighting division is working with Kilaz, Vozka, and the FLORE lab to investigate the fire safety characteristics of biofuels.
"Biomass-derived fuels don't burn the same way as petroleum-derived ones," Kilaz said. "The flames spread differently."
"When a fire broke out after the introduction of biodiesel, lives were lost," agreed Vozka. "We're measuring the flash point, flammability limits, and fire spread pattern. These all affect fire safety."
Kilaz and Vozka aim to discover the relevant differences between conventional and alternative fuels and to help firefighters improve the tactics and strategies they use when alternative fuels are involved.
Vozka earned a bachelor's degree in chemistry and a master's degree in chemical engineering at the University of Chemistry and Technology in Prague, Czech Republic. Through his studies on diesel and biodiesel fuels, Vozka met Kilaz. As a faculty member in the School of Engineering Technology with a courtesy appointment in the School of Aviation and Transportation Technology, her liquid transportation fuels research provided a unique opportunity for Vozka to focus on aviation fuels in his doctoral work.
"In addition to having a background in chemistry and chemical engineering, I'm also a pilot," said Vozka. "Dr. Kilaz was looking for a graduate student with my experience. With the Polytechnic's multidisciplinary environment and an airport on campus, Purdue was perfect for me."
Additional information: