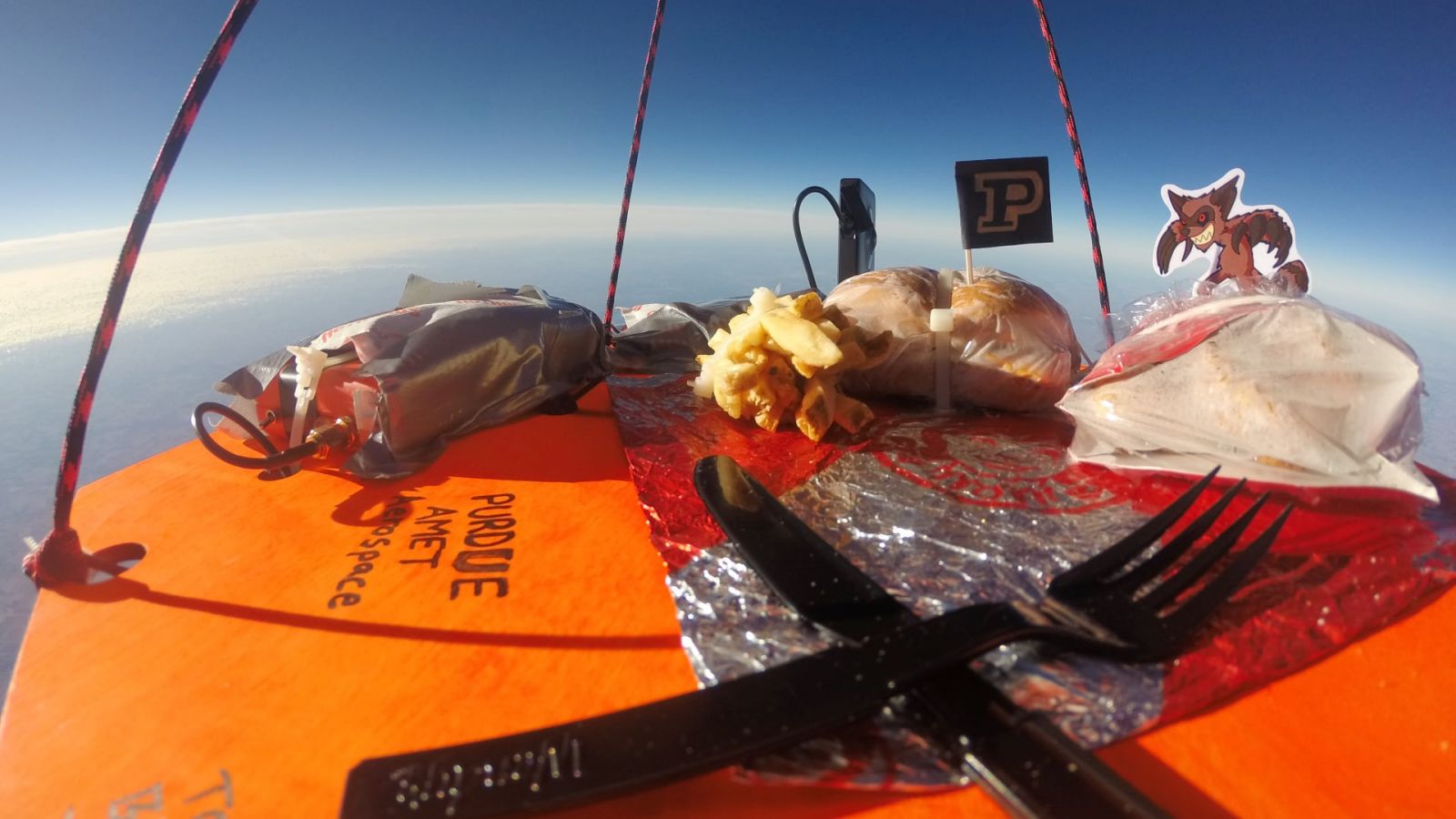 A team of Purdue students lofted a bacon cheeseburger and French fries to an altitude of 95,000 feet during a recent high-altitude weather balloon launch. During descent, the balloon and its edible payload reached a velocity of 129.8 miles per hour, giving new meaning to the term "fast food."
Launching a Wendy's Baconator burger one-third of the way to space was merely a secondary goal for Purdue's AMET (Association for Mechanical and Electrical Technologists), a student organization that builds projects related to aerospace and robotics. The day's primary goal was to gain experience in all facets of a weather balloon launch, said Davin Huston, assistant clinical professor in the School of Engineering Technology, a department in the Purdue Polytechnic Institute, one of the 10 academic colleges at Purdue University in West Lafayette, Indiana.
"Through the launch process, the team learns about calculating lifts, weather predictions and radio communications and also about the appropriate Federal Aviation Administration procedures," said Huston.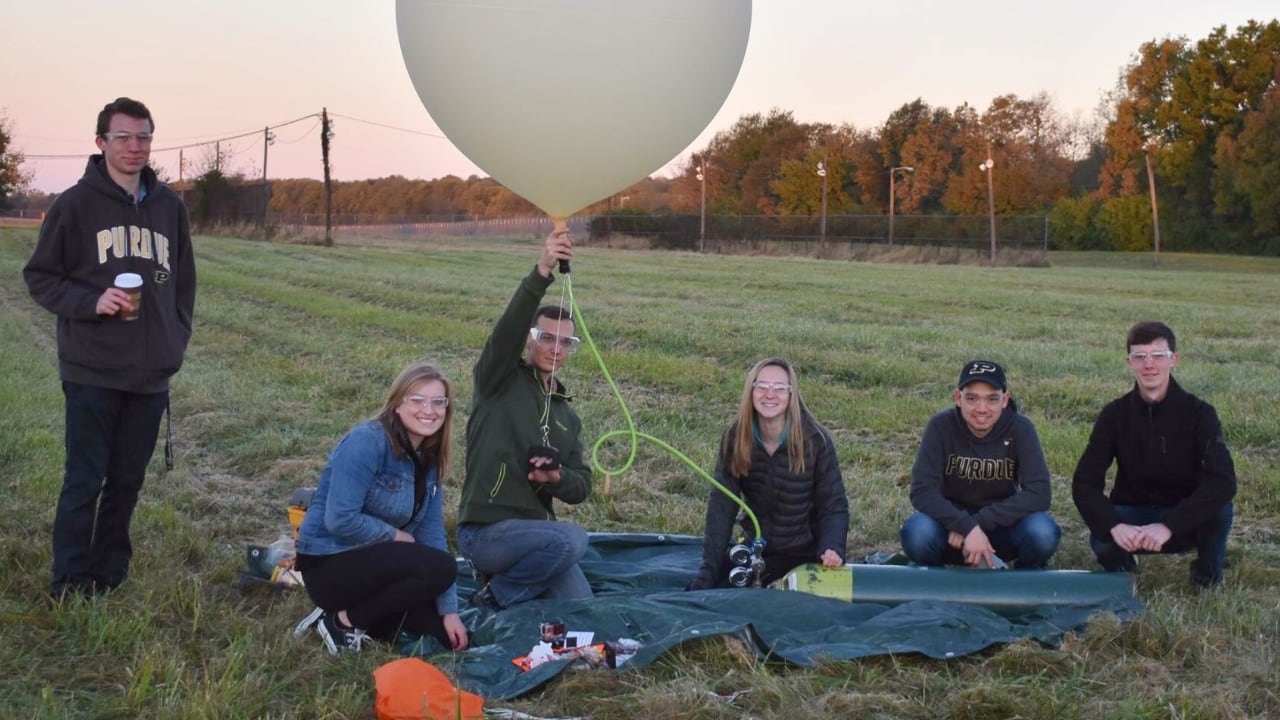 "We try to have an event every month to teach students new skills such as computer-aided design (CAD), laser cutting, electronics or 3D printing," said Max Faiman, a senior in mechanical engineering technology and chief technical officer for the club. "We like to have projects that can be completed in a couple of hours that can give students useful skills for future classes."
While preparing for the October 20 launch, students discovered an online video that showed people launching garlic bread on another high-altitude balloon, and "the idea grew from there," Huston said. "Strapping the food down so that none of it would fall off after launch turned out to be a larger challenge."
"We spent a few weeks considering factors of the flight, such as the extremely low temperatures at the height it would fly, preparing the payload using CAD software and laser-cutting technology, and ensuring our equipment was functional," said Grace Drukker, a first-year engineering student in Purdue's College of Engineering.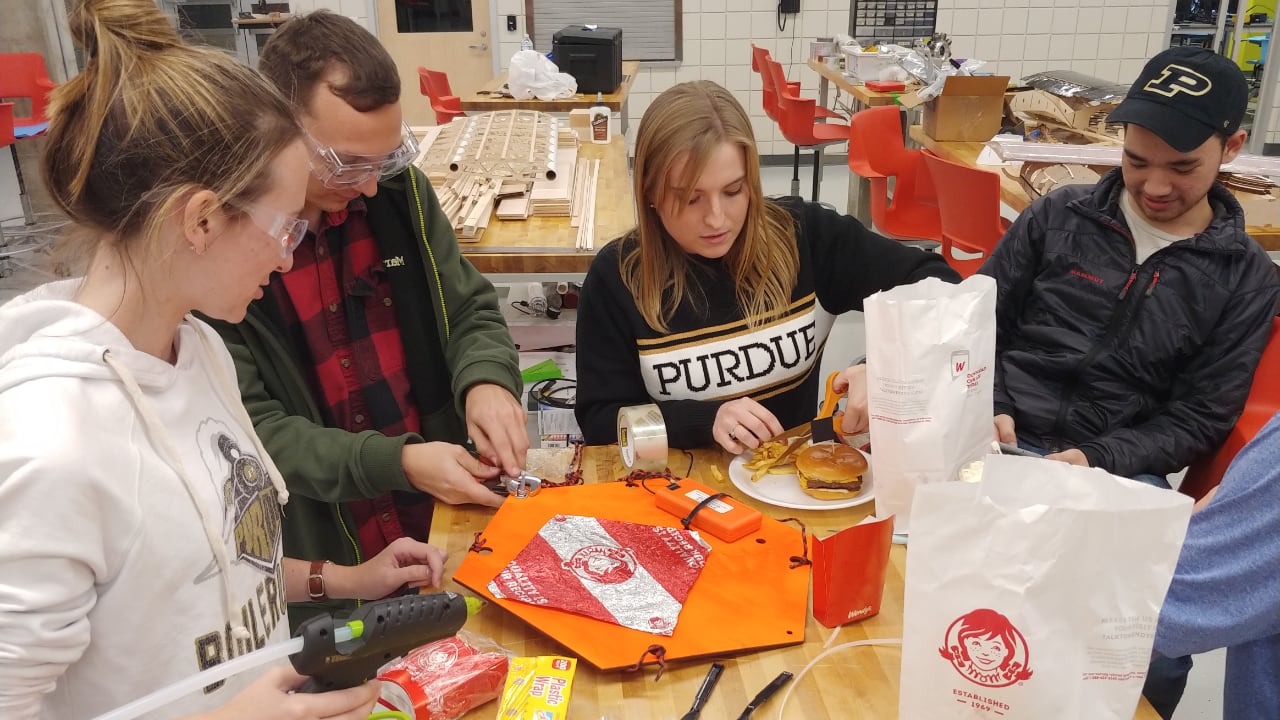 The AMET team used flight prediction software to estimate how long the balloon would fly and where it would land. Shortly after the launch, the balloon lost contact with the team's tracking website.
"We were able to pick it up again using our radio," Drukker said. "The issue was caused by wires to the antenna being torn by rubbing against a sharp edge. In the future, we plan to pad the edge of the payload's platform to ensure it won't tear again."
The team has set a goal of reaching an altitude of 120,000 feet with a more complicated payload in the future, said Huston, but launching a burger and fries provided useful experience.
"Sending up the food as a payload was great fun," said Drukker. "A big challenge was fighting the temptation to eat one of the Wendy's French fries after they came back to earth."
AMET also participates in competitions including Purdue Grand Prix and the Rube Goldberg Machine Contest.
"Our members are from various majors around campus," said Faiman. "Having students with all sorts of backgrounds and experience really helps unify our projects. You get to know all the other students and usually end up seeing at least one of them in every class you take."
Additional information: