Twelve students majoring in engineering/technology teacher education in Purdue Polytechnic's Department of Technology Leadership and Innovation (TLI) brought back seven awards – including Competitive Events National Champion – from the 81st Annual International Technology & Engineering Educators Association (ITEEA) Conference. The students are part of Purdue's Technology & Engineering Education Collegiate Association (TEECA) chapter.
Scott Bartholomew, assistant professor of engineering/technology teacher education and the team's co-advisor, was also honored at the event. Bartholomew was presented with the Public Understanding of Technology and Engineering Education Award, which is given to an individual with a record of contributing to the public's understanding of technology and engineering.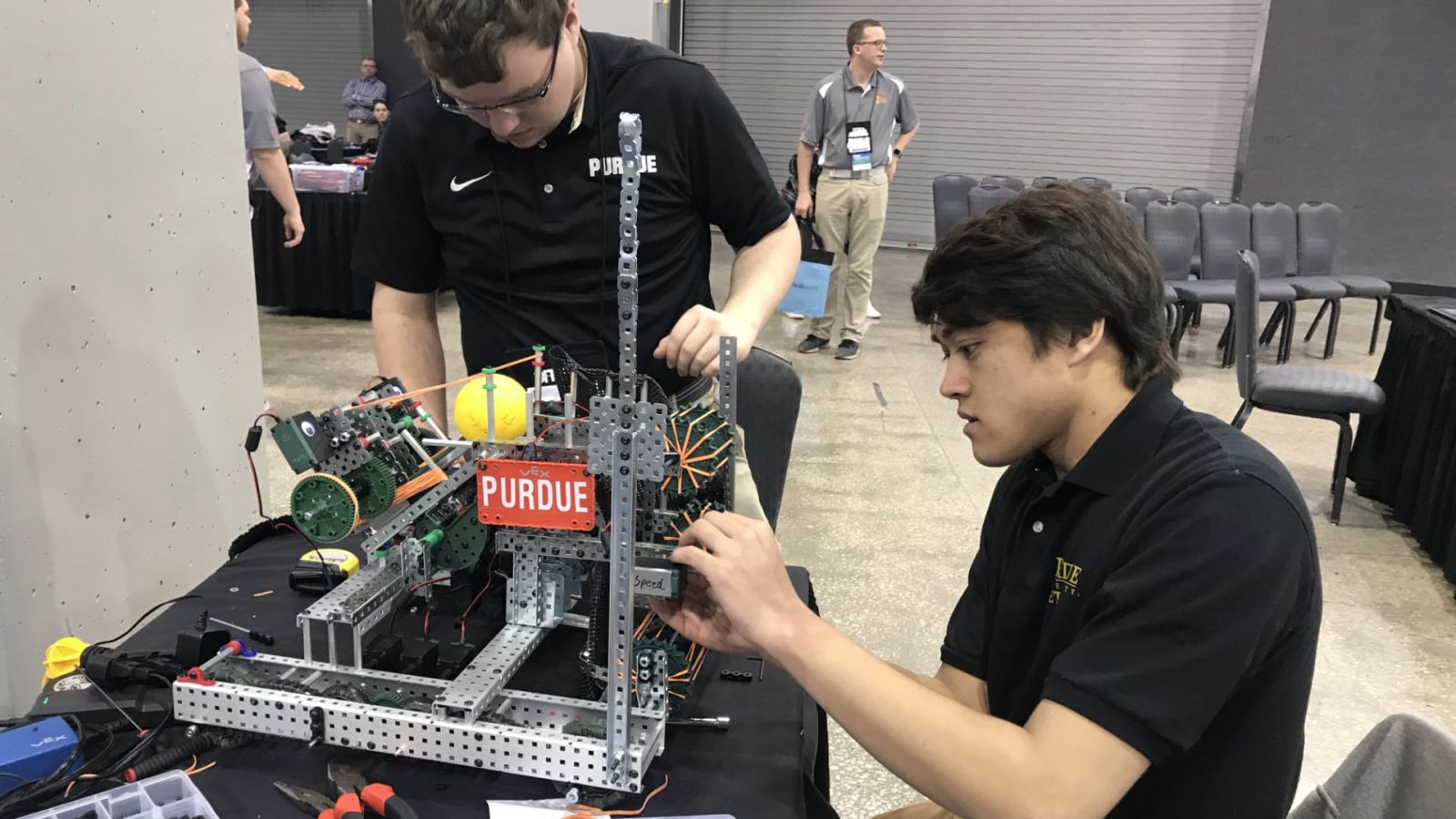 The ITEEA conference was held in Kansas City, Missouri, from March 27-30, 2019. The yearly event shares best practices with future STEM teachers who will bring technology and engineering to students in Pre-K through high school and beyond.
A highlight of the ITEEA conference is the Competitive Events portion, in which student teams showcase their teaching skills as they design projects to solve assigned problems. Besides winning the overall Competitive Events National Championship, the Purdue team won the following individual challenges:
The Purdue team took first place in the conference's robotics competition, in which participants design, fabricate, test and demonstrate the use of a robot to complete a task.
The team placed second in the event's graphic design challenge, which required the creation of a logo for the annual conference.
The students took second place in the educational display competition, which requires team members to complete research on a topic and then present the results by designing an educational display.
The Purdue team placed third in the teaching competition, which evaluates how well an individual or pair plans and teaches others about a technological topic.
The students took third place in the communications challenge, which requires teams to create a 90-second public service announcement video and accompanying movie poster, spotlighting the important work teachers do.
The Purdue students also took third place in the technology quiz bowl, a bracket-style competition among the TEECA chapters.
"The students worked especially hard this year," said Greg Strimel, assistant professor of engineering/technology teacher education and Purdue TEECA advisor. "Taking first place overall was exciting and gratifying."
In addition to participating in challenges, several Polytechnic students were elected to national TEECA leadership roles during the conference.
Next on the students' competition calendar is the Midwest Regional event in November at Illinois State University, followed by the 82nd Annual ITEEA conference, March 11-14, 2020, in Baltimore, Maryland.