Bedrich Benes, associate professor of computer graphics technology, was an editor of a special section of Computers & Graphics on procedural modeling. He also has been named associate editor for the Computer Animation and Virtual Worlds journal and is on the editorial board of the journal Computers & Graphics. For Siggraph 2013, Benes was the chair of a session on Building Structure Layouts and a member of the Technical Paper Committee.
Abel Chuang, assistant professor of mechanical engineering technology, has been selected as a Discovery Park Fellow for Research. His project will focus on proton exchange membrane fuel cells. Read more.
M. Austin Creasy, clinical assistant professor of mechanical engineering technology in Columbus, was involved in two training activities this summer. He prepared and delivered the Siemens PLC programming curriculum at Ivy Tech's Mechatronics Institute. The nine-day introduction to PLC programming included a review of industrial controls and many hands-on examples. He also participated in a two-day workshop with an introduction into dSpace Real Time Systems Training. dSpace is a data acquisition/controls hardware system that is used primarily in the automotive industry as a means for measuring data and performing real time controls operations.
Joe Fuehne, Maha Associate Professor of Fluid Power and director of the College of Technology at Columbus, was very active in educational activiites during the summer:
He conducted three sessions of Autonomous Robots: Making our Jobs Easier during the 4-H Roundup on the West Lafayette campus. The one-hour sessions consisted of participants programming a Lego robot to satisfy various challenges similar to using autonomous robots that could be used in agriculture
He presented his paper "Developing an Integrated Curriculum in Metrology for a Mechanical Engineering Technology Program" at the annual conference of the National Conference on Standards and Laboratories International (NCSLI). The paper earned the Best Paper award for the conference. While at the conference, he participated in a panel discussion for metrology educators.
He assisted in conducting Lego robotics camps in Columbus (two camps, 57 participants) and Hanover (one camp, 30 participants).
He conducted an "Introduction to Metrology" session for elementary school teachers from across southeast Indiana. The teachers were participating in a summer professional development program at Hanover College for elementary science teachers.
Bill Hutzel, professor of mechanical engineering technology, has received a grant from ASHRAE to evaluate the effectiveness of a biowall. A biowall integrates plants with the return air of a residential or light commercial HVAC system to remove CO2 and volatile organic compounds. The ASHRAE Innovative Research Grant is designed to encourage out-of-the box research to complement the research proposed and guided by the Society's technical committees.
Daphene Koch, associate professor of building construction management, assisted with the National Association of Women in Construction (NAWIC) Indianapolis Chapter Mentor a Girl in Construction (MAGIC) camp this summer. The girls built a shed for the Girls, Inc. Organization is Shelbyville, Ind. The camp is a national curriculum designed to connect girls to the construction industry. Koch spends a day with the girls every year.
Alejandra Magana, assistant professor of computer and information technology, received an Emerging Research Incentive Grant from Purdue's Office of the Vice President for Research. The grant will support her proposal titled "Learning Quantum Mechanics through Modeling-Based Instruction: Advancing STEM Education across Scale and Disciplines."
Vahid Motevalli, professor of mechanical engineering technology, was one of four EcoCar 2 faculty advisors elected for to the Faculty Advisory Board of the EcoCar 2 organization. Motevalli was invited to spend two weeks at Beihang University of Aeronautics and Astronautics in Beijing, China in June. While there, he presented a seminar on hybrid-electric vehicle technology and advised graduate students. Motevalli also serves on the Checkpoint of the Future expert group, addressing future needs and improvement for airport passenger security screening.
Tim Ropp, associate professor of aviation technology, and his Hangar of the Future undergraduate researchers are working with MakerPlane, Inc. from Ontario, Canada, to find novel ways to leverage technologies (e.g. augmented reality) to improve safety, quality and reliability of air vehicle assembly and maintenance. Their work includes providing access to detailed graphics, 3D model overlays and on-demand video tutorials.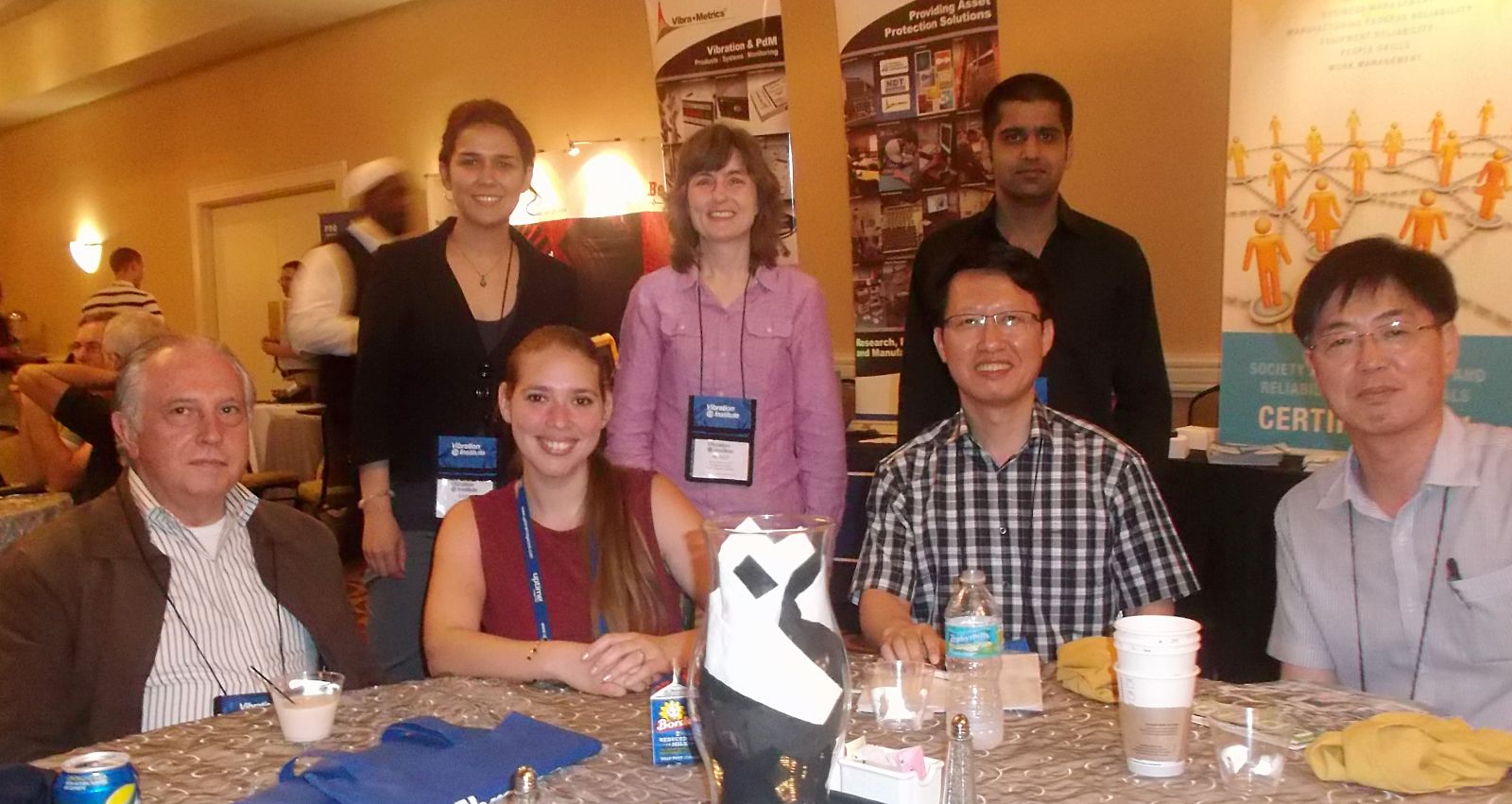 Mechanical engineering technology graduate students Sara Panahkhaki, Khizar Rouf and Ilya Shulkin were three of seven sponsored students who attended the 2013 Vibration Institute Training Conference in Jacksonville, Fla. in June. Panahkhaki and Shulkin published and presented papers as part of the academic track at the international industry-based conference. (Panahkhaki and Rouf are pictured with Nancy Denton, professor of mechanical engineering technology, and attendees from Venezuela, Korea, and the United States).
Faculty and Technology In the news

Vahid Motevalli talks about the Asiana Airlines Boeing 777 crash with the Contra Costa Times.
Karl Perusich discusses the Electric Vehicle camp at the College of Technology at South Bend with WNDU.
Chad Clark, a student at the College of Technology at Anderson, talks with the Anderson Herald-Bulletin about summer internships.
David Stanley, associate professor of aviation technology, talks with Fox News 59 about flying the Purdue jet to EAA AirVenture partially powered by biofuel.