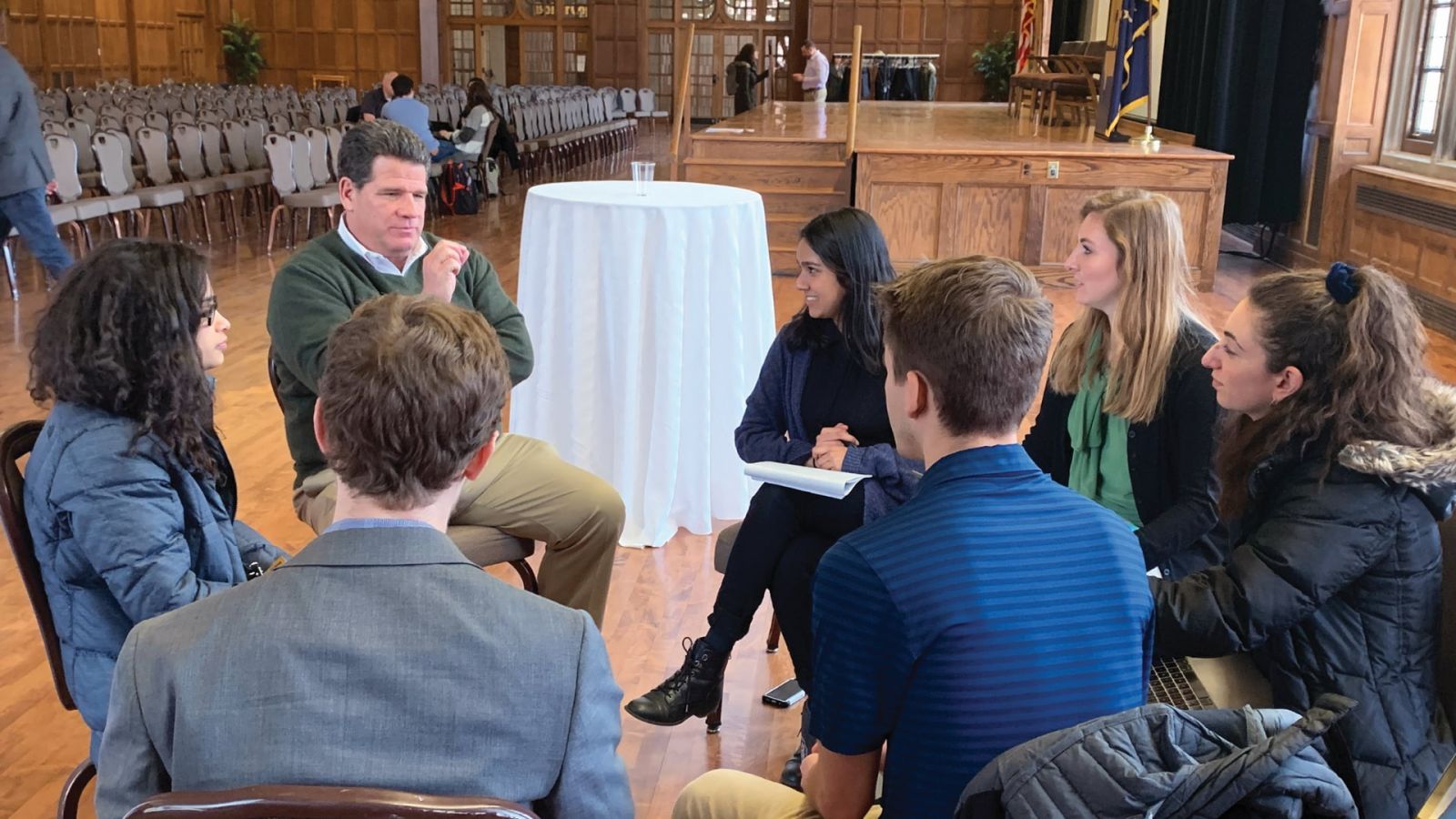 This past February – in conjunction with Purdue's 150 Years of Giant Leaps in Health, Longevity and Quality of Life – the Purdue Polytechnic Institute hosted a design innovation event to fight the modern-day kidnapping and slavery epidemic known as "human trafficking."
The practice of human trafficking is "the acquisition of people by improper means, such as force, fraud or deception, with the aim of exploiting them." While human trafficking is a global phenomenon, it has a local impact because of our community's proximity to Interstate 65. The National Human Trafficking Hotline consistently reports year-over-year increases in calls related to human trafficking in Indiana, with Interstate 65 – the primary route for traveling Purdue students – reportedly considered a "trafficking superhighway."
The event

"Fight Human Trafficking in the Americas" was the brainchild of Kathryn Seigfried-Spellar and Chad Laux, associate professors of computer and information technology. The event brought together approximately 200 Purdue students and an additional 200 members of the public. The day's events included a presentation from a trafficking survivor and a panel discussion that featured local community leaders.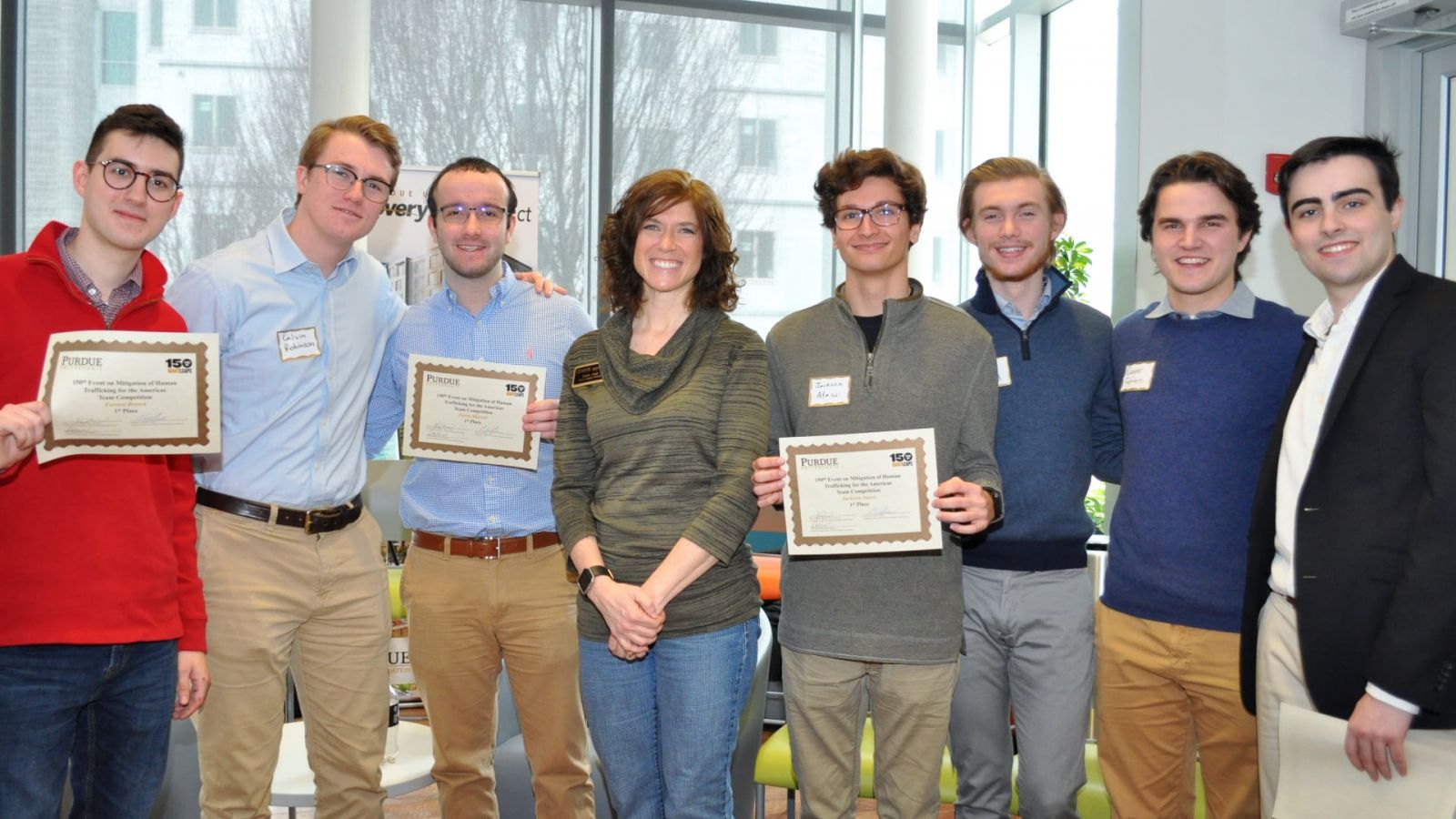 The challenge

After being briefed of the prevalence of human trafficking, students broke into teams and, with assistance from local professionals serving as mentors, spent the ensuing 17 hours in all-night brainstorming sessions. The multidisciplinary teams combined their own backgrounds and unique perspectives to devise workable solutions. As an added incentive, $6,500 in prize money would be awarded to the two teams with the most promising ideas.
"The event was very interactive, thanks to that broad range of students and participants."

The community rallied around the event


Seigfried-Spellar and Laux were thrilled with the student participation and community response.

"Human trafficking is not just someone else's problem," said Seigfried-Spellar. "It's happening right here in the Greater Lafayette community because I-65 runs directly through our community. If we are going to mitigate human trafficking, we must come together as a community."

Laux appreciated the event's strategy of incorporating students of different majors and community members from various professions.

"The issue of human trafficking is one that requires a wide community of people, from a variety of backgrounds, to take a stake in the problem," said Laux. "The event was very interactive, thanks to that broad range of students and participants."

"A number of community leaders participated as student team members," added Seigfried-Spellar, "including the mayors of West Lafayette and Lafayette, and the three chiefs of police (of the West Lafayette Police Department, Lafayette Police Department and Purdue University). A number of businesses and advocacy groups, including Cook Medical, Unity Healthcare, the Heartford House, and the YWCA also were in attendance. The community rallied around this event."

Each team's "all-nighter" problem-solving session included the production of a video presentation of their ideas. The videos were viewed by Seigfried-Spellar, Laux, local community representatives and subject matter experts in order for them to decide the winners of the idea competition.
Winning solutions

The two teams that presented the ideas with the most potential to fight human trafficking were honored at an awards ceremony in March. Due to the proprietary nature of their solutions and the desire to keep traffickers unaware of tactics to disrupt their illicit activities, details of the teams' ideas will not be made public. However, it can be mentioned that both solutions incorporate leading-edge video technologies that identify conditions and circumstances that the human eye misses.
The first-place team consisted of Forrest Brown, junior in applied statistics; Calvin Robinson, senior in general management; Jason Marron, junior in finance; Jackson Atassi, junior in computer and information technology; Logan Bedford, junior in chemistry; Cooper Fetters, junior in chemical engineering; and Gavin Burn, junior in chemical engineering. The team members split $4,000 in prize money. Their team mentor was Dawn Laux, associate department head and clinical associate professor in the Department of Computer and Information Technology.
Jon Gaide, graduate student in biomedical engineering; Mickey Smith, senior in biomedical engineering; Derek Paz, sophomore in exploratory studies; and Adam Killeen, senior in biomedical engineering, comprised the second-place team and split $1,500 for their idea. Their team mentor was John Cox, chief, Purdue University Police Department.

Additional information: