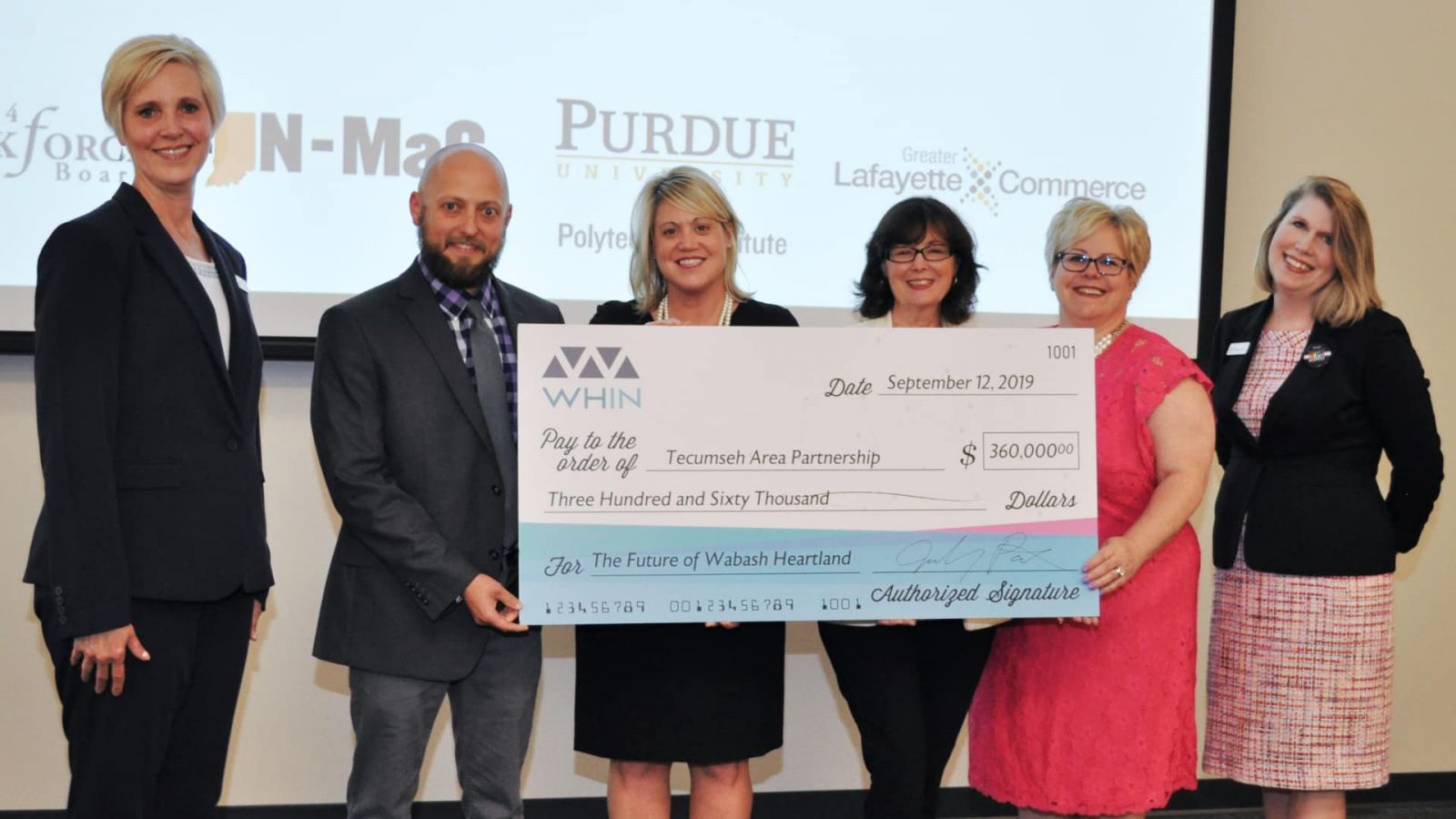 A unique partnership is connecting K-12 students to future manufacturing careers and providing students in a Purdue Polytechnic major with industry experience.
Purdue University's Polytechnic Institute, Tecumseh Area Partnership and its Region 4 Workforce Board, Greater Lafayette Commerce, Ivy Tech Community College and the Indiana Next Generation Manufacturing Competitiveness Center (IN-MaC) received a $360,000 grant from the Wabash Heartland Innovation Network (WHIN). With the funds, the coalition is developing hands-on, industry-connected education activities for K-12 students in the region.
The WHIN initiative is expanding existing Lafayette-area K-12 STEM (science, technology, engineering and math) programming to a 12-county region, including Benton, Fountain, Cass, Carroll, Cass, Montgomery, Pulaski, Tippecanoe, Warren and White Counties. Activities focus on robotics in manufacturing, coding, design and innovation. Through these activities, K-12 students are also able to engage with local manufacturers.
The goal is to not only get kids interested in robotics, manufacturing and programming, according to WHIN, but to also establish a pipeline of talent among the next generation of students for manufacturers in the Wabash Heartland Region. The partner organizations are using the grant to mitigate initial costs associated with developing curricula, sourcing materials and securing necessary equipment.
The grant is enabling the following program expansions:
Manufacturing Week, an event that exposes K-12 students to careers in industrial settings, is expanding to two counties in the first year and another six counties in the second year.
Coder Dojo is expanding into three counties in the first year and an additional six counties in the second.
Robotics in Manufacturing Camp is expanding into one county in the first year and two more counties in the second.
An impact study is also being funded by the grant. For the last two years, Greater Lafayette Commerce has partnered with Purdue Polytechnic to investigate how K-12 students in Tippecanoe County perceive their visits to local manufacturers. Results of the research will be used to optimize educational activities and to launch an awareness campaign about careers in industry.
"We came together over a year ago to start figuring out how to make the Wabash Heartland Region into the epicenter for promoting the next generation of manufacturing," said Greg Strimel, assistant professor of engineering/technology teacher education. "Career aspirations start forming when students are very young. We all have an interest in the K-12 space, so we started investing in outreach efforts related to these topics. We want to understand how we are influencing career perceptions and also learn about the skills that will be needed for the next generation of manufacturing, which will be a digital enterprise."
Strimel, along with faculty colleagues and undergraduate students, have been collaborating to develop the robotics, manufacturing, and coding activities, many of which are being created for elementary-age students.
"We have been working to establish design and innovation studios in elementary schools," Strimel said, "so that we can actually bring recommendations from industry to life. They need talent for their future workforce. We want to address misperceptions about manufacturing careers and study whether these activities are actually influencing students' ideas about this potential career path."
Students in Purdue Polytechnic's engineering/technology teacher education (ETTE) program involved in the project have the opportunity to gain both engagement and research experience.
"They work with industry representatives to create the activities, and some ETTE students are actually implementing them to get teaching experience," said Strimel. "They are also gaining authentic industry experience that they will be able to take to their schools as teachers in the future."
WHIN expects to engage 800 teachers, 16,000 K-12 students and more than 20 manufacturers in the region through the partnership's programs.
Additional information: