Graduate Programs

Graduate programs in the Polytechnic Institute – including traditional on-campus programs, hybrid (weekend) programs, and online distance programs – are growing in popularity, while research across the college is likewise taking giant leaps forward. Both have trended upward since the college's transformation began five years ago, with record-setting gains in the last two years.
Graduate programs take a Giant Leap

Traditional graduate programs, those where students attend on-campus courses, typically as full-time graduate students, have seen a 25 percent enrollment increase in just two years. According to Kathy Newton, associate dean for graduate programs, the growing popularity is both with students pursuing an M.S. degree as well as those pursuing a Ph.D.
The college's hybrid (weekend) and distance graduate programs are likewise experiencing growth. With the recently added distance programs in aviation, construction management and engineering technology, the college now has a wider variety of offerings and delivery methods, giving students a broader set of choices. All told, when combining all of the college's graduate programs, enrollment has increased 52 percent since the transformation of the college began, outpacing the 17 percent growth of graduate programs across Purdue during the same period.
The Polytechnic is preparing to take one additional giant leap – the first at Purdue to take such a leap – by offering a distance Doctor of Technology program. Aimed at working professionals, the program is designed for those who wish to earn a top academic credential to make themselves even more competitive and prepared, but who can't take time off to enroll full-time at the West Lafayette campus.
Unique research opportunities for graduate students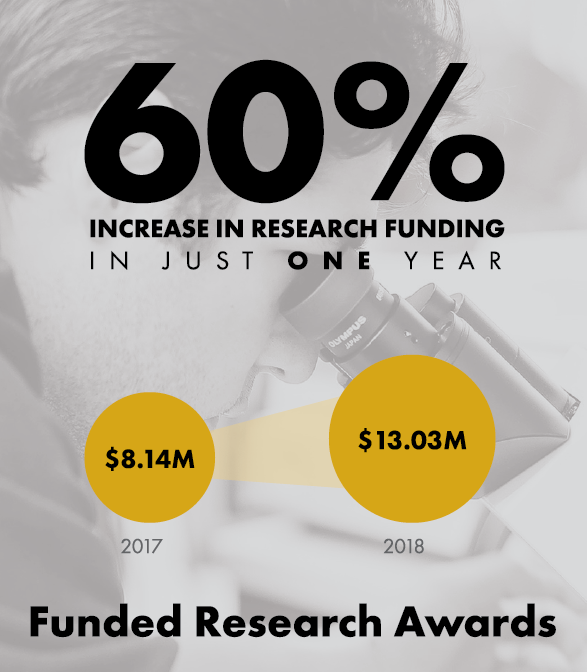 Alongside the growing numbers of graduate students comes the opportunity for greater research. In the last year alone, faculty achieved a 60 percent increase in the amount of research award funding from the previous year. According to Carrie Berger, associate dean for research, faculty are excited about how the college has strengthened its research ecosystem.
"They are really embracing the opportunities, getting results, and building a foundation to grow even stronger by establishing five research impact areas," said Berger.
The Office of Research invites exceptional Purdue University graduate students to apply for these opportunities. Awardees will receive tuition remission and financial assistance, and will be co-mentored by at least two faculty, who represent multiple disciplines and will support successful completion of an interdisciplinary research project.