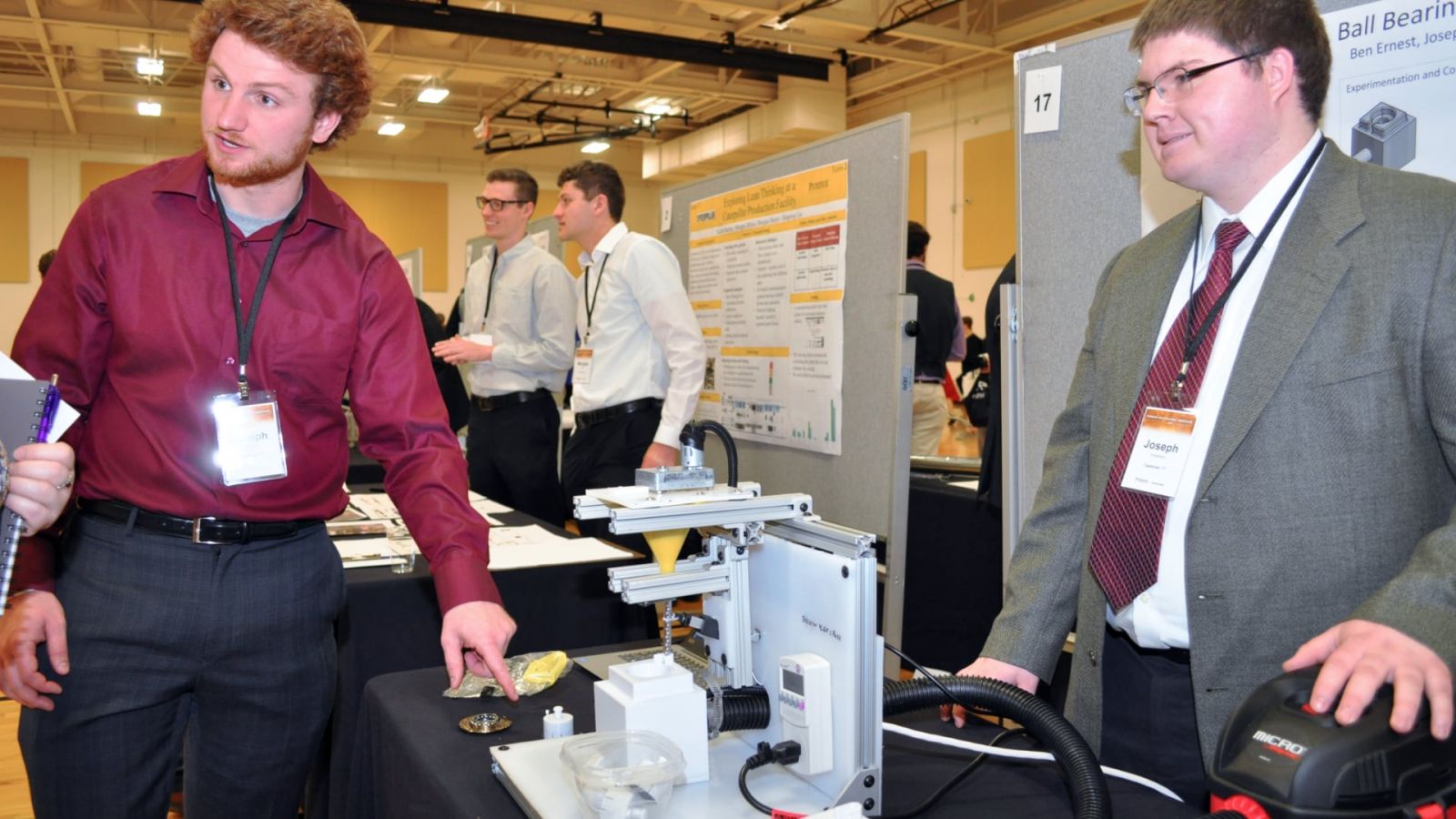 Student teams in Purdue Polytechnic's School of Engineering Technology will give poster presentations about their industry-sponsored capstone projects on Thursday, April 25, in the France A. Córdova Recreational Sports Center.
Each team designs and builds projects throughout the fall and spring semesters. Most capstone projects require the improvement of a process to increase safety, efficiency, or automation for an industry customer.
"The projects demonstrate to potential employers that Polytechnic students are ready for jobs in their companies and that our graduates will be able to hit the ground running."Frederick Berry, professor of engineering technology, and Phil Sanger, professor of electrical and computer engineering technology, lead the senior capstone course, which is now in its seventh year.
"Polytechnic students spend the entire school year working for industry clients on real-world problems," said Sanger. "Capstone projects serve as a bridge between academic studies, which are often neat and tidy, and the global engineering workplace, which is often messy and complicated. The projects also demonstrate to potential employers that Purdue Polytechnic students are ready for jobs in their companies and that our graduates will be able to hit the ground running."
The student teams' presentations will include the following projects:
Airplane improvements to help operators meet security requirements
Augmented reality of a die casting cell for training
Automated high-throughput image acquisition of roots
Bulletproof desk
Child car safety seat upgrade
Commercial revenue calculator
Develop a material handling trainer
Device to reliably capture and retrieve fruit flies alive after brain-altering social interactions
Distributed detection of radiation sources
First-person video recording and movement tracking system for young children with autism
Gladiator-style environmental enclosure to study plant competition for resources
High speed, low inertia, moderate torque concept for Prony brake
Industrial power / energy management
Interactive automation demonstration system for industry showcase
Low cost binder jet metal printer
Machine startup controls
Medical cold therapy project
Pick and place robotic training session
Separation of the crude REEs from a waste source
Thermal energy-based efficiency measurement of high-performance power electronics
Wearable mobile technology
Several projects are international in nature, requiring students to work with counterparts in Denmark, Germany, the Netherlands and Peru. These projects include:
All terrain, land-based drone for gas/oil pipeline inspection
Hardware and software solution in which electromyograms are used as a control for an upper arm prosthetic
High performance electric drive train for a Formula One e-racer
Semi-automated processing of alpaca wool for Peruvian indigenous communities
"Companies of every size work with customers and suppliers around the world," said Berry. "The Polytechnic's capstone program provides opportunities for students to bridge cultural divides while gaining real-world experience for today's international marketplace."
Industry sponsors include the following:
Boeing
Continental University (Peru)
Danfoss
Deere
Dublin City University
Duke Energy
FCA
KINEX
Lawrence Livermore National Laboratory
Lenze
Lilly
National Office Furniture
Purdue Polytechnic High School and Endress+Hauser
Purdue Research Foundation
Salk
SNARE
Stryker
University of Engineering and Technology (UTEC)
The capstone poster presentation will take place concurrently with Purdue Polytechnic's 2019 Tech Expo, a business-to-business trade show that allows company staff to promote their companies and network with other manufacturers, suppliers, clients and customers while viewing the capstone prototypes designed and built by Polytechnic students.
The posters will be on display from 1–4 p.m. Thursday, April 25, 2019, in the Recreational Sports Center's Gold & Black gym. The center, known as the "Co-Rec," is at 355 N. Martin Jischke Drive in West Lafayette.
The Tech Expo, also in the Co-Rec's Gold & Black gym and Feature gym, will be open from 1–5 p.m.
Both the Tech Expo and capstone presentations are open to the public. Admission is free with a Purdue University ID. Without a Purdue ID, admission is $10. All-day parking is $5.
Business representatives who would like to exhibit at the Tech Expo can contact Mike Reckowsky, director of industry engagement, at (765) 496-0527 or mreckowsky@purdue.edu. Information for exhibitors, including booth fees and a link to the registration website, is available at polytechnic.purdue.edu/techexpo.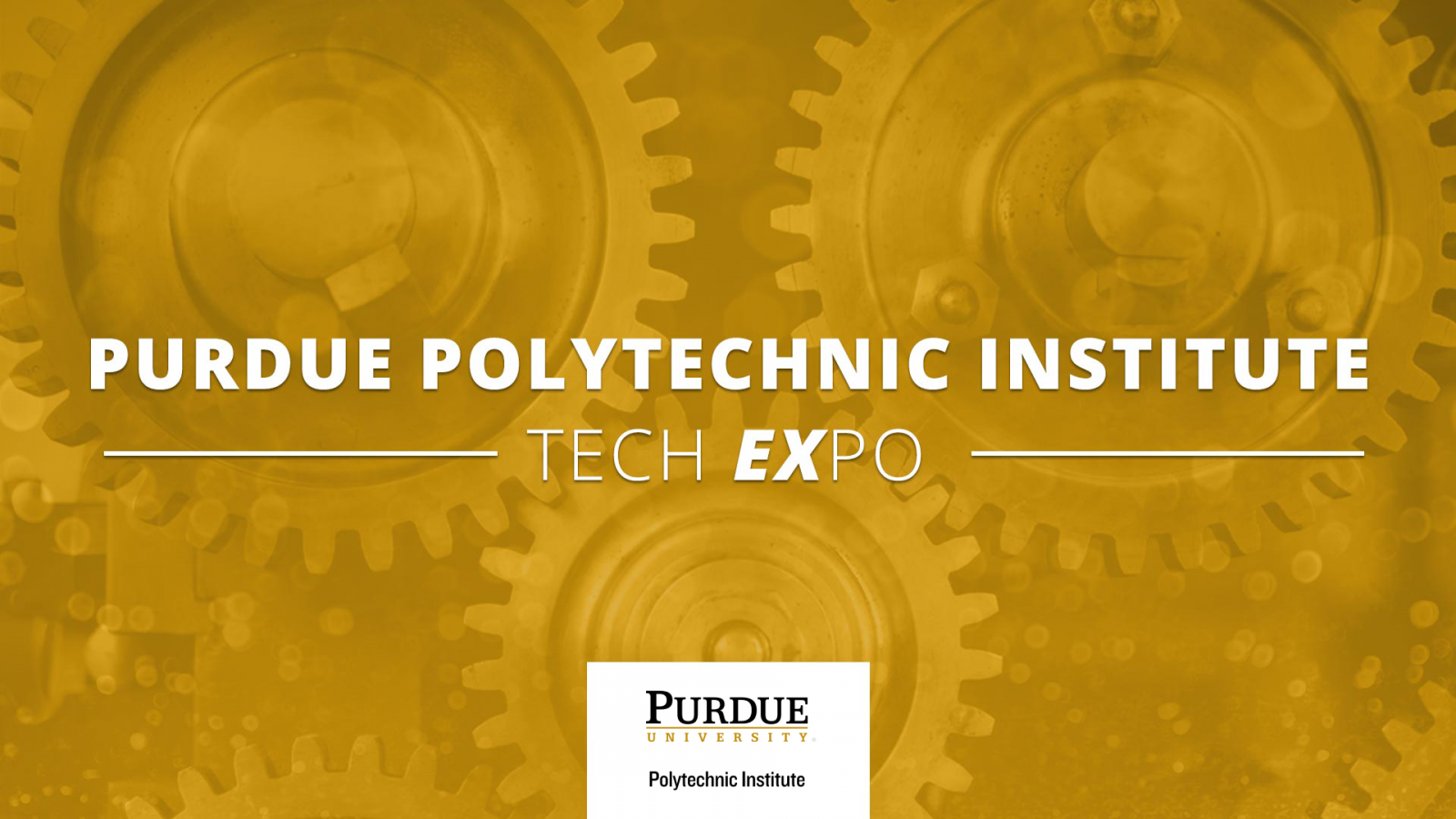 Additional information: