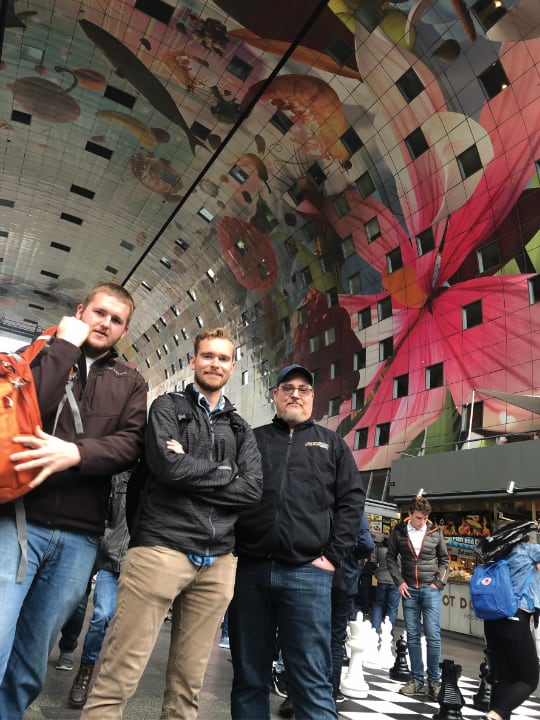 Jim Tanoos is a clinical associate professor at the Purdue Polytechnic Institute in Vincennes. He teaches supply chain management with emphasis on globalization and leadership.
"Supply chain management is the movement of components in commerce, such as raw materials, from manufacturing all the way to the end user," explained Tanoos. "Supply chain management has become increasingly important in today's world because we don't produce everything in America that we did several generations ago, so as consumers, we need to import. Furthermore, our own manufacturers need an export market for their products."
A class field trip (to Europe)

While some instructors do a fine job of teaching supply chain management in the classroom, Tanoos has literally taken a global approach to his lessons. Since 2017, in conjunction with Purdue's Office of Globalization, Tanoos has shepherded his students – some of whom had never been outside of Indiana – onto planes and into four cities that play roles in the European supply chain: Munich, Germany; Prague, Czech Republic; Hamburg, Germany; and Rotterdam, the Netherlands.
"Besides the disciplines that my students learn in class – micro-economics and macro-economics, organizational leadership, industrial management, global marketing, quality production, organization change and supply chain management – there are two themes to the trips: cultural immersion and the history of capitalism and trade. Those two themes are inherent to understanding how the supply chain works."
Tanoos' technology-themed destinations include a tour of the BMW plant in Munich; a factory tour of the Volkswagen subsidiary, Škoda, in Prague; and a visit to 18th-century water-management windmills that are still in use in the Netherlands. Tanoos' students also visit major port locations to witness the transportation of merchandise, ranging from cheese to automobiles.
"I included two European automotive industries in the tour because the automotive industry is so relevant to the economy of Indiana," said Tanoos. "And because Purdue is at the crossroads of America, putting us right at the forefront of the American supply chain, I picked two of the largest ports in Europe as the last two stops on the trip. The Port of Rotterdam is the largest port in Europe and it handles more cargo than any American port. With one out of every three products going through the Port of Rotterdam, it is an integral cog in the European supply chain."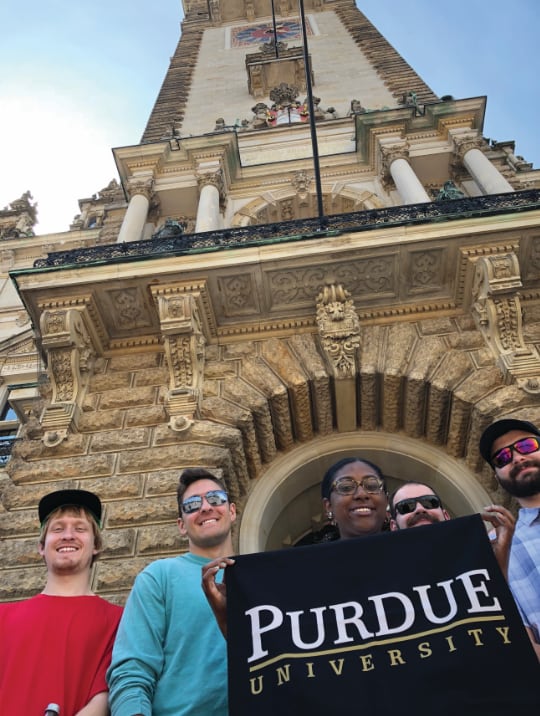 While in each city, Tanoos' students become proficient with maneuvering local public transportation systems, be they on rails, water or bicycle.
"Because the supply chain is constantly moving and mobile, we take that movement to heart," said Tanoos. "Our trip involves moving ourselves from city to city. Otherwise, a trip that is static, just in one city, wouldn't truly represent how the supply chain works."
To promote the four-city, three-credit-hour excursion, Tanoos visits each of the nine Polytechnic statewide locations during the fall semester and provides students with logistics information.
"I think going around the state to the various locations, meeting the students and offering them a bit of face time allows them the confidence to sign up for the trip."
It all started at Purdue

Tanoos traces his interest in travel back to his own college days.
"I first went to the Netherlands with a roommate, when we were 20-year-old Purdue students," said Tanoos. "I enjoyed that culture so much that I went back every few years and just kept exploring. I think I've been to Munich 12 times, Prague six times, Hamburg seven times, and Rotterdam more than 25 times."
During his stays, Tanoos discovered points of interest in each city, including highlights that were off of a typical tourists' beaten path. When faculty adopted a college-wide requirement for globalization/cultural immersion, Tanoos knew he already had the basis of a trip that his supply chain students would appreciate.
Students return with more than just souvenirs

Upon returning to the U.S., Tanoos often notices an increase in his students' self-confidence.
"We usually have a bit of free time in the evenings, so I advocate for students to go explore on their own as much as possible. At first, they don't realize that they have it in them (to explore by themselves). They return feeling comfortable in their own skin and, in some instances, feeling like they can conquer the world!"

Additional information: