WEST LAFAYETTE, IND., FEB. 7, 2019 – Purdue Polytechnic's digital manufacturing and design research laboratory, once known as the Product Lifecycle Management Center, is getting a name change to better reflect "the convergence of computing and manufacturing taking place in today's industry sectors," according to Nathan Hartman, Dauch Family Professor of Advanced Manufacturing and head of the Department of Computer Graphics Technology (CGT). The Digital Enterprise Center will be housed at the Indiana Manufacturing Institute in the Purdue Research Park, and will work in conjunction with the Indiana Manufacturing Competitiveness Center (IN-MaC) in the future, including the operation of a digital manufacturing research testbed.
"The Digital Enterprise Center will fuse the talents and expertise of university faculty to serve as a resource for the manufacturing industry's transformation to the digital enterprise and Industry 4.0," said Hartman. "Through research and practice around the tools, processes, and information models used in digital manufacturing across the lifecycle, the Digital Enterprise Center will draw industry and academia together to enhance manufacturing competitiveness."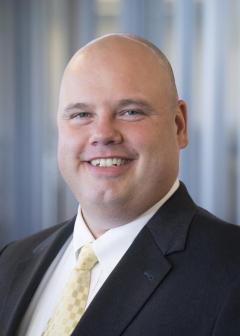 The Digital Enterprise Center is home to research investigating the application and implementation of product lifecycle management (PLM), which is a methodology behind product development, production and sustainment, in which information technology tools and digital mechanics enable a company to have increased access to product data in order to make better business decisions. The Computer Graphics Technology department in Purdue's Polytechnic Institute is home to virtual product integration, the only undergraduate major in the country dedicated to PLM.
"Our students, faculty and staff in the Digital Enterprise Center study the movement of digital product and process data through the manufacturing enterprise, with an emphasis on the digital value stream," said Hartman. "PLM methodologies and tools for product development, production and sustainment are used throughout the research projects conducted here."
Hartman says the adoption of digital manufacturing strategies and the incorporation of smart technologies — such as machines equipped with sensors, augmented or virtual reality, cloud computing and cyber-physical systems — are becoming more commonplace, to the point where he sees changes in the manufacturing sector embracing these concepts, collectively known as "Industry 4.0."
"Companies are embracing the digitalization of manufacturing technologies and its convergence with computing and information to make operations more efficient and competitive," said Hartman. "PLM methods and tools are fundamental to a company's transformation to a digital enterprise."
In addition to connecting employees with data inside a manufacturing facility, Hartman explained that PLM also improves the company's connection with its own existing products, because it can "manage information sent back from products in the field, back to the machines and back to the employees."
By combining the research of the Digital Enterprise Center with undergraduate PLM courses offered on Purdue's campus and continuing education certification for adults already in the manufacturing workforce, Hartman expects the Digital Enterprise Center to be a knowledge resource for the manufacturing industry in Indiana and beyond.
The Computer Graphics Technology department in Purdue's Polytechnic Institute is home to virtual product integration, the only undergraduate major in the country dedicated to product lifecycle management."Technology doesn't sit still. Business doesn't sit still. And, as the manufacturing sector goes through this digital transformation, employers can't wait years for their PLM employees to be effective," said Hartman. "We send our graduates out into industry and they hit the ground running. Our students have been able to go into organizations at this nexus of process re-engineering, IT deployment and technology, and be change agents."
PLM can incorporate a number of skill sets, and because of that, Hartman believes the PLM career path can be a good fit for middle school or high school students who have followed a career and technical education (CTE) pathway, or participated in Project Lead the Way (PLTW) courses within their school.
"Anyone with an interest in mathematics, communications, programming and software development, or organizational processes in manufacturing can be successful in our program," continued Hartman. "In industry, these methods, tools and ways of working manifest at that intersection between the functional and technical areas of an organization, such as engineering and manufacturing."
Hartman said his graduates typically enjoy a 95 to 98 percent job placement rate, with an average starting salary, depending on geography, of $55,000 to $65,000.
"If they get a master's degree, they can easily add $10,000 to that starting salary based on what we have seen recently," said Hartman.
Students who wish to pursue careers in PLM can major in virtual product integration. The department also offers three continuing education certificate programs that support the aspects of PLM, model-based definition (MBD) and technical data packages (TDP) in the digital enterprise.
For more information, visit polytechnic.purdue.edu/digital-enterprise-center.
About the Department of Computer Graphics Technology (CGT)

Besides virtual product integration, the Department of Computer Graphics Technology offers six areas of study: animation, building information modeling, data visualization, game development and design, UX design and web programming and design. This array of degree options enables students to align their plans of study with their talents and prepares them to be practitioners and managers in a range of computer graphics-related careers. Real-world projects and research opportunities help students put theories into practice and push the boundaries of how the medium can be used.
About Purdue Polytechnic Institute

The Purdue Polytechnic Institute is one of 10 academic colleges at Purdue University, offering undergraduate and graduate degrees in a range of disciplines: aviation, computing, construction management, engineering technology, technology leadership and technology education. In addition to Purdue University's main campus in West Lafayette, Indiana, Purdue Polytechnic offers select degree programs in nine Indiana communities.
###
Media Contact:
Melissa Templeton
Director of Marketing and Communications
Purdue Polytechnic Institute
templetm@purdue.edu
(765) 496-0094
Additional information: