Gary Bertoline, dean of the College of Technology, delivered these remarks (with assistance with faculty and students) during the Donor Appreciation Dinner this fall. Next year's event is set for Saturday, Sept. 28, 2013.
—–
Last week, I started a meeting with my leadership team by saying "I had a dream last night. A dream that I worked at the world's greatest university. And then I woke up, and it was true."
And it IS true. I get to come to work every day at this prestigious university and serve the higher purpose of educating students for their own bright futures. It doesn't get any better than that.
And I know it doesn't happen in a vacuum. We couldn't do what we do without the people in this room and the people and companies listed in your program. We simply couldn't.
The list of accomplishments and good news from the past year, I'm happy to say, is long, so I can't recount everything. But here is one highlight that can illustrate our larger efforts. The Solar Decathlon team, led by faculty and students in our college, won second place in the international Solar Decathlon competition in Washington, D.C. The student team came together around a shared vision of creating a home that is energy efficient AND would fit into a typical Midwestern neighborhood. They achieved that and more. The home now sits in a revitalized neighborhood in Lafayette and it has a new owner. We will be able to collect energy data from the home for a few more years as part of our research efforts in energy.
This one project made a difference in so many lives. It offered experience, a creative outlet and a meaningful outcome. The College of Technology excels at these types of projects. We couldn't achieve these successes without your support.
IMPACT OF STUDENTS: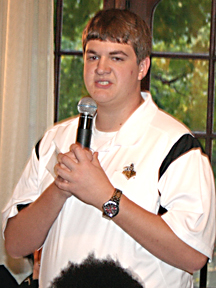 During the last academic year, we provided $280,000 worth of scholarship assistance to 146 students. That is significant. Scholarships are one way to have a direct impact on someone's future.
For every scholarship recipient there is a story. A story of need. A story of achievement. A story of drive and purpose.
Student Kyle Rice shared his story of scholarship impact.
"I am your scholarship dollars at work. Six years ago, my life changed. Future plans were uncertain. I lost my mom to breast cancer, and my remaining family of five faced an uphill financial climb. My Purdue scholarship provided peace of mind. To me. To my dad. To my siblings who are still in college and about to start. Your support changes lives. With my degree in computer graphics, I intend to follow your example. To make a difference. And to provide help when it is needed. You have taught me a valuable lesson that is just as important as my degree. Thank you for your generosity and selflessness."
IMPACT OF FACULTY:

The college has undertaken several strategic initiatives since I became dean. All of them are geared toward strengthening our current programs and how they are delivered. You'll hear more about most of these in the next few years as we solidify plans and garner funding for them.
One of initiatives we've identified is an emphasis on distance learning. With a state-of-the art facility and capabilities, we are poised to be a campus leader in creating and delivering quality educational experiences to audiences around the world.
Carlos Morales, professor of computer graphics technology and director of distance learning, shared his view of impact.
I am your faculty dollars at work. I direct the College of Technology's distance learning efforts. In essence, we beam our expertise to locations near and far. From online degrees to individual class sessions. From creating supplemental videos to graphic and audio support. We are a one-stop resource for faculty engaged in distance learning. Your support of strategic initiatives made this possible. Your vision of education for all is manifested in this one studio with enormous reach. Thank you for sharing our vision and trusting us to make it happen.
IMPACT OF RESEARCH:

Purdue University is a Research university. The College of Technology, historically, has been focused on teaching. In the last decade, however, we have ramped up our research efforts to address the immediate needs of industry. This research, which you help provide funding for, also allows our faculty to use their findings in our classrooms. It completes the educational circle of placing students first in all we do.
Graduate student Karthik Sukumar shared his story of research impact.
"I am your research dollars at work. With the Sriver Graduate Scholarship, I can concentrate on my graduate research. On my teaching….Not on my tuition bill. For my graduate research, I focus on the spatial visualization of athletes. How well they see a situation; how well they anticipate next steps. I will use my findings to develop a test that can help coaches and scouts predict performance of potential players. I predict, too, that my research will lead to a Ph.D. from the College of Technology. Thanks for recognizing my abilities and investing in my future. And in yours."
As we continue to focus on students first in all we do, once again, I want to say thank you — to all of you — for helping lead the way.
The stories that were shared, you have made possible. You share in those successes, and in the process, you are helping the College of Technology in its mission to move from Good to Great.
Hail Purdue!