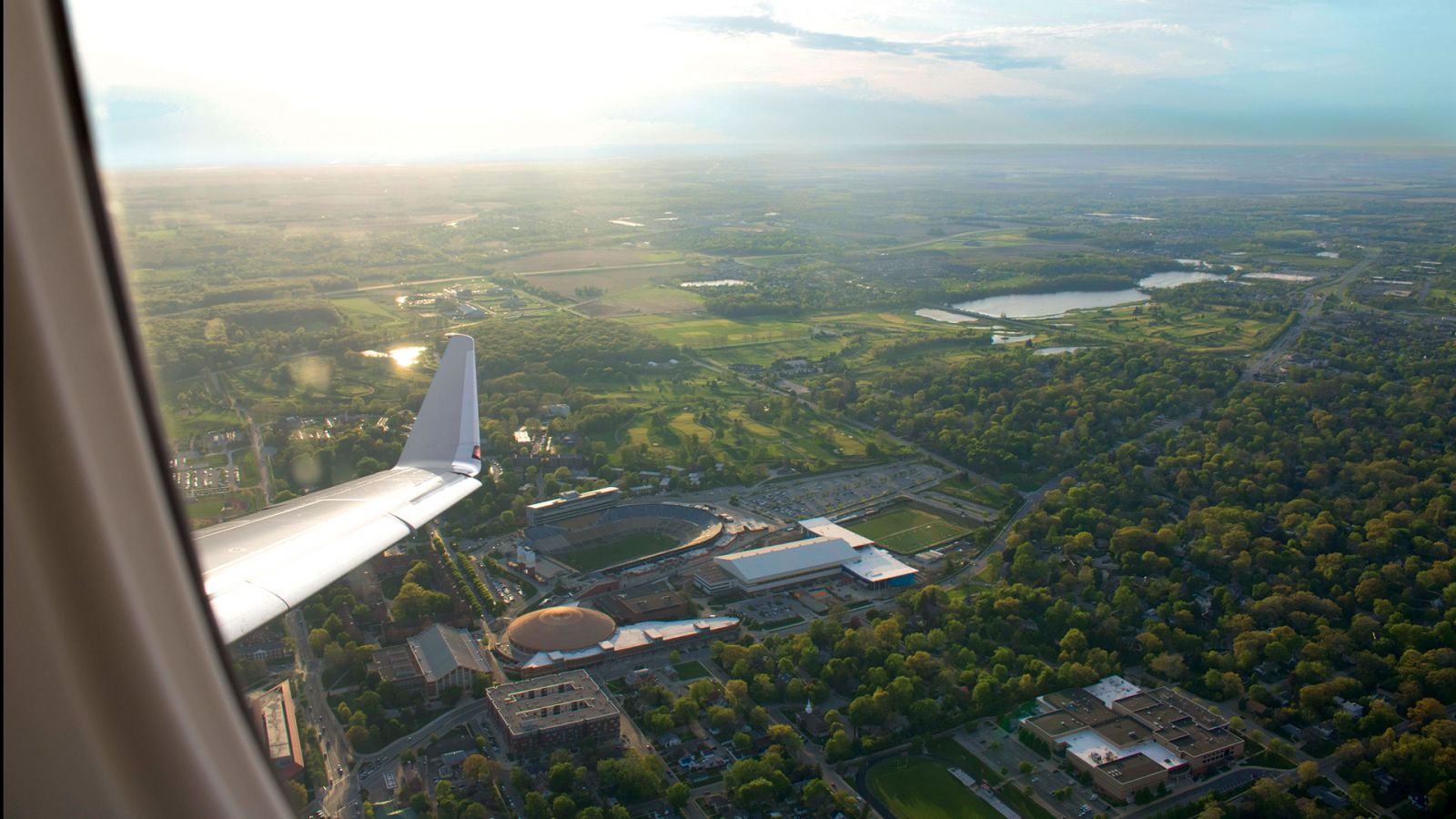 As a matter of course, the faculty and staff of the Purdue Polytechnic Institute's School of Aviation and Transportation Technology (SATT) consistently pursue grand challenges and industry needs. One of these challenges especially has the full attention of SATT's head of school, Manoj Patankar.
"There is a global shortage of pilots, and Purdue is part of the solution," said Patankar.
To remedy that pilot shortfall, Patankar has instituted a suite of advanced flight simulators, industry partnerships and an accelerated path to a professional flight degree.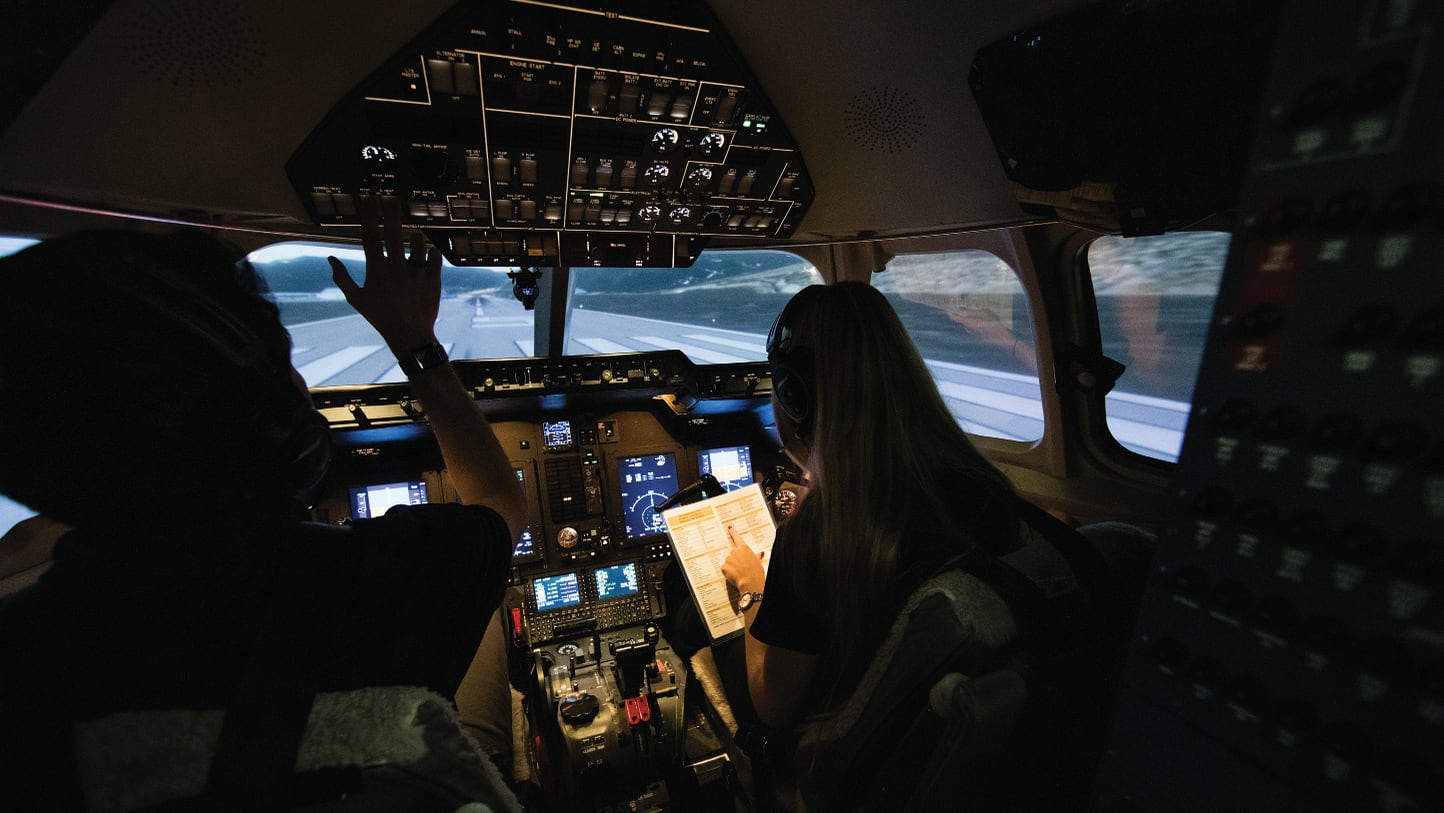 Full-motion flight simulator

Purdue is the only university to offer Hawker simulator training.
Students can now experience a Hawker 900XP full-motion, Level D simulator, designed and manufactured by FlightSafety International, a world leader in aviation training and simulation. The Hawker is housed in Holleman-Niswonger Simulator Center, with the school's new aircraft training devices and a number of part-task trainers.
Partnerships with Frontier and Airbus

Students graduate from Purdue "airline ready" to directly enter Airbus flight decks.
Thanks to an agreement between Purdue University, Frontier Airlines and Airbus, Purdue is the only university to offer A320 Type rating and utilize the latest Airbus tools, methodology, industry knowledge and technology.
Affiliate flight training

SATT partners with Purdue Global to expand professional flight program offerings
In a partnership with Purdue Global, SATT is creating an affiliate flight training program that will expand the reach of Purdue's aviation program to more students in other locations around the country. General education and open elective courses will come from Purdue Global's inventory, while students will earn academic credit for flight credentials obtained through affiliate flight schools. SATT will lend its expertise in curriculum development, faculty hiring, affiliate flight school selection, and accreditation by the Aviation Accreditation Board International.
Professional flight "Degree in 3" program

Students save time and money when they earn degrees in professional flight technology in three years
Students are taking advantage of Indiana's summer weather to fly year-round, just like their professional pilot counterparts in the airline industry. Participating "Degree in 3" students save approximately $20,000 to $30,000 in tuition and living expenses, and enter the job market sooner, which brings the total value of SATT's Degree in 3 program to more than $60,000.
Air Force cadet pilot training

Cadets earn private pilot certificates in summer training program
In 2018, SATT launched a partnership with the United States Air Force to teach high school students in the Junior Reserve Officers' Training Corps (AFJROTC) how to fly. In the first summer of the partnership, 20 cadets used an AFJROTC scholarship to earn their private pilot certificates at Purdue and take a giant first step toward a career in military or civilian aviation. In 2019, the number of cadets in the summer program increased to 52, and SATT intends to continue expansion of the program.
Electronic Purdue Bag

Each SATT student – including aeronautical engineering technology, aviation management, unmanned aerial systems and professional flight – receives a new cellular iPad, Apple Pencil and Logitech keyboard.
Dubbed an Electronic Purdue Bag (EPB) – a nod to the Electronic Flight Bag (EFB) that replaced pilots' paper-based flight information in the cockpit in the 1990s – the iPad systems provide Polytechnic aviation students with another competitive advantage by preparing them for the technologically advanced aviation industry, where most major airlines use iPad in the cockpit.
With their EPBs, students:
Access the latest technical documents, including operating manuals and navigational charts.
Generate multimedia safety reports on the spot.
Leverage immersive virtual and augmented reality tools.
Develop their own apps and customize their learning experience.
Connect with instructors via video.
Receive documentation required for classroom grading and professional certification.

New Piper Archer fleet

A new fleet of Piper Archers will continue student access to modern, reputable aircraft
A brand new fleet of Piper Archer aircraft, arriving in the spring of 2020, will further enhance SATT's learning environment. The four-place, piston, single-engine Piper flight trainers will enable students to hone their instrument and cross-country flying skills. The exceptional and diversified SATT fleet already includes Piper Arrows, Piper Seminoles and an Embraer Phenom 100 Corporate Light Jet.
The forward-thinking actions taken by faculty and staff of SATT continue to prove why their partnerships and resources place Purdue's aviation program – and its graduates – in a league of its own.

Additional information: