Developing 3-D Spatial Skills: Removing Barriers to Success for Women in STEM
Sheryl Sorby
Professor of Engineering Education
The Ohio State University
Date: August 3, 2016
Time: 2:15 PM - 3:00 PM (EST)
Purdue University, Stewart Center, 279
Abstract
The ability to visualize in three dimensions is a cognitive skill that has been shown to be important for success in engineering and other technological fields. For engineering, the ability to mentally rotate 3-D objects is especially important. Unfortunately, of all the cognitive skills, 3-D rotation abilities exhibit robust gender differences, favoring males. The assessment of 3-D spatial skills and associated gender differences has been a topic of educational research for nearly a century; however, a great deal of the previous work has been aimed at merely identifying differences. Previous studies have found that for students who have weak spatial skills, complex visualizations of scientific data are not meaningful and serve as a source of confusion. For more than two decades, Sheryl Sorby has been conducting research aimed at identifying practical methods for improving 3-D spatial skills, especially for women engineering students. This presentation details the significant findings obtained over the past several years through this research and identifies strategies that appear to be effective in developing 3-D spatial skills and in contributing to student success.
Short Bio
Dr. Sheryl Sorby is currently a Professor of Engineering Educaiton at The Ohio State University. She was recently a Fulbright Scholar at the Dublin Institute of Technology in Dublin, Ireland. She is a professor emerita of Mechanical Engineering-Engineering Mechanics at Michigan Technological University and the PI or coPI on more than $13M in grant funding, most for educational projects. She is the former Associate Dean for Academic Programs in the College of Engineering at Michigan Tech and she served at the National Science Foundataion as a Program Director in the Division of Undergraduate Education from January 2007 through August 2009. Prior to her appointment as Associate Dean, Dr. Sorby served as chair of the Engineering Fundamentals Department at Michigan Tech. In this capacity, she was responsible for the development and delivery of the newly adopted First Year Engineering Program at Michigan Tech. She received a BS in Civil Engineering, an MS in Engineering Mechanics, and a PhD in Mechanical Engineering-Engineering Mechanics, all from Michigan Tech.
Dr. Sorby has a well-established research program in spatial visualization and is actively involved in the development of various educational programs. She received her first grant from the National Science Foundation in 1993 to develop a course and course materials for helping engineering students to develop their 3-D spatial skills. She has received numberous follow-up grants from the NSF to furhter her work in developing and assessing spatial skills. Her spatial skills curriculum has been adopted by nearly 30 engineering programs across the U. S. In 2005 she received the Betty Vetter award for Research on Women in Engineering through the Women in Engineering Program Advocates Network (WEPAN) for her work in improving the 3-D spatial skills of engineering students. She has published more than 150 papers in journals and conference proceedings and is the author of seven textbooks.
Dr. Sorby has been a member of the American Society for Engineering Education (ASEE) since 1991 and has served the society in various capacities. She was chair of the Engineering Design Graphics Division in 2002 and has served as program chair for EDGD for several conferences. She was Director of Programs for EDGD from 2010-13. In addition, she was conference chair for the 2010 midyear meeting of EDGD. She is one of the inaugural Associate Editors for Advances in Engineering Education, ASEE's online journal. She also serves on the Board of Directors for ASEE.
She was the recipient of the Dow Outstanding New Faculty Award in 1996 and the recipient of the Distinguished Teaching Award in 1998, both for the North Midwest Section of ASEE. She received the Distinguished Service Award from the Engineering Design Graphics Division of ASEE in 2007. In 2009 she was inducted as a Fellow in the ASEE and in 2011 she received the Sharon Keillor award for oustanding woman engineering educator from ASEE.
---
The Art of Scientific Visualization
Donna J. Cox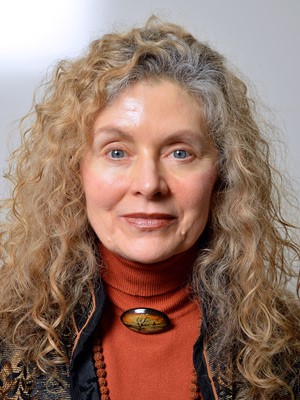 Director of the Advanced Visualization Laboratory
National Center for Supercomputing Applications (NCSA)
University of Illinois Urbana-Champaign
Date: August 4, 2016
Time: 12:00 PM - 12: 45 PM (CST)
University of Illinois Urbana-Champaign
NCSA Room TBA
Abstract
The National Center for Supercomputing Applications' Advanced Visualization Lab (AVL) develops scientific visualizations from supercomputer numerical models. Donna Cox will present a variety of interdisciplinary collaborations between AVL and science teams to create data visualizations that cross the boundaries of art-science and provide stunning examples of an emergent field. AVL develops advanced virtual tools to create visualizations and incorporate into insightful public outreach programs. Cox and her team's unique contribution is the cinematic presentation of science. They have thrilled and informed millions of people with stunning visuals of science data for IMAX movies, feature films, PBS HD television, and large-screen digital museum and full dome shows around the world. Cox will present examples of this work and introduce the afternoon's hands on demonstrations.
Short Bio
Dr. Donna J. Cox is a designer who collaborates with scientists and technologists to create cinematic presentations of science. As Director of the Advanced Visualization Laboratory (AVL) at the National Center for Supercomputing Applications (NCSA) at the University of Illinois Urbana-Champaign, she and the AVL Team collaborated with IMAX and Toni Myers on the film "A Beautiful Planet" to create the opening and closing scenes.
Cox is Professor in the School of Art and Design, and the first Michael Aiken Endowed Chair at the University of Illinois. She is the forerunner in the convergence of art and science through digital visualizations and the inventor of "Renaissance Teams" as an interdisciplinary approach to visualizing scientific data. Cox won the international Coler-Maxwell Award for Excellence granted by the Leonardo International Society in Arts Science and Technology.
Cox and her collaborators have thrilled millions of people with stunning cinematic data visualizations of science for IMAX movies, feature films, television, and large-screen digital museum shows around the world. Cox and her AVL team worked with IMAX and created two major virtual scenes using scientific data for the Hubble3D IMAX film that premiered at Smithsonian's National Air and Space Museum, March 2010. The film won three Giant Screen Awards for best film, best life-long learning, and best cinematography. She was Associate Producer for Scientific Visualization and Art Director for the PIXAR/NCSA segment of the IMAX science education movie, Cosmic Voyage, nominated for a 1997 Academy Award in the documentary category. She uses best practices to direct and co-produce content for original productions including the recent fulldome Solar Superstorms narrated by Benedict Cumberbath.
Over her long career she has created a large body of work. She is an international keynote speaker and her collaborative work has been cited and reviewed in hundred's of publications including TIME, National Geographic, and New York Times. Cox writes on the art of science visualization, coined the term "visaphors" and is co-editing a forthcoming book on the history of women artists and collaborative invention. She shares a patent for a "Virtual Reality 3D Interface System for Data Creation, Viewing and Editing" system that her team employs to create movies and used with Toni Myers to choreograph scenes for A Beautiful Planet. The Chicago Museum of Science and Industry selected Cox as one of 40 the "modern-day Leonardos" and exhibited her digital collaborative works in the Leonardo da Vinci exhibition.