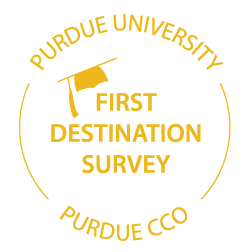 The Purdue Polytechnic Institute and the Department of Technology, Leadership and Innovation have built quality relationships with corporations, companies, and other industry partners. These partnerships result great opportunities for internships, co-ops and employment opportunities after graduation.
Help the Center for Career Opportunities (CCO) share graduate successes by completing the First Destination Survey (click on the blue "Tell Us Your Plans" link once you arrive at the CCO site).
Polytechnic Portal

The Polytechnic Portal is a useful tool to help students connect with internships, capstone projects, and other exciting opportunities. Access the Portal here.