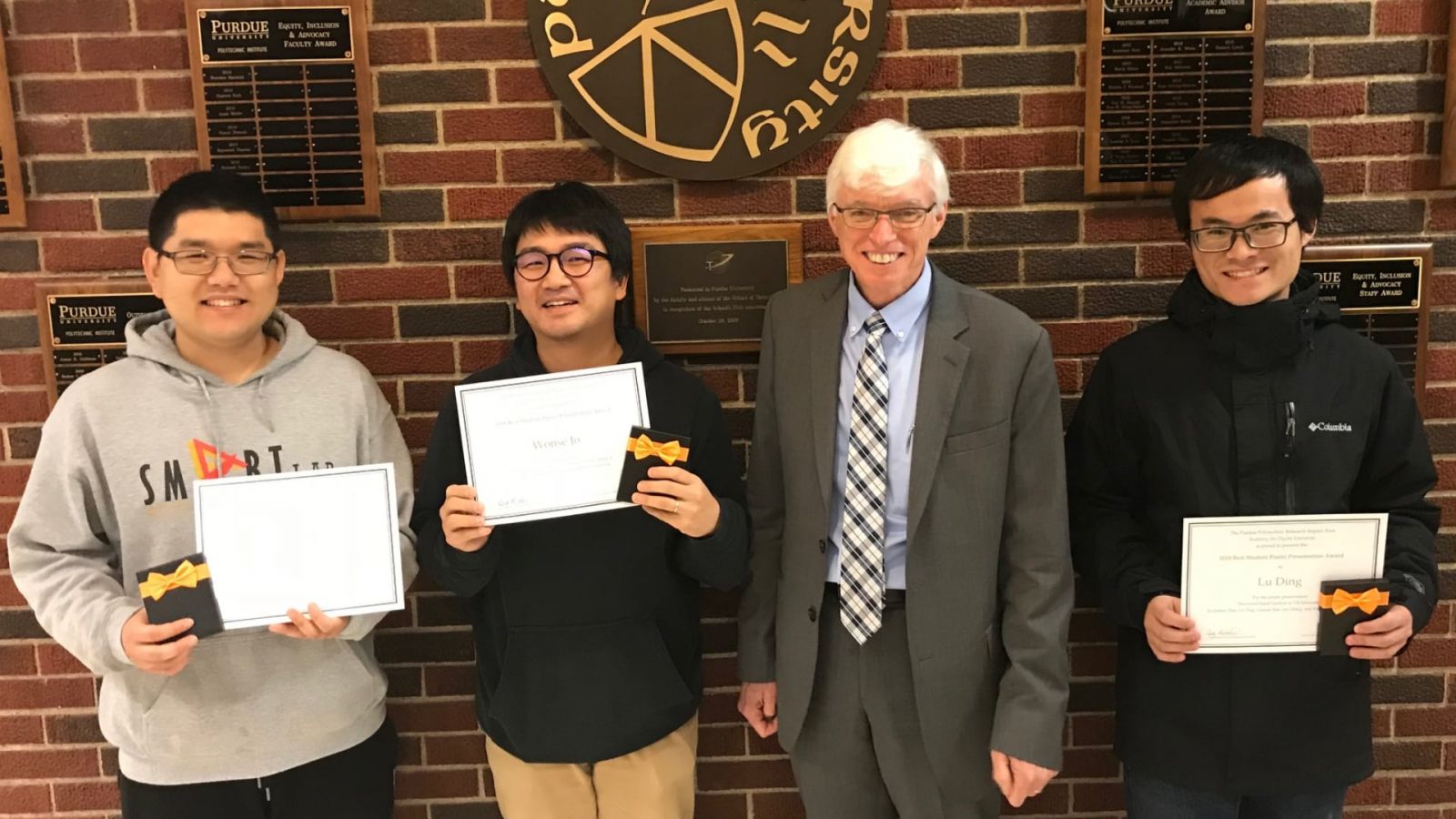 Research assistants in Purdue Polytechnic displayed research projects at the Realizing the Digital Enterprise Graduate Student Poster Session in late November. Three of the 22 posters were selected by students, faculty and staff as winners:
Jun Han Bae (Engineering Technology): "Robot-Based Environment Monitoring: Application to Sediment Monitoring"
Mentor: BC Min
Wonse Jo (Computer and Information Technology): "Development of Low-Cost USV Prototypes for Water Research"
Mentor: BC Min
Lu Ding (Computer Graphics Technology), "Perceived Hand Gesture in VR Simulation"
Mentor: Victor Chen
Bae, Jo and Ding won $50 Amazon gift cards. In addition to the winning posters, several other posters were selected for display in Knoy Hall:
Mahdi Afkhamiaghda (Construction Management Technology), "BIM-GIS Simulation Model; An Occupant Behavior Based Design Approach"
Mentor: Keresh Afsari
Chuyang Yang (Aviation and Transportation Technology): "Accuracy Assessment of Operations Counting Technology Improvements at Non-Towered Airports"
Mentor: John Mott
Ran Ren (Construction Management Technology): "BIM Interoperability for Structure Analysis"
Mentor: Jiansong Zhang
Hao Kang Mentor: Bedrich Benes
The poster session was hosted by Purdue Polytechnic's Office of Research and faculty members whose projects are aligned with the college's Realizing the Digital Enterprise research impact area. Their projects seek to leverage the cross-cutting power of computing broadly to increase efficiency and intelligence in activities which were traditionally physical. Utilizing process control, automation, sensors, data analytics and other technologies, they aim to create a wholly connected enterprise in which newly discovered efficiencies converge.
Realizing the Digital Enterprise is one of the college's five research impact areas.
Additional information: