A delegation from the Universidad Nacional de San Agustín (UNSA) in Arequipa, Peru, visited Purdue University's West Lafayette campus in October to prepare for the third phase of a major multidisciplinary research partnership.
UNSA and Purdue partnered nearly four years ago to create the Arequipa Nexus Institute for Sustainable Food, Water, Energy, and the Environment. Via research and education, the Nexus Institute aims to address challenges in the areas of food security and safety, water and air quality, energy efficiency, soil health and productivity, social conflict identification and resolution models, and holistic watershed management for the peoples of Arequipa and Latin America.
Touring Purdue research facilities

The UNSA delegation visited Purdue at the invitation of Theresa Mayer, executive vice president for research and partnerships, following her own visit to UNSA in September. The delegation included Luis Ernesto Cuadros Paz, vice rector for academic affairs, Henry Polanco Cornejo, vice rector for research, Dennis G. Macedo Valdivia, associate professor of agronomy and Nexus Institute co-director, and Jane Mara Linares Pomareda, professor of chemical engineering.
Daniel Leon-Salas, associate professor of engineering technology and Nexus Institute co-director, Lori Hoagland, professor of soil ecology and Nexus Institute co-director, Heidi Arola, director of global partnerships, Rosa Cossio, Nexus Institute project coordinator, and Mayer served as hosts.
"This was an opportunity for the new UNSA leadership team to visit our state-of-the-art research facilities, meet our scientists and researchers, and have conversations aimed at further strengthening the existing cooperation agreement between our two institutions," said Mayer.
At Purdue, the delegation toured a variety of facilities, including Purdue Polytechnic's Collaborative Robotics Lab and the Applied Energy Lab. Richard Voyles, the Daniel C. Lewis Professor, and Bill Hutzel, professor of mechanical engineering technology, hosted each respective tour.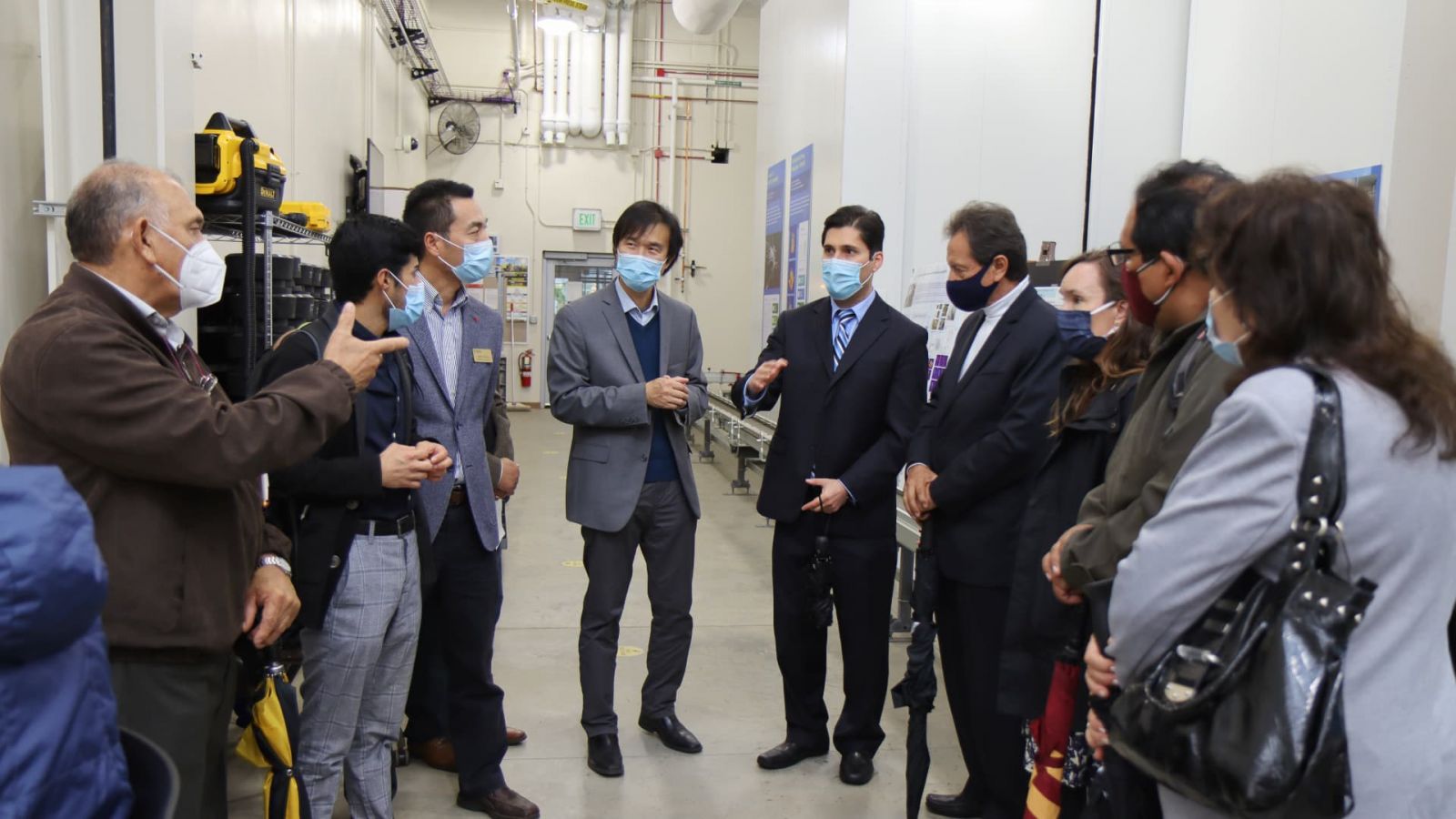 In Purdue's College of Agriculture, the delegation visited the Ag Alumni Seed Phenotyping Facility, a state-of-the-art laboratory where researchers explore the traits of plants rapidly and non-destructively under precise environmental control.
Yang Yang, director of digital phenomics, and Mohsen Mohammadi and Cankui Zhang, associate professors of agronomy, explained how the facility uniquely supports phenomics, the science of measuring and analyzing a plant's physical characteristics after it interacts with its environment. Using a novel automated phenotyping system that facilitates plant growth and high-throughput plant measurements, researchers obtain data that supports a broad range of applications in plant science, crop breeding, agricultural engineering, molecular biology and plant pathology — research that is of key interest to the Nexus Institute's goal to address issues related to food security and safety in Peru and Latin America.
Additionally, the UNSA delegation visited the college's Indiana Corn and Soybean Innovation Center, learning from Keith Cherkauer, professor of agricultural and biological engineering, about how he incorporates field-based imaging using drones in his research. They also toured the Agronomy Center for Research and Education farm, where they met with Rakesh Agrawal, the Winthrop E. Stone Distinguished Professor of Chemical Engineering, to learn how his team is integrating solar panels in crop fields. Finally, they went to Nelson Hall's food safety lab, led by Amanda Deering, clinical associate professor of food science, and the enology library to meet with Christian Butzke, professor of food science.
In Purdue's Colleges of Engineering and Science, they toured the Environmental Engineering Analytical Lab and the Stable Isotope Lab, respectively, meeting with Tim Filley, adjunct professor, Lisa Welp, associate professor of earth, atmospheric and planetary sciences, and Greg Michalski, professor of earth and atmospheric sciences and chemistry.
"We selected specific facilities for their tour based on Purdue's ongoing projects with UNSA so they could see examples of research in progress," said Leon-Salas. "We also wanted them to see Birck Nanotechnology Center and Bindley Bioscience Center, state-of-the-art facilities especially relevant to our collaborative research. Our visitors were particularly impressed by the phenotyping facility and by the high-tech equipment at Bindley. Dr. Polanco also toured the labs at IN-MaC (the Indiana Manufacturing Competitiveness Center) and enjoyed learning about Purdue's close collaboration with industry."
The three-day schedule was designed to help the UNSA delegation visualize future collaborative research.
"Throughout the visit, we were able to highlight Purdue's strengths in areas where we expect to work together in the near future," said Hoagland. "For example, existing projects do not yet leverage drones and imaging technologies or solar energy. But all of those are included in research proposals for Phase III of Purdue's collaboration with UNSA."
The UNSA delegation is especially interested in projects related to the environment, energy and education, Leon-Salas said, so the Purdue hosts organized a presentation and poster session to allow for face-to-face conversations between the UNSA team and Purdue researchers. The presentations and posters showcased results from the first two phases of the Purdue/UNSA research partnership as well as proposals for the third phase.
"In addition to learning more about Purdue's research capabilities, the UNSA leadership team was able to connect with people from our hospitality program and with people from the Center from Instructional Excellence over lunch and dinner," said Leon-Salas. "Online meetings would have been possible, but far less efficient."
The UNSA officials also had the opportunity to meet with Jay Akridge, Purdue's provost, and to greet Purdue President Mitch Daniels.
"Meeting with Purdue's highest-level administrators helped ensure that our visitors felt valued and welcome," said Leon-Salas. "In the future, UNSA wants to strengthen their educational ties with Purdue, perhaps for dual degrees and/or exchange programs. This type of academic integration will have a better chance of success because Provost Akridge is directly aware of these opportunities for collaboration."
Commercialization

Ultimately, the UNSA-Purdue technical alliance will include an integrated research and commercialization program modeled on Purdue's Discovery Park. To facilitate their planning, the delegation met with Gregory Deason, senior vice president for alliances and placemaking, Bill Arnold, assistant vice president of Purdue Research Foundation and managing director of the Purdue Foundry, Abhijit Karve, business development director for Purdue's Office of Technology Commercialization, and D.H.R. Sarma, director of intellectual property protection for the Office of Technology Commercialization.
"The aim of these meetings was to show UNSA how Purdue could be of help as they implement their 'Scientific Park,' modeled on Purdue's Discovery Park, which aims at discovery and commercialization of research," said Leon-Salas.
Ongoing research in Purdue University's Polytechnic Institute

Purdue Polytechnic professors are engaged in research projects that connect with the Nexus Institute's goals.
In collaboration with researchers at UNSA, for example, Leon-Salas is developing a low-cost, portable sensor to measure photosynthetically active solar radiation to help farmers and plant growers to assess the solar resources available to them.
Bill Hutzel's Applied Energy Lab in Knoy Hall features computer-controlled heating and cooling systems that mimic the types of equipment found in modern commercial buildings. Through the lab, undergraduate and graduate students pursue energy systems research like the Biowall and the ReNEWW House, focusing on high performance buildings and solar energy.
Through renewable energy technologies and improved building designs, Hutzel's research is leading toward self-sufficient "net-zero" buildings able to use less energy or even return surplus energy to the grid. Achieving a high level of sustainability is one of the Nexus Institute's key goals for Arequipa, Peru.
Byung-Cheol "BC" Min, associate professor of computer and information technology and director of the Smart Machine and Assistive Robotics Technology (SMART) Lab, is developing an aquatic robot that samples sediments from rivers and lakes. The project aims to help researchers with the sample collection process.
And a project led by Suranjan Panigrahi, professor of electrical and computer engineering technology, is developing portable sensors for the detection of heavy metals in water and food.
"These projects are very much aligned with the Nexus Institute and our goal to advance Purdue/UNSA collaboration on projects related to the environment and energy," said Leon-Salas. "We currently have a portfolio of 21 projects, and each addresses a unique need or a knowledge gap in Peru. Our hope is that some, like the Polytechnic's research projects, might lead to commercial solutions."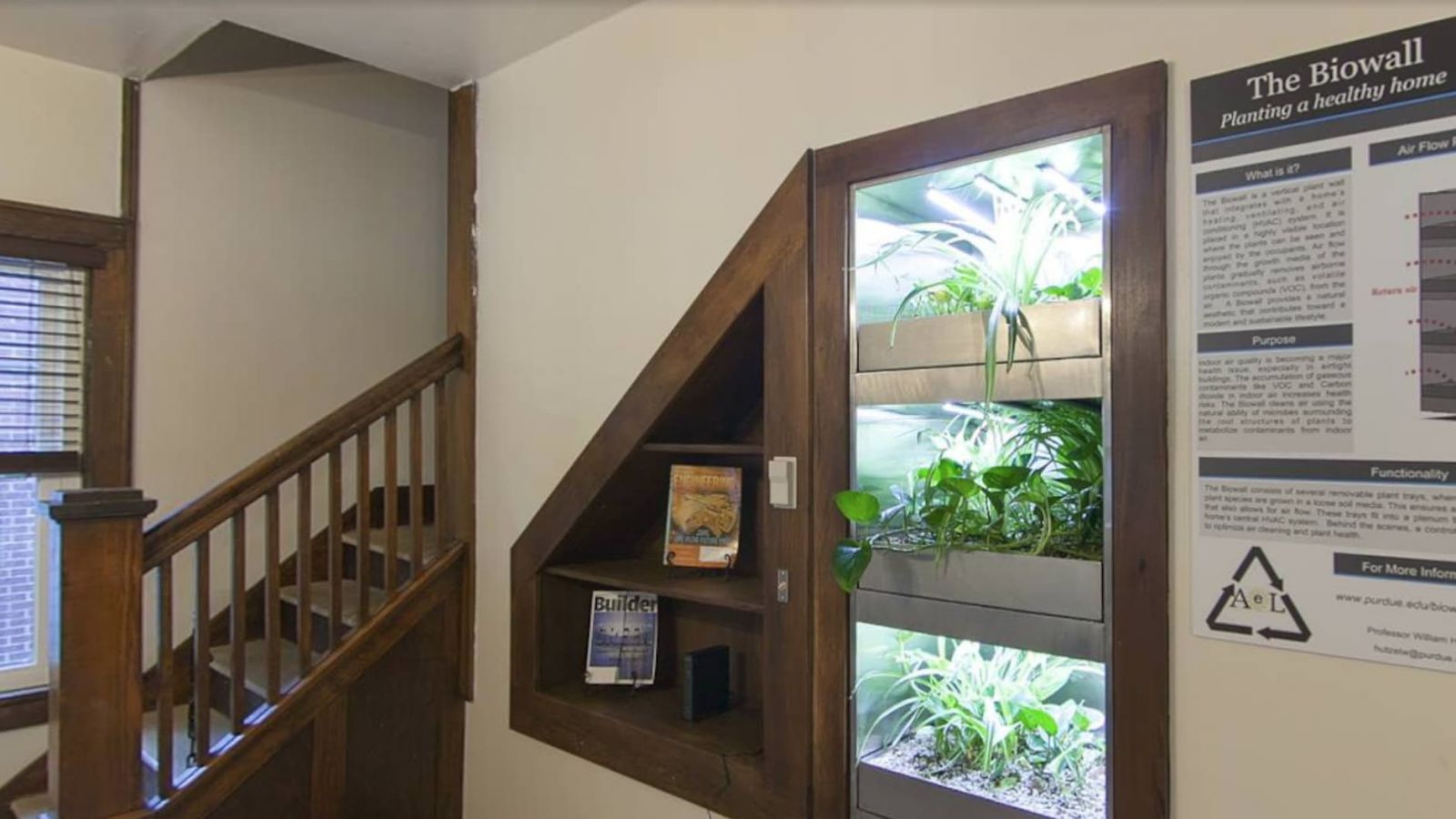 Additional information

About the Purdue Polytechnic Institute

The Purdue Polytechnic Institute, one of the 10 academic colleges at Purdue University, offers undergraduate and graduate degrees in aviation, computing, construction management, engineering technology, technology leadership and technology education. In addition to Purdue University's main campus in West Lafayette, Indiana, Purdue Polytechnic offers select degree programs in nine Indiana communities.