To demonstrate the use of aviation biofuels, Purdue University pilots will fly an Embraer Executive Jets Phenom 100 jet to EAA AirVenture August 2 partially powered by a biofuel blend.
The jet is powered by twin Pratt & Whitney Canada (PWC) engines. The biofuel blend — a mixture of a Camelina-based HEFA (hydroprocessed esters and fatty acid) biofuel and conventional Jet A fuel — will power one of the Phenom's engines, while conventional Jet A fuel will supply the other. The U.S. Air Force blended and supplied the biofuel.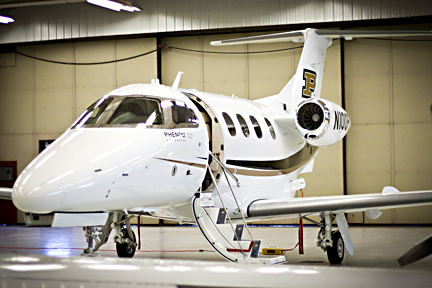 "This demonstration flight will be one of the first in the United States in which a University-owned jet will be powered by biofuels, and it represents an important milestone toward the long-term vision of operating a green training fleet at Purdue University," said David Stanley, associate professor of aviation technology and co-director of Purdue's Air Transport Institute for Environmental Sustainability (Air TIES).
Before and after the flight, key performance measurements will be studied, and selected system inspections will be made. During the flight, engine and fuel system measurements will be compiled and corresponding data from the test cell research will be compared and analyzed as the basis for an exploratory paper on the use of biofuels in aircraft of this size.
Using the same fuel supply, Purdue will also be conducting extensive emission and performance tests with a Honeywell TFE-109 turbofan engine, which is of similar size and thrust as the PWC engines installed on the Phenom 100.
Through a cooperative agreement, the U.S. Air Force and the Air Force Research Lab (AFRL) have supported the Air TIES biofuels research by helping to develop advanced fuel testing capabilities over the past four years. The partnership also involves the exchange of biofuels for ongoing emissions and engine operations tests conducted by the National Test Facility for Fuels and Propulsion (NaTeF) at Purdue, housed in the Niswonger Aviation Technology Building at the Purdue University Airport.
"Aviation biofuels, some of which are approved for use today, are of interest due to their potential to reduce carbon emissions and be derived from non-petroleum sources such as renewable biomass," said Denver Lopp, professor of aviation technology and co-director of Air TIES.
Plans for the demonstration flight emerged from Purdue's involvement in Midwest Aviation Sustainable Biofuels Initiative (MASBI) activities. The flight is intended to accelerate interest in future biofuel use in the Midwest. It will be piloted by Lisa Lewis, director of flight operations at the Purdue Airport, and Purdue student Braxton Baker will serve as co-pilot. Gary Bertoline, dean of Purdue's College of Technology, will be a passenger on the flight.
Researchers with Air TIES believe it is important to include student researchers on their projects because they are the next generation of aviation leaders.
"This demo flight using a university light jet in an educational setting is truly representative of a new generation of pilots and fuels," said Rich Simmons, Air TIES executive director for research. "Along with other research aimed at the deployment of sustainable low carbon aviation fuels, this flight can help focus attention on innovative solutions to key energy and environmental challenges facing aviation. It's rewarding to see these visions of tomorrow taking flight today."
About Air TIES
Founded in 2011, Air TIES features involvement across the Purdue campus to advance sustainable and cost-competitive biofuels. From deep agricultural knowledge, to advanced conversion technologies and end-use validation capabilities, the center provides expertise throughout the biofuel supply chain. Air TIES and select Purdue faculty will be strategic partners on a recently announced U.S. Department of Energy cooperative assistance award of up to $4.6 million to Mercurius Biofuels. This fall, the company will begin the design of a pilot plant to produce renewable aviation fuels from corn stover in the region. Air TIES will continue its cooperative efforts with industry, government, and educational organizations to better understand economic and environmental impacts and achieve tangible progress for aviation biofuel production in the Midwest.