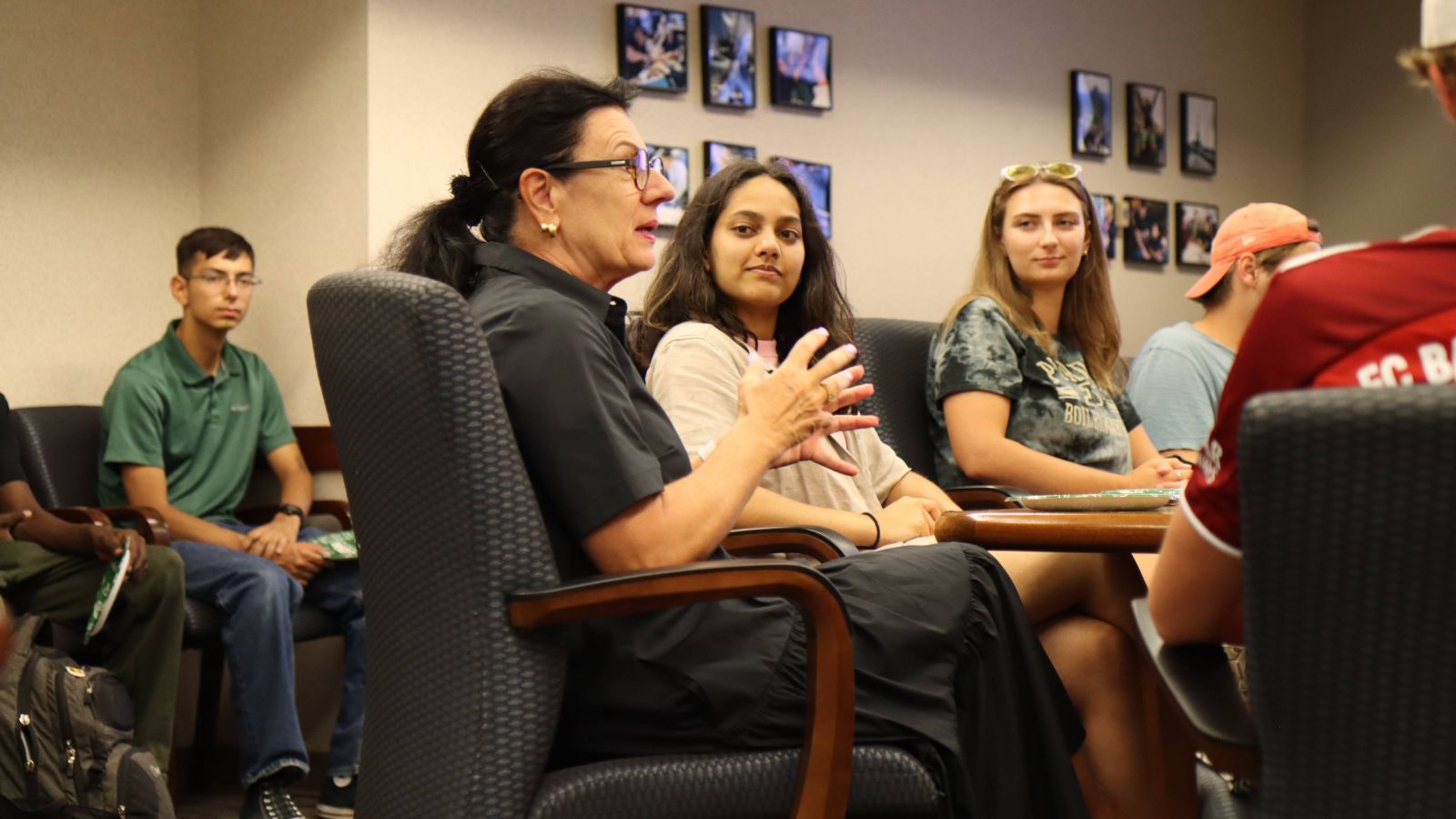 During Purdue University's welcome week for fall 2023, Vera Hummel of Germany's Reutlingen University, who is also the president of the International Association of Learning Factories (IALF), joined students and faculty leaders to discuss the official launch of a dual master's degree program.
Through this collaborative agreement between Purdue and Reutlingen, students can earn two master's degrees simultaneously:
a master of science in engineering technology from Purdue, and
a master of science in digital industrial management and engineering from Reutlingen
In the meeting with interested students, as well as Purdue faculty leads Ragu Athinarayanan and James Tanoos, Hummel asserted that "Germany has become an especially exciting place to learn about Industry 4.0" in the years since 2011, when the IALF hosted their first meeting in the German city of Darmstadt.
"The whole world of customized, highly-tailored manufacturing is new and exciting in this part of Europe," Hummel said. "Our research professionals are still very energized by using learning factories to teach students about the next wave of industry. It's not just that we have the new technology over there, it's also that the level of institutional support for new methods and ideas has really gotten integrated since 2011. Everyone in Germany—the universities, the government, our scientists and our trade and worker unions—are all directed at improving our high-tech manufacturing capacity."
Against this backdrop, Reutlingen wants to bring its students to America in order to work with the brand new state-of-the-art learning factory run by Purdue Polytechnic. Simultaneously, Reutlingen will be providing the opportunity for current Purdue students to work with faculty and peers abroad at their business school, ESB, which is deeply entwined with the university's own equivalent on-site learning factory.
Students from either university who successfully complete the program (designed to take two years), will walk away with both of the aforementioned degrees, with the added benefit of international exposure to a new network of professionals.
The added benefit of an international network is also designed to increase "cross-cultural competencies" which Hummel finds important. "Those students are often better prepared to understand industry, due to the really meaningful differences in how professionals in the same field work simply because of where they are in the world, and how that place functions."
Athinarayanan emphasized that this program—greenlit by Purdue's provost as of two months ago—has been meticulously crafted to maximize student benefit. "We've been collaborating on this since 2017," Athinarayanan said. "And now that the Purdue campus has a great, modern learning factory where students can see every aspect of how manufacturing works in the twenty-first century, from assembly to machining to information technology, it's exactly the right time to initiate this international exchange of knowledge for everyone's benefit."
A major theme of the meeting was that the combination of international exposure and learning factory implementation will allow students to get trained in industry-relevant skills much faster, and to get far ahead of the curve compared to those who encounter certain problems for the first time on the job.
"We really built this program for you," Athinarayanan told the students. "The Smart Factory on our campus was designed precisely the way it is because it's transplanted from the German model on the Reutlingen campus. … And that's because the evidence from their outcomes is that it really works in job-preparedness and depth of knowledge."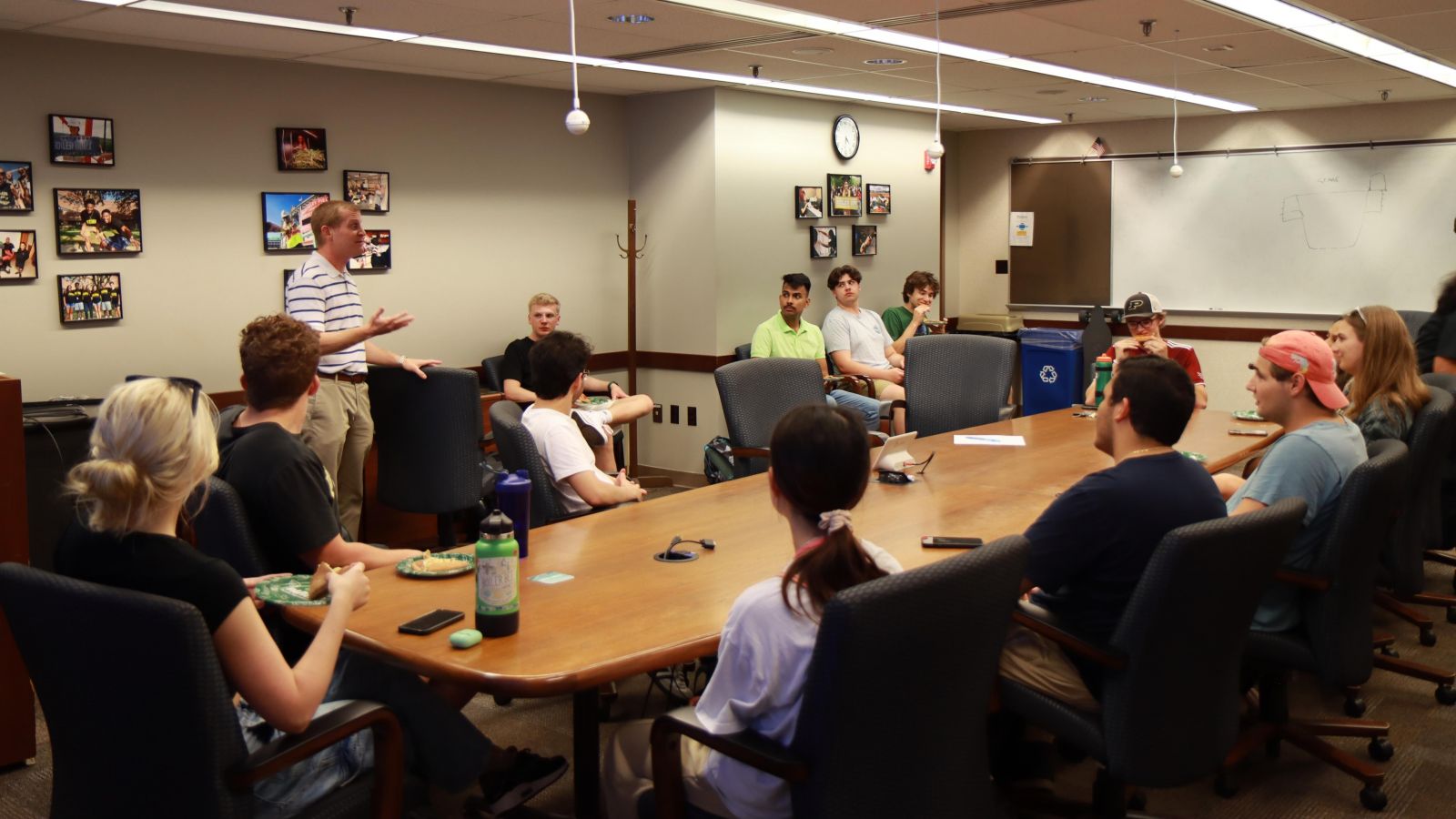 Hummel may also play a unique role for the inaugural class of students as a mentor in Germany. Tanoos emphasized, "[Hummel has] really been a pioneer in this field. Especially as one of the first in a generation of women to reach an extraordinarily high level of success in the manufacturing world."
Hummel stated that when she joined the historical applied research institution the Fraunhofer Society, there were no women present in leadership. Now as IALF's president and as an ESB Business School faculty member at Reutlingen, she seeks to foster greater inclusivity in STEM fields.
"Follow your truth and your path," was Hummel's message for female students and industry specialists. "Do not give up … and whenever you start something, finish it. Never stop halfway."
West Lafayette students interested in applying for the dual master of science degree at Purdue and Reutlingen may find the admission requirements at this webpage, or may contact Athinarayan or professor of practice Grant Richards.
Additional information