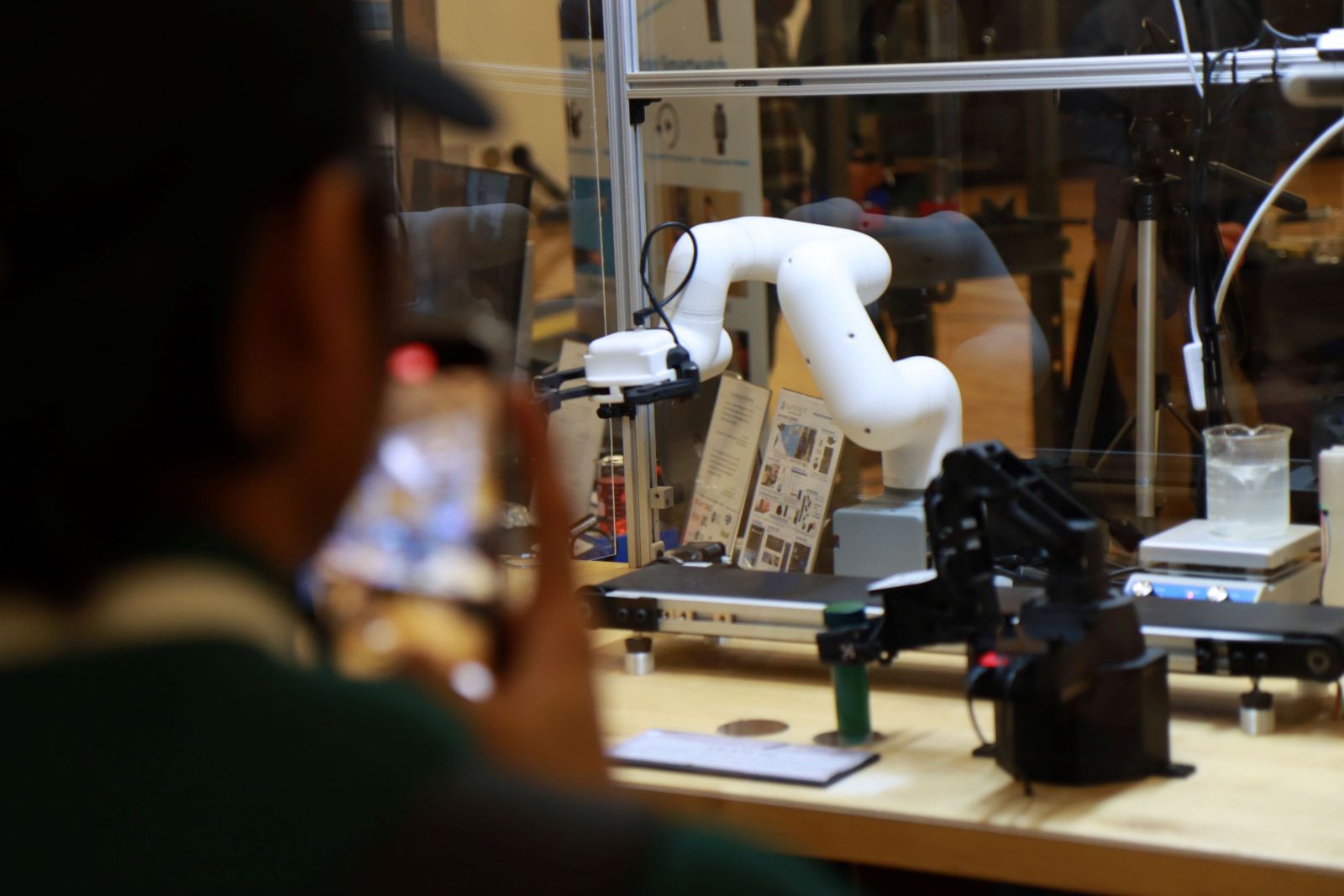 As the spring 2023 semester drew to a close, Purdue University's Polytechnic Institute hosted a new Tech Expo for its students in the School of Engineering Technology.
Tech Expo is the prime showcase event for seniors in engineering technology, where they display their capstone projects – the final assignments required in their program – which range from automation, robotics, mechanical engineering and much more depending on the individual expertise of students and their group collaborators.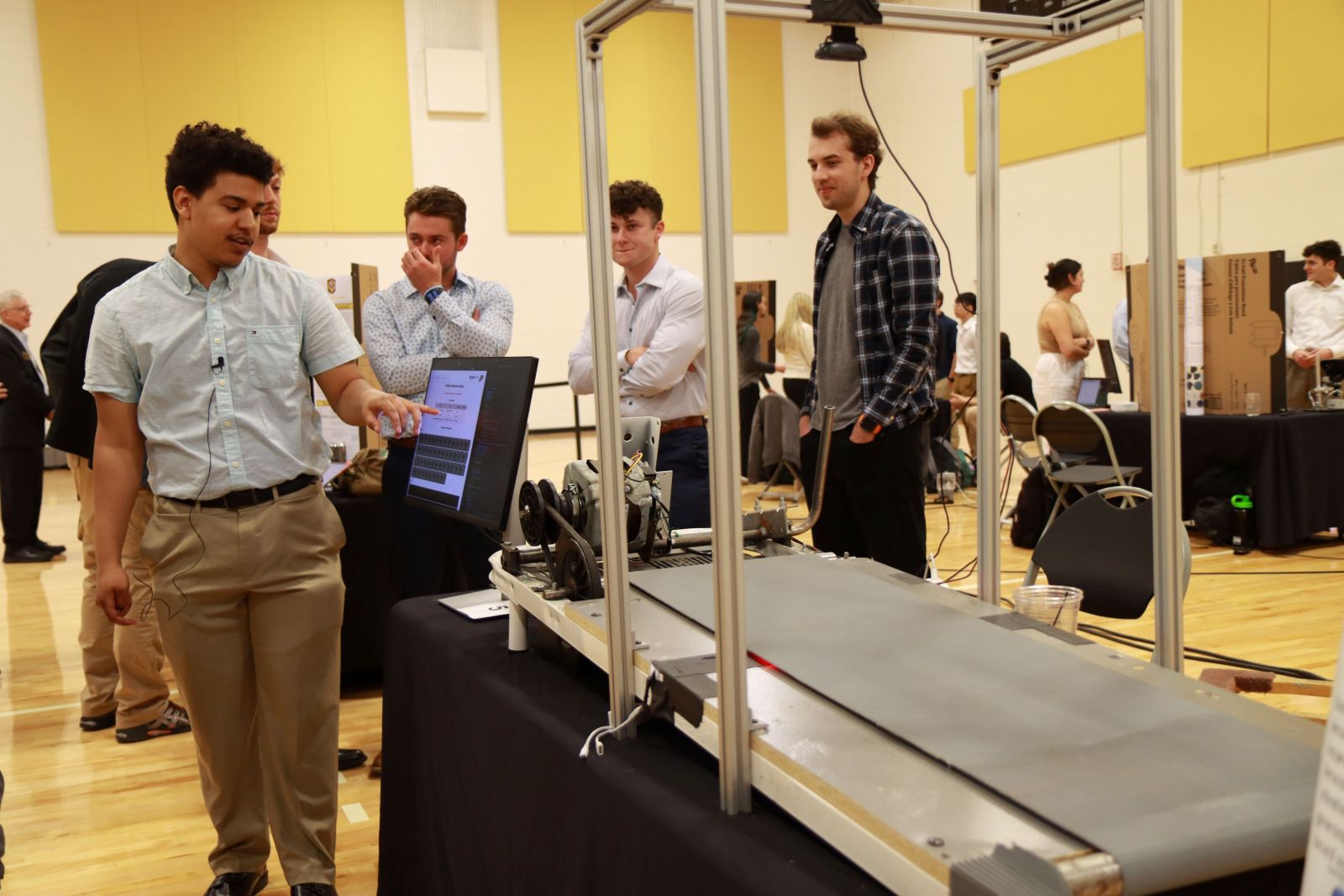 This year's Tech Expo featured 31 projects distributed among a total of 18 sponsors. Student groups are and sponsors are matched by faculty on the basis of where the seniors have specialized throughout their time at Purdue. The goal is to create balanced teams that can reliably help the sponsors – either industry partners at the national or local level, or institutions within Purdue – solve the problem they present to the seniors.
In Jared Pritchard and his team's case, they discovered firsthand that sponsors present genuine problems, not just hypotheticals, to the capstone groups. Many of the problems students are asked to solve are serious obstacles to the sponsoring company's efficiency and daily operations. "We've had some people from Amazon's team already over here to see [our capstone] get demoed. They seem pretty impressed with the system, and the fact that it does the job they asked for within the budget limits," Pritchard, a supply chain and sales engineering technology student, said.
Electrical engineering technology's Devon Harmon (on the same team as Pritchard) explained that Amazon presented a problem that often causes hang-ups at their fulfillment centers – the sites where Amazon packages are shipped from – and costs them both time and money. "The problem … was the downtime for conveyor belt maintenance. If a belt breaks, it basically stops any progress in that part of the fulfillment center. And their own research into the problem says that this costs Amazon millions of dollars every year," Harmon said.
This was one of four teams sponsored by Amazon, with each group contributing significant insight into their processes and how they might be streamlined and improved. The sponsors ranged from auto manufacturing (Stellantis, Subaru, Honda) to biomedical tech companies (Salk Institute for Biological Studies) and much more.
This year's sponsors also showcased the ways in which the Tech Expo is becoming multi-generational. One sponsor, GyroPalm, was founded by Dominick Lee – a former engineering technology student who has returned to the School of Engineering Technology's talent pool to help him discover new applications for his next-generation smart watch technology.
Many seniors at the Tech Expo had already considered next steps for their post-collegiate careers. Among the students working with Endress and Hauser – a Swiss-based creator of lab instruments and industrial sensors for hydraulic systems – team members were interviewing at employers like Honda Manufacturing of Indiana, Subaru of Indiana Automotive and more.
Mitchel Mayer, one of three mechanical engineering technology majors on the Endress and Hauser team, stated "[nearly] everything on our project was custom-built. For the most part, that involved using a lot of our experience as a group with 3D printing, and also doing a lot of laser-cutting at the Bechtel [Innovation] Center."
Mayer and his team were one group among many that used resources in engineering and tech centers across Purdue's campus to achieve their goals. In the months and weeks ahead of the Tech Expo, School of Engineering Technology students were visible around the Bechtel Innovation Center's 3D printing lab, the new work spaces and labs of Dudley and Lambertus Halls and elsewhere; much of this time spent working with this specialized equipment is also documented as part of their progress reports related to the capstone.
Many seniors at the Tech Expo pointed to the plethora of hands-on learning opportunities as the major draw to the School of Engineering Technology. Another member of the Amazon team, Grant Hollyer of mechanical engineering technology, implied that this remains true even among prospective students: "My younger brother is starting to look into colleges, and the opportunity to do serious, practical work in your courses is the main thing I talk about to convince him to do something like my program, ideally at Purdue if I have anything to say about it."
Additional information