Colonel Seth P. Bretscher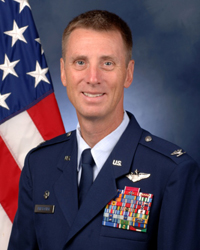 Colonel Seth P. Bretscher is the commander of AFROTC Det 220 and a professor of aerospace studies at Purdue University. The mission of Det 220 is to "inspire, develop, and commission Purdue University cadets as United States Air Force officers who are ready to lead Airmen and meet our Nation's security challenges." Colonel Bretscher previously commanded the 3d Air Support Operations Group, the 613th Support Group and the 682d Air Support Operations Squadron. He also served as the Pacific Air Forces Director of Safety, Deputy ACCE at ISAF HQ in Kabul AFG, and the Vice Commander of the 613th Air & Space Operations Center.
Colonel Bretscher is a 1983 graduate of Indiana University, and received his commission through Officer Training School in 1985. Colonel Bretscher is a Joint Qualified Officer and has served as an F-111 Weapon Systems Officer, Air Force Academy Instructor, and Air Support Operations Center Director.
Education

1983 Bachelor of Science Geology, Indiana University
1986 Undergraduate Navigator Training, Mather AFB (DG)
1987 F-111 Formal Training Unit, Cannon AFB
1989 NATO Tactical Leadership Program
1992 Squadron Officer School
1995 Masters of Science, Human Resource Management, Chapman University
1998 Air Command and Staff College
2004 Air War College
2010 JPME II, Joint Forces Staff College, Norfolk, Virginia
Assignments

Jan 1987 - Jun 1987, Cannon AFB - 524 TFS: Completed F-111 FTU
Jun 1987 - Jun 1991, Weapon Systems Officer, 493 TFS, RAF Lakenheath, England
Jun 1991 - July 1993, Chief of Radar Strike, Chief of Safety, 524th Fighter Squadron, Cannon AFB NM
July 1993 - Mar 1997, Director of Fitness Testing and Evaluation Division, USAFA Athletic Department CO
Mar 1997 - Jun 1999, ASOS Air Liaison Officer/Operations Flt/CC, 4 ASOS, Mannheim, Germany
Jun 1999 - Apr 2001, Chief, Air Interdiction/Close Air Support Employment, 609 COS, Shaw AFB SC
Apr 2001 - Sept 2002, Director, Commander's Action Group, USCENTAF, Shaw AFB SC
Sep 2002 - Jun 2003, Director of Operations, 682 ASOS, Shaw AFB SC
Jun 2003 - Jun 2005, Commander, 682 ASOS, Shaw AFB SC
Jun 2005 - Jul 2007, Deputy Commander, 505th Operations Group, Nellis AFB NV
Jul 2007 - Jul 2008, Air Component Coordination Element Deputy, ISAF HQ Kabul, Afghanistan
Aug 2008 - Jul 2010, Commander, 3d Air Support Operations Group, Ft Hood AIN TX
Aug 2010 - Oct 2010, Commander, 613th Support Group, Joint Base Pearl Harbor-Hickam HI
Nov 2010 - May 2011, Vice Commander, 613th Air and Space Operations Center, JBPH-H HI
May 2011 - July 2012, Director of Safety, Pacific Air Forces, Joint Base Pearl Harbor-Hickam HI
July 2012 - Present, Commander, AF ROTC Detachment 220, Purdue University, IN
Flight Information

Rating: Senior Navigator
Flight Hours: 1,200
Combat Hours: 118
Aircraft Flown: F-111F/D
Decorations

Legion of Merit with one oak leaf cluster
Distinguished Flying Cross (Valor) with one oak leaf cluster
Bronze Star with three oak leaf clusters
Meritorious Service Medal with two oak leaf clusters
Air Medal with one oak leaf cluster
Aerial Achievement Medal
Joint Service Commendation Medal
Air Force Commendation Medal with one oak leaf cluster
Achievement Medal
Effective Dates of Promotion

Second Lieutenant - 17 Dec 1985
First Lieutenant - 17 Dec 1987
Captain - 17 Dec 1989
Major - 1 Sep 1997
Lieutenant Colonel - 1 Feb 2002
Colonel - 1 Jun 2007