"Bring the Creative Maker to Life."
Purdue University's P3 Makerspace at Purdue Polytechnic Anderson is a co-working space offering services related to the use of manufacturing, prototyping, and woodworking. This is the place where you join with other do-it-yourselfers and the place where trained instructors are nearby to assist. A place to access those tools you dreamed of, but was always outside your budget or the size of your tool shop. P3 Makerspace is the place our members bring creations to life with a state-of-the-art workspace filled with a plethora of tools and the latest technological equipment.
Meet the Staff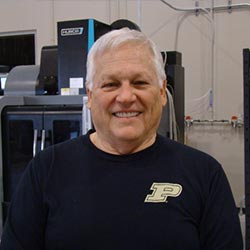 Dr. Jim Daughtery

Dr. Daugherty is an Optometrist by day, woodcraftsman by night. His passion for building furniture and turning pens on the lathe makes him a great asset to Purdue Polytechnic Anderson where he serves as a volunteer in the woodworking shop. Being quite the woodworking enthusiast, our members will find him helpful when needing advice or assistance in making their creation come to life.
Tim Kern

Tim, an Anderson resident for the past ten years is a former instructor at Anderson University and Ivy Tech. Being a machinist for over twelve years; he brings the experience needed to assist our members when using equipment in the P3 Makerspace. Upon entering the Purdue Polytechnic lobby, on the left, you cannot help but notice the Laguna Seca slot car track, which Tim owns and keeps housed here, holding races on Wednesday evenings for our students and the community. In addition to his love of slot car racing, he is an avid traveler and prolific writer.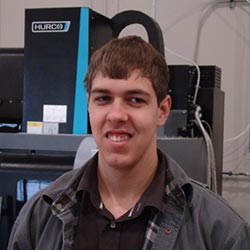 Lucas Gibbons

Lucas is a student here at Purdue Polytechnic Anderson pursuing a degree in Engineering Technology. A 2016 graduate of Frankton High School, he enjoys the outdoors, whether hunting, fishing, or riding horses. Lucas will be a great "go to" for assistance for our members.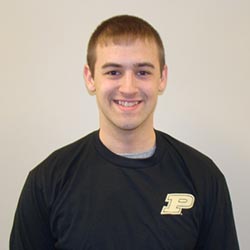 Dylan Alkire

Dylan is a 2016 Eastern Hancock High School graduate and current student here at Purdue Polytechnic Anderson majoring in Engineering Technology. He enjoys working with CAD programs and creating components for 3D printing. In addition to his keen sense of programing, he has a passion for rebuilding and competitively riding motorcycles.