Thanks to Purdue Polytechnic's multiple locations located throughout Indiana, students can reach their collegiate goals regardless of where they reside.
Andy Schaffer, associate dean, oversees the statewide locations, which include Anderson, Columbus, Indianapolis, Kokomo, Lafayette, New Albany, Richmond, South Bend and Vincennes. His goal is to provide a seamless scope of technology instruction, no matter where a Polytechnic student is located.
"The Purdue degrees earned at our statewide locations are a direct extension of the Polytechnic in West Lafayette," said Schaffer.
Following are examples of activities and achievements taking place at some of the Polytechnic statewide locations.
New Albany

Capstone students at Purdue Polytechnic New Albany, including Brandon Wood (BS mechanical engineering technology '19), spent 2,000 hours designing and building a tornado simulation machine. The device is approximately the size of a refrigerator.
The machine can produce, on demand, examples of all three types of tornadic formations. Tornadoes range from the smallest rope tornado to the larger and more destructive cone tornado. Wedge-shaped tornadoes are typically the largest and most catastrophic tornado type. Besides demonstrating formation, the tornado machine can vary the miniature storm's wind speed.
"In New Albany, like elsewhere across the Purdue Polytechnic Institute, we are proud of our students and their senior capstone projects," said Andrew B. Takami, director of Purdue Polytechnic New Albany.
The capstone client was Kevin Harned, chief meteorologist for WAVE 3 News in Louisville, Kentucky. The tornado machine will be used by the WAVE 3 News Storm Tracking Team as an educational tool.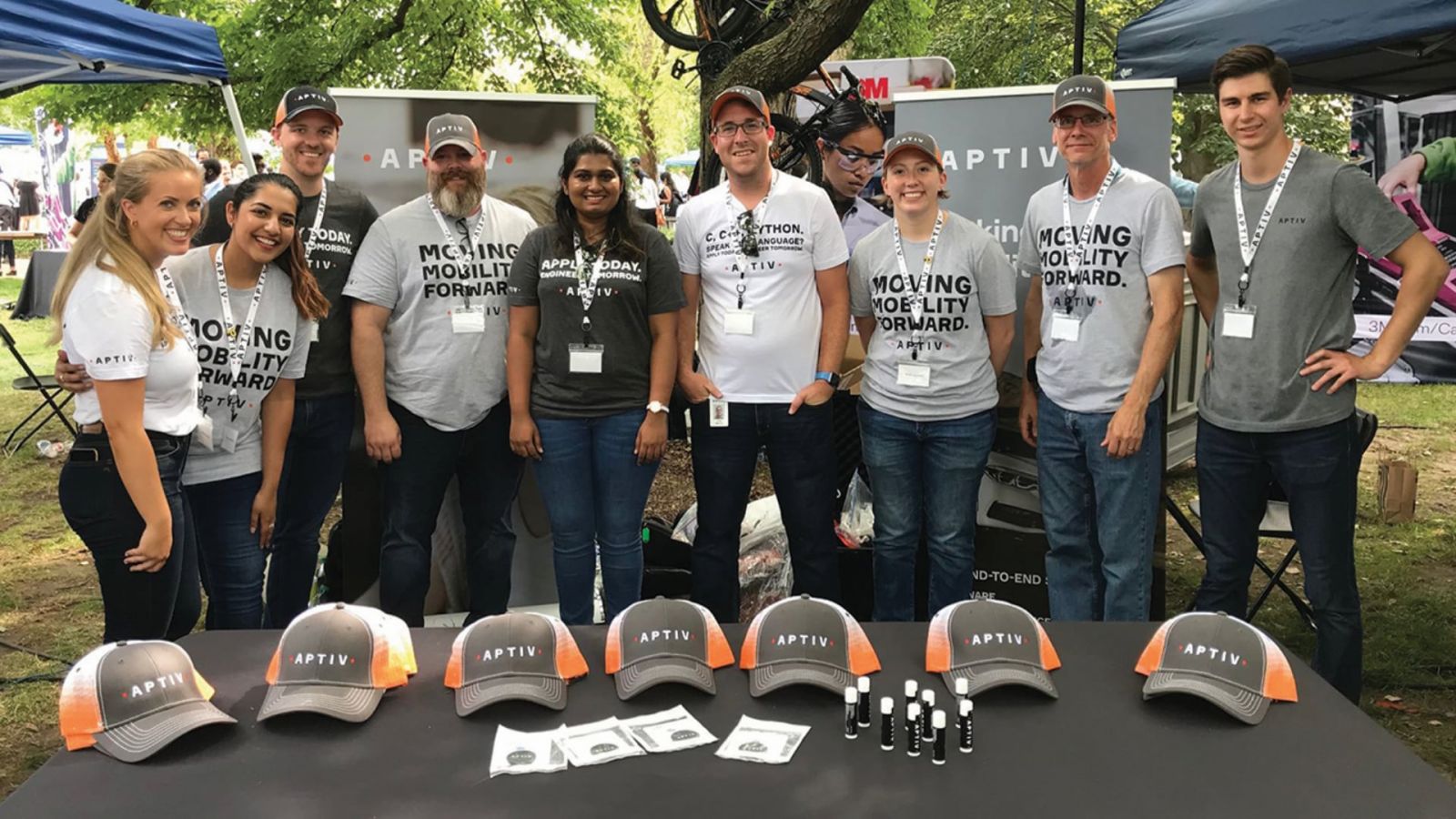 Kokomo

Shelbey Summers (BS computer information technology '18) graduated from Purdue Polytechnic Kokomo and became a computer systems engineer at Aptiv. We caught up with Summers to hear how her Polytechnic degree contributed to her success in the fast-changing, tech-oriented automotive industry.
When Shelbey Summers wasn't studying, the hometown student was building and piloting her defensive end robot, "Eve," for the champion Boilerbots robotic football team.
In 2018, Summers graduated with a Bachelor of Science degree and was hired at the Kokomo location of Aptiv, an electrical and electronic manufacturer previously known as "Delphi." There, she worked on radios and rear entertainment systems in the "Infotainment" department.
Question: What did you like best about college at Purdue Polytechnic Kokomo?
Shelbey Summers: I was interested in Purdue Polytechnic Kokomo largely because I was able to stay close to home and still get the same degree that I could from Purdue's main campus in West Lafayette.
Also, I enjoyed the smaller class sizes that made the learning experience more intimate and valuable. I could get to know my professors and, therefore, I felt more open to ask questions and answer in class.
Question: Can you give an example of an achievement at work that you're quite proud of?
Summers: I've had several unique and interesting experiences at Aptiv as a systems engineer. I traveled to Alabama to visit a customer manufacturing plant to help solve some issues in the plant. It was rewarding to meet the customer in person and see vehicles being put together on the line.
I also participated in recruiting for Aptiv during the Purdue Industrial Roundtable events for the past two years. It is very gratifying to see fellow Purdue students getting started in their careers.
Question: What advice do you have for incoming first-year students?
Summers: We only grow if we allow ourselves the opportunity to figure out where we need more direction and clarification, so it's important to study and ask questions! Sometimes, it can be challenging to ask questions, but never be afraid to reach out to professors or fellow students to try and understand a concept more thoroughly.
Also, be prepared to study! The more you study and learn, the more advantages you will have in the future.
Anderson

On April 12, 2019, the meeting of the Purdue Board of Trustees took place at Purdue Polytechnic Anderson. This was the first Purdue Board of Trustees meeting to convene at a statewide location.
"The Board's visit to Purdue Polytechnic Anderson validated the benefit that this statewide network of education centers delivers to our students and faculty as well as industry," said Michael Berghoff, chairman, Purdue Board of Trustees. "Spending two days at the Anderson site allowed us to meet with all the dedicated folks who make it happen. I'm certain we will visit again for updates on additional success stories being created."
Vincennes

Students at Purdue Polytechnic Vincennes can take a global approach to lessons in supply chain management.
See Polytechnic Vincennes students study supply chain management in Europe.