Undergraduate and graduate students in Purdue University's Polytechnic Institute presented posters summarizing their 2021-2022 research projects at Stewart Center in late April.
Students engaged in research affiliated with each of the Polytechnic's strategic research impact areas (RIA), including Future Work and Learning, Holistic Safety and Security, and Realizing the Digital Enterprise. Titles and research abstracts for many of the Realizing the Digital Enterprise-affiliated projects are listed here, with the remaining projects summarized in a follow-up article.
"After two years of presenting their work in virtual meetings, the enthusiasm and energy made it clear that the students were excited to gather in-person to present their work," said Jason Ostanek, assistant professor of engineering technology and co-leader of the Realizing the Digital Enterprise research impact area. "The event was a major success, with almost 60 posters presented across the three Research Impact Areas covering a wide range of interesting topics. Our students are conducting amazing research and really making an impact in their fields."
Realizing the Digital Enterprise (part 1 of 2)

Go-Eum Cha, "Outer Space Rover Localization through A Priori Object Information"
Abstract: In outer space environments that challenge humans, rovers are tasked with exploring unknown terrain, for example being deployed from a base station (i.e., a spacecraft) with the mission of surveying the nearby environment. Exploration of unfamiliar land is important in understanding topologies and obtaining environmental samples for research; however, without having prior knowledge of areas, the rover would face challenges in localizing itself and returning to its base station with the collected information.
This poster introduced a means of mitigating accumulating localization errors when the Global Positioning System (GPS) is not available. Our key idea is to let the rover occasionally measure the size and height of the base station, which is known as a priori, using its monocular camera. The rover also utilizes object identification methods to identify the base station in its camera view. To the best of our knowledge, this poster is novel in addressing rover localization error by measuring a known structure using a monocular camera. The effectiveness of the proposed localization fix strategy is demonstrated utilizing gazebo simulations of the NASA Space Research Challenge Phase 2.
Oscar Wong Chong, "BIM-Based Simulation of Construction Robotics in the Assembly Process of Wood Frames"
Abstract: A challenge in the implementation of construction robotics is the need of accurate and explicit information as input for the robots to reliably perform the designated tasks. BIM (building information modeling) can fill this gap by providing information to the construction phase that utilizes automated fabrication. However, BIM authoring tools and construction workflows do not have the capabilities to directly perform robotic simulation and are not designed to be compatible with robotic technologies. Thus, the authors developed a simulation-based methodology to evaluate the automated assembly of wood frames.
Manuel F. Contero, "Model-Based Feature Information Network"
Abstract: One of the challenges faced by the manufacturing industry as they adopt the Digital Thread and begin transitioning to Industry 4.0 is the disconnection of data between the different processes during the development of a product.
Model-based definition, known as MBD (CAD geometry with 3D features and annotations), is of vital importance for data communication for manufacturing planning, functional/logical behavior, and performance requirements analysis.
The model-based feature information network (MFIN) expands MBD by providing a comprehensive framework to bring together standard methods for indexing, cataloging, storing, searching, and retrieving relevant information as it becomes necessary to index it throughout the product lifecycle. Using the Quality Information Framework (QIF; ANSI 2.1) standard, a software link is generated between CAD model features and elements related to manufacturing, maintenance, and operations data. The MFIN framework provides a seamless, bidirectional link between design, manufacturing, and maintenance at both the feature and digital data transfer levels.
Archana Dharanipragada, "Pulse Shaping Modulation for a Solar-Cell Based Optical Receiver"
Abstract: The objective of this work is to demonstrate intelligent pulse shaping using a DPIM modulation scheme for deconvoluted pulse waveforms for a self-powered optical transmission system targeted towards IoT devices.
Roman Ibrahimov, "A Bio-Inspired Nano-Quadcopter for 2D Mapping Using AI"
Abstract: When looking for shelter and food in a new environment, animals and insects use their senses to map uncertain areas, sometimes involving unique methods of navigation. Of particular interest are cockroaches, which use their antenna to perceive information from their surroundings and find ways to survive even in extreme conditions. In this poster, we introduce a novel two-dimensional mapping approach using a nano-quadcopter and reinforcement learning algorithms inspired by periplaneta americana, the American cockroach.
A Crazyflie 2.1 nano-quadcopter equipped with a bending sensor uses that sensor to navigate its environment and interact with walls and obstacles. An onboard flow sensor is used for visual odometry, and the coordinates at which the quadcopter contacts and interacts with items are logged into a 2D point cloud. The collected point cloud is then fed into the proposed AI model to predict the real map of the environment. We aim to first implement the proposed method in simulation environments; then contingent upon timeframe and progress, we also plan to implement it on a real hardware platform. Potential applications of the project include hazardous environment monitoring and search and rescue, among others.
Dania Khan, "Building Construction Automation Using Robotics"
Abstract: The construction industry in the U.S. labs behind other non-farming industries in its productivity improvement, which is further compounded by the current construction workforce shortage. In contrast, robotics automation is one rapidly developing field. This study examines the feasibility of implementing robotics automation into the construction industry to make it safer, more productive and less labor-intensive.
Hang Li, "Interoperability between Building Information Modeling and Building Energy Modeling"
Abstract: In this study, the authors reviewed the state-of-the-art interoperability between Building Information Model (BIM) and Building Energy Model (BEM) and proposed a new methodology of developing algorithm to map BEM to BIM following the industry foundation classes (IFC) standard. The authors concluded that the mapping automation can be achieved through the Data-driven Reverse Engineering Algorithm Development (D-READ) method, based on the invariant signatures of building objects.
Weisi Li, "Physical Modeling of Hot Gas Venting During Li-ion Failure"
Abstract: Thermal runaway is the most critical safety issue for the Li-ion cells. The high-temperature venting gas flow has significant effect on the thermal runaway of a cell and its propagation in the cell module. In this poster, the flow field of the venting gas was simulated with a high-resolution computational fluid dynamics (CFD) model. The turbulence structure of the venting gas flow emerging from the Li-ion cell cap was analyzed with the numerical simulation results. The CFD model provides an accurate and cost-effective tool to study the venting flow in thermal runaway.
The insight obtained from the CFD model is also valuable to lower the risk in initializing thermal runway propagation in Li-ion cell module. The project is closely related to Realizing the Digital Enterprise impact area because a numerical model was developed to improve the design of Li-ion cells for safer application.
Ziqing Li, "Co-Designing Ethical Support for Sociotechnical Practitioners"
Abstract: Consumers are increasingly aware of the societal impact of technology. Technology practitioners have a direct impact on the design, use, evaluation and regulation of designed outcomes. However, beyond disciplinary codes of ethics, little is known about how to engage tech practitioners in becoming more ethically aware and being equipped to translate their awareness into ethically wise actions.
In this project, we used a digital co-creation approach to provide a supportive environment in which tech practitioners could explore new means of ethical support, creating their own custom "ethics toolkit" to deploy in their area of practice. We built a "house" in a collaborative digital whiteboard platform to engage tech practitioners in a three-hour workshop. The house has four floors with multiple rooms, each representing a sequence of activities that help them articulate and visualize their engagement with ethical complexity. The first floor invites practitioners to reflect on past work experience and identify ethical issues they have faced. The Shop on the second floor invites practitioners to collect building blocks for "ethics toolkits."
The DIY Station and Test Drive Room on the third floor guide the iterative creation of the toolkits. And the Gallery on the top floor provides a space to share final ethics toolkits. These activities form a foundation for future engagement with tech practitioners, through which scholars and educators can support ethically aware design decisions.
Wonse Jo, "A New Stimulus Tool to Generate and Measure Visual Perceptual and Cognitive Loads for Teleoperated Human-Robot Teams"
Abstract: There is a fundamental need to measure and understand visual perceptual and cognitive loads in research involving humans in the affective computing and human-robot interaction fields (i.e., human-robot teaming). Although well-known assessment tools exist to measure working memory capability (e.g., dual N-back), mainly used in the fields of psychology and cognitive neuroscience, few are currently available to measure visual perceptual loads.
In scenarios involving a human-robot team (e.g., a situation in which an operator controls a robot through a screen), a visual perceptual load occurs frequently, and it is necessary to measure and understand the experience of the human operator. Accordingly, we propose a novel and practical stimulus tool that can generate and measure visual perceptual and cognitive loads for teleoperated human-robot teams. The proposed tool is composed of open-source-based graphic user interface programs and is able to modulate various control variables relating to the stimulus as needed for diverse research and practical applications.
In addition, the interface includes subjective questionnaires for directly measuring human emotional and cognitive loads (e.g., SAM and NASA-TLX). We validated the performance of the proposed tool through an extensive user study with 30 human subjects, measuring changes in cognitive load by means of multiple wearable sensors, a camera, and subjective surveys.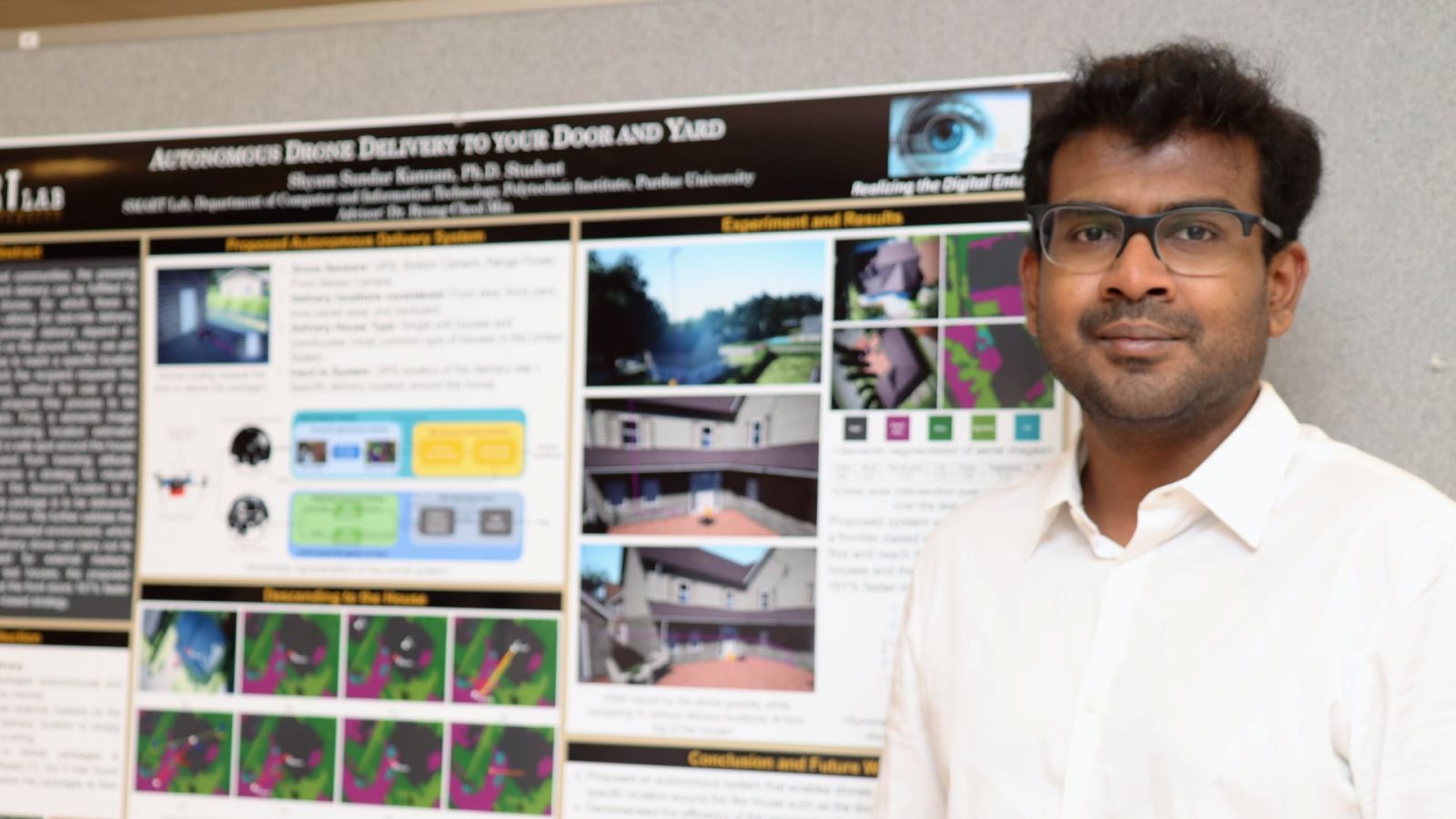 Shyam Sundar Kannan, "Autonomous Drone Delivery to Your Door and Yard"
Abstract: In sustainable cities and communities, the pressing need for fast and efficient delivery can be fulfilled by autonomous delivery drones, for which there is considerable interest in utilizing for last-mile delivery. Current systems for package delivery depend on external markers placed on the ground. Here, we aim to enable delivery drones to reach a specific location around a house at which the recipient requests the package to be delivered, without the use of any external markers.
We propose this process to be carried out in two steps. First, a semantic image segmentation-based descending location estimator enables the drone to find a safe spot around the house at which it can descend from traveling altitude. Following this, we propose a strategy for visually routing the drone from the descent location to a specific site at which the package is to be delivered, such as the house's front door. We further validate the proposed approach in a simulated environment, which demonstrates that the delivery drone can carry out its task without the need for external markers. Specifically, across 20 test houses, the proposed system found and reached the front doors 161% faster than a frontier exploration-based strategy.
Alexander W. Meredith, "Use of Model-Based Work Instructions (MBWI), Machine Vision (MV) model, and digital assembly tools to build an Assembly Digital Thread (ADT)"
Abstract: An assembly digital thread system for in-process quality inspection is explored. The assembly digital thread is created and leverages a machine vision system, digital assembly tools with programming and digital thread capabilities, and a point-of-use application of model-based work instructions in an augmented reality headset. The vision system and model-based work instructions are forms of in-process quality and the digital tool enables real-time assembly and verification.
Diana Narvaez, "Optical Frequency Identification (OFID)-Based Solution for Tracking and Behavior Monitoring of Farm Animals"
Abstract: Radiofrequency identification (RFID) technologies do not provide reliable and accurate measurements for studies of animal behavior in agricultural applications due to limitations in data processing and measurement range. The implementation of new technologies based on proven solutions will enable researchers to individually identify animals and analyze welfare data on group-housed animals on large-scale commercial farms. This research project aims to provide a novel solution for automated animal welfare assessment that reduces human interaction and improves researchers' resources.
Ikechukwu A. B. Obi, "Mapping Manipulation on Twitter: An Analysis of #darkpatterns"
Abstract: The increasing adoption of digital platforms is paralleling an increase in user complaints about software manipulation. These manipulations often occur in different forms, including difficulty canceling online subscriptions, mobile apps forcing users to share access to their contacts before using a service, among others. Several users affected by these deceitful techniques have taken to social media to express their concerns and very few studies have examined the nature of their conversation to understand its implication for policymakers, researchers, and the public.
In this research, we examined the history and evolution of the Twitter discourse related to technology manipulation focusing on the #darkpattern discourse on Twitter. We employed a combination of descriptive statistics, network analysis, and content analysis methodologies for an in-depth analysis of the discourse. Findings from our research uncovered a steady growth in the number of tweets expressing concerns about technology manipulation from 2010 to 2018.
Furthermore, our network analysis revealed that concerns about manipulation involved different fields, including design, software engineering, and privacy protection. Our content analysis further revealed that participants in the discourse directed their concerns to four groups, including organizations using dark patterns, professional groups responsible for executing dark patterns (e.g. designers, software engineers), government agencies, and their followers.
Dylan Poe, "Improved Thermal Abuse Models for Li-ion Batteries"
Abstract: Lithium-ion battery thermal runaway simulations are inaccurate due to a lack of data on electrolyte evaporation out of a failed cell. Lithium-ion battery fires are especially dangerous due to the amount of heat created, are difficult to extinguish, and can reignite days later. This research will gather data on the rate of evaporation of electrolyte from the separator in lithium-ion batteries. These evaporation rates will then be used to determine diffusion coefficients that can be used in thermal runaway simulations.
Candice Sexton, "Reducing Harassment for Women in the Professional Construction Workplace with Zero-Tolerance and Interventionist Policies"
Abstract: The construction industry is known for its masculine culture where workplace discrimination, biases, and harassment exist. Using an ethnographic methodology, the aim of this study was to identify and examine the dynamics involved in the perseverance of professional women working in the construction industry. In-depth interviews were conducted, and a qualitative approach toward gathering data was utilized. Consistent questions were posed to the participants primarily through synchronous communications, and specific construction companies and professional women employees were asked to participate.
Results suggest that women in leadership positions who previously experienced harassment had male interventionists and are now serving as the primary interventionists for younger women in their companies. Further results suggest increased women's participation is realized by forming multiple supportive organizational structures within the construction workplace culture and enacting zero-tolerance guidelines to curb inappropriate or harassing behavior. These research findings underscore the need for further exploration of novel interventional mechanisms toward greater retention of women in the industry.
Additional information