This is the second of three articles describing and updating the college's sociotechnical research impact areas for 2021-2022.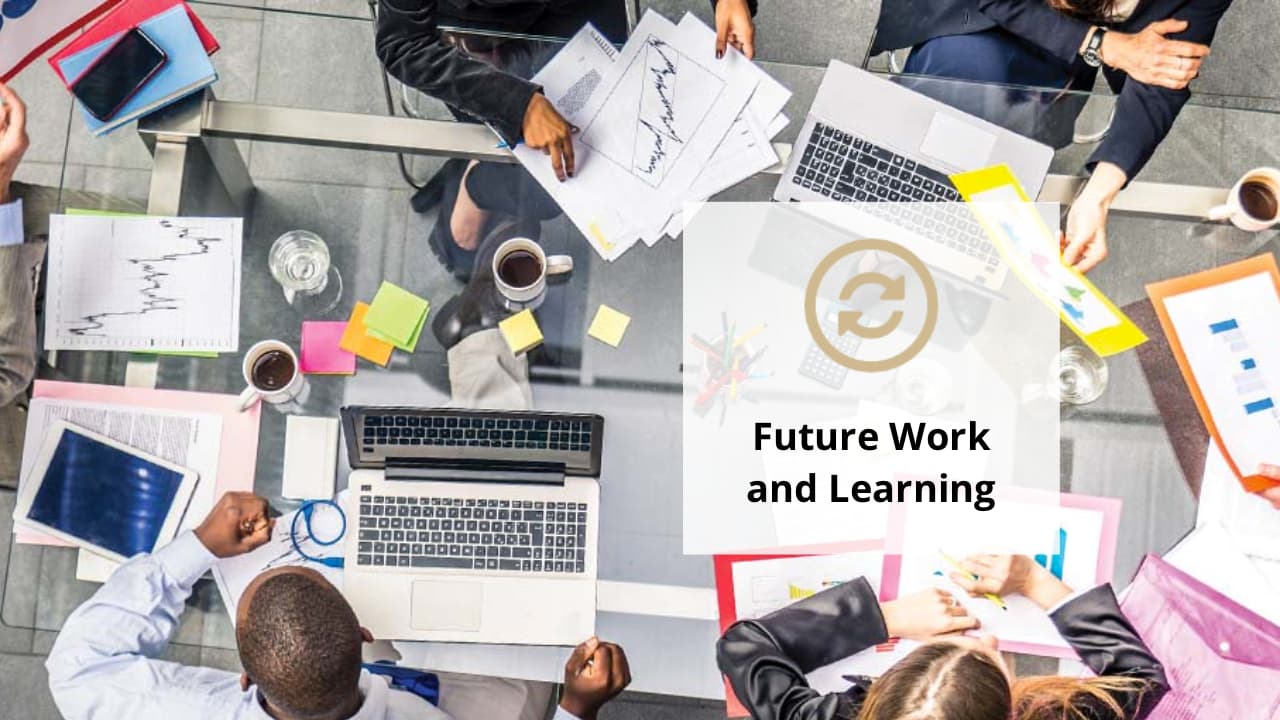 Purdue Polytechnic faculty have been collaborating to explore the intersection between learning and work within the context of technology. Through new approaches to education and workforce training and development, their ongoing research aims to empower employees to take charge of their careers and become active, successful professionals and members of society. The research team's area has been titled "Future Work and Learning," one of the college's three research impact areas.
Faculty participating in this impact area bring diverse perspectives to their research, including computational thinking and cyberlearning, among others.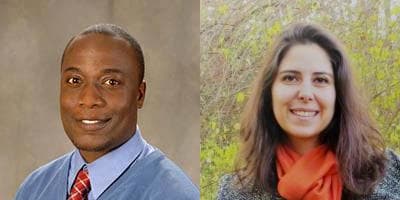 During 2021-2022, the Future Work and Learning (FWL) research team plans to continue along the same path first set in 2018.
"The focus of our research impact area has not changed since our team's formation," said Paul Asunda, associate professor technology leadership and innovation and co-leader of the FWL research impact area. "We look at the future of work and learning through a broad lens, examining recent advances in both fields and their direct and indirect impacts."
The research team has three main goals, Asunda said:
Creating a community of researchers
Advancing the Polytechnic's overall research efforts
Maximizing faculty members' potential through mentoring
Notable recent projects and grants

Asunda said the team's collective work has been important for the college, and he provided several examples of their efforts and research.
Mesut Akdere, professor of human resource development and Purdue Polytechnic's interim associate dean for research, shared his human resources expertise in multiple grants focusing on the impact of incorporating higher levels of technology in the workplace. His contribution highlighted the need for continued improvement of soft skills and communication within both educational and industrial environments.
Akdere is working on a variety of funded research projects, including virtual reality training simulations to advance agricultural safety curricula, cyber resilience adaptive virtual reality experiences, development of business communication skills in manufacturing technician education, and a program to promote innovation and foster entrepreneurship among Turkish youth in the Eastern Marmara region who have earned or are pursuing technical degrees.
Lisa Bosman, assistant professor of technology leadership and innovation, received more than $1 million in research grants within the past several months. The first grant focuses on applied energy research projects which integrate customer discovery thru the development of an entrepreneurial mindset. She will collaborate with Sunghwan Lee and Jason Ostanek, assistant professors of engineering technology, and Jose Garcia Bravo and Daniel Leon-Salas, associate professors of engineering technology. The project will provide thirty undergraduate students with experience in entrepreneurially minded applied research. Funding came from the National Science Foundation's Research Experiences for Undergraduates program.
Bosman received two KEEN (Kern Entrepreneurial Engineering Network) grant awards, each focused on engineering faculty professional development. Bosman and Nathalie Duval-Couetil, professor of technology leadership and innovation, will train 64 engineering educators to integrate the entrepreneurial mindsets into the classroom.
Bosman also received a LASER (Long-term Assistance and SErvices for Research) PULSE (Partners for University-Led Solutions Engine) grant to teach the entrepreneurial mindset to youth in Ethiopia.
Vetria Byrd, assistant professor of computer graphics technology, and a multidisciplinary research team received a five-year $15 million grant from the National Science Foundation to establish I-GUIDE, a new institute for geospatial data-driven scientific research. She will focus on educational and workforce development objectives of the I-GUIDE, including understanding, learning from, and forging connections with communities of practice, designing connections to the I-GUIDE platform to support research-linked learning pathways, and developing innovative instructional and training activities for convergence science education.
"It's exciting to be a part of such an impactful initiative that leverages Purdue's expertise in GIS (geographic information systems), artificial intelligence, data visualization and data science, aimed at bridging disciplinary digital data divides," said Byrd.
Julius Keller, assistant professor of aviation technology, worked with students Aaron Teo and Erik Levin on a research project focused on mitigating fatigue in professional flight students. The team created a training course specific to collegiate pilots available via Purdue Online Professional Certificates, and they hope it will soon be offered through the Federal Aviation Administration.
Research by Alejandra Magana, the W.C. Furnas Professor in Enterprise Excellence, on improving engineering and technology education was recognized by multiple awards and her research output and collaborations, said Asunda. "Dr. Magana and other full professors in our research impact area provide essential support and mentoring to other faculty in the group."

Greg Strimel, assistant professor of engineering-technology teacher education, collaborated with Sascha Harrell, director of workforce development and education for Purdue's Indiana Next Generation Manufacturing Competitiveness Center (IN-MaC), on the creation of a long-term research project intended to study how industry and education can work together to change children's perceptions about careers in manufacturing, and how giving students consistent access to Industry 4.0 technologies can impact their career choices.
Strimel also received a Purdue Exceptional Early Career Teaching Award for his work to develop the Polytechnic's design and innovation minor.
Jin Wei-Kocsis, assistant professor of computer and information technology, is working to develop a data-driven resilient and cognitive networking management architecture by employing deep learning (DL), software-defined networking (SDN), and software-defined radio (SDR) technologies for NASA's space exploration. Her NASA Early Career Faculty project aims to advance the autonomy, environment-awareness and intelligence of NASA's deep space network and to improve the resilience and scalability of NASA space communication system.
Wei-Kocsis is also studying cybersecurity education in the age of artificial intelligence, collaborating with Baijian "Justin" Yang, professor of computer and information technology, and Tonglin Zhang.
"Recent research has demonstrated that artificial intelligence (AI) techniques can be manipulated, evaded, and misled," said Wei-Kocsis. "While progress has been made to better understand the trustworthiness and security of AI techniques, little has been done to translate this knowledge to education and training. There is a critical need to foster a qualified cybersecurity workforce that understands the usefulness, limitations, and best practices of AI technologies in the cybersecurity domain."
A focus on the use of technology in industry is common to every academic school and department in Purdue Polytechnic.
"Purdue Polytechnic prides itself for using and applying new and more effective ways of learning," said Luciana Debs, assistant professor of construction management technology and co-leader of the FWL research impact area. "Human-technology interaction is integral to everything we learn and study, so our Future Work and Learning research impact area is really at the core of what Purdue Polytechnic does."
Additional information