This is the third of three articles describing and updating the college's sociotechnical research impact areas for 2021-2022.
Faculty in Purdue University's Polytechnic Institute are continuing a series of research projects that employ their expertise in advanced materials, design, health applications, data visualization and analytics, manufacturing and processes, robotics and mechatronics, and systems and sensors in a research area titled "Realizing the Digital Enterprise" (RDE), one of the college's three research impact areas originally organized in 2018.
Computing systems and manufacturing are increasingly embedded in our physical world, with automation, intelligence, scale, and interconnectedness bridging the physical and digital worlds through visible and invisible infrastructure. However, RDE researchers note that this interconnectedness brings unanticipated social consequences and volatile patterns of acceptance and use that impact personal and collective well-being. The research team's vision is to pair technological capability and social responsibility to create successful cyber–physical experiences.
"Our overall focus has not changed since our team was first organized in 2018," said Jason Ostanek, assistant professor of engineering technology and co-leader of the RDE research impact area. "But we have added a new goal to encourage collaboration between our 'social scientist' members and our more traditional 'technology-focused' members."
Rua Williams, assistant professor of computer graphics technology, was recently named one of Purdue's first Societal Impact Fellows. The fellowship, Ostanek said, is having a positive impact on the RDE team's work.
"Rua is serving as a 'social justice doula' for our group, helping our members understand how their research may have social justice consequences even when the link might not be immediately obvious," he said.
Society continues to be transformed through new technology-driven innovations and efficiencies, and during 2021-2022, the research team felt it was important to continue supporting these advancements.
"Digital transformation is impacting almost every aspect of our lives," said Ostanek. "It's creating new ways of doing business, so it is critical for Purdue Polytechnic to drive innovation in this area."
Recent projects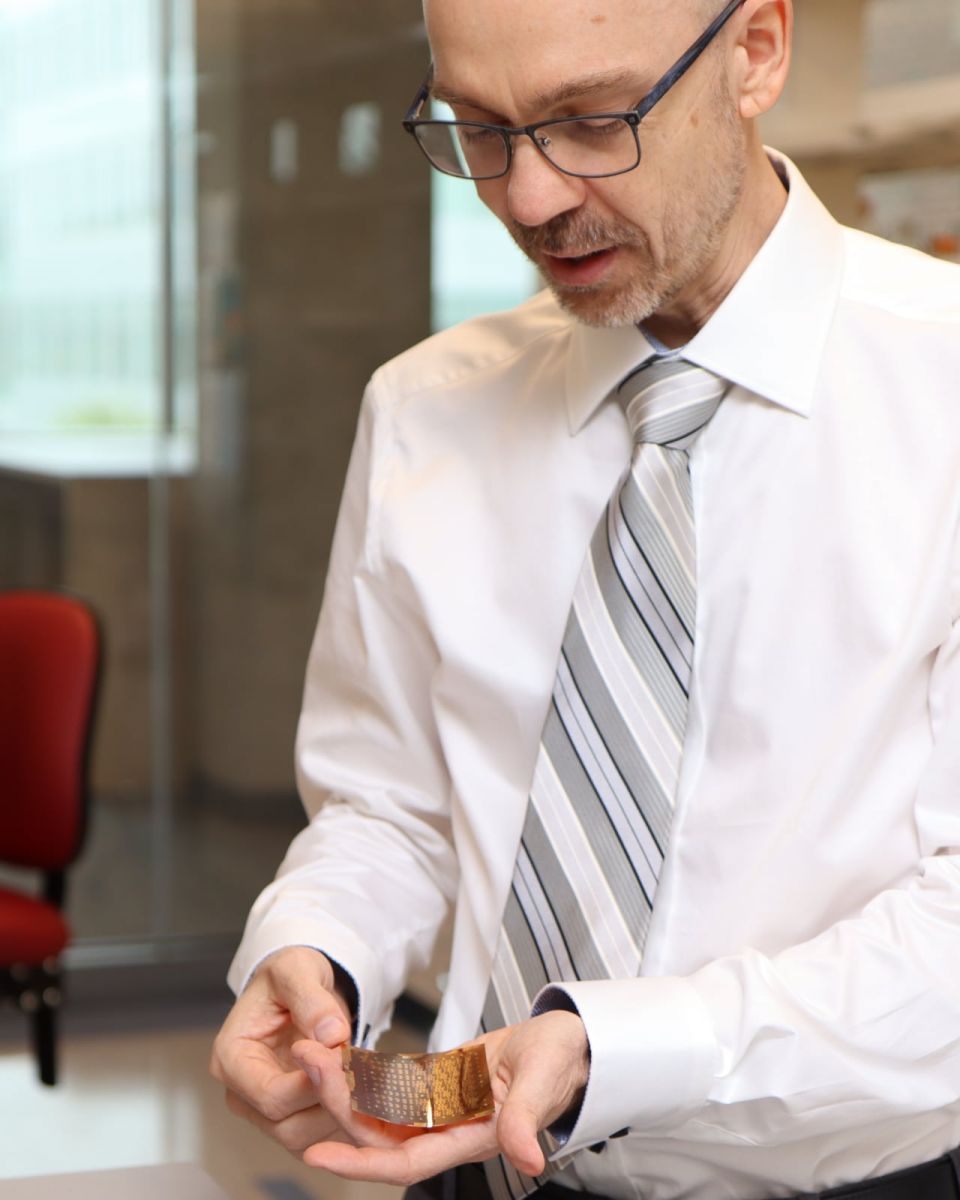 Robert Nawrocki, assistant professor of engineering technology and his research colleagues are designing a soft, flexible electrode that can be comfortably placed on the skin, enabling a treatment called deep nerve stimulation (DNS). The new technology could potentially provide relief for medical disorders including migraine, rheumatoid arthritis and many gastrointestinal illnesses without the side effects of traditional pharmaceutical treatments.
"A number of disorders can be treated with DNS," said Nawrocki. He believes this direct approach to pain management and condition treatment is preferable to pharmaceutical treatments because, "compared to conventional chemical medicines, DNS can be applied directly where it is needed and avoid many side effects associated with chemicals, which need to first be dissolved in your stomach before only a fraction of that amount is delivered right where the problem is."
To accomplish this research, Nawrocki was awarded a Showalter grant. The Ralph W. and Grace M. Showalter Research Trust Fund was established to provide for medical and scientific research at Purdue University and Indiana University. The honor makes Nawrocki the first Polytechnic faculty member to receive the award.
"Robert also received the 2021 Young Investigator Award from the Office of Naval Research," Ostanek said. "His work is a fantastic example of how our research helps push new engineering technologies into impactful fields like medicine."
Gozdem Kilaz, associate professor of engineering technology and co-leader of the RDE research impact area, received Purdue Polytechnic's Outstanding Faculty in Discovery Award. Much of Kilaz' research has focused on alternative liquid transportation fuels, including development, testing and approval of biofuels. Kilaz has been leading efforts to optimize a new chemical conversion process for the production of aviation biofuel from plastic waste.
Ziyang Tang, a graduate researcher in Purdue Polytechnic's Department of Computer and Information Technology, in collaboration with Xiang Liu, a graduate research assistant, Hanlin Chen, a postdoctoral research assistant, Joseph Hupy, associate professor of aviation technology, and Baijian "Justin" Yang, professor of computer and information technology, developed new methods to help computers process images from unmanned aerial systems, recognizing irregularly sized objects like wildfires more quickly and accurately.
Tang noted that recent increases in processing power have made computers better able to detect objects with fixed sizes and/or regular shapes.
"Deep learning has had great success with detecting objects like people and vehicles," said Tang. "But little has been done to help computers detect objects with amorphous and irregular shapes, such as spot fires."
Because no previous work had been done in wildfire detection using deep neural networks, Tang's research team worked to introduce an algorithm that will assist ground-based crews with identification of fire and other ground-based objects related to fire events.
"Fusing data collected from multiple types of sensors can provide additional wisdom in wildfire fighting scenarios," Tang said. "Our experiments show that the method can achieve high accuracy while maintaining fast speeds."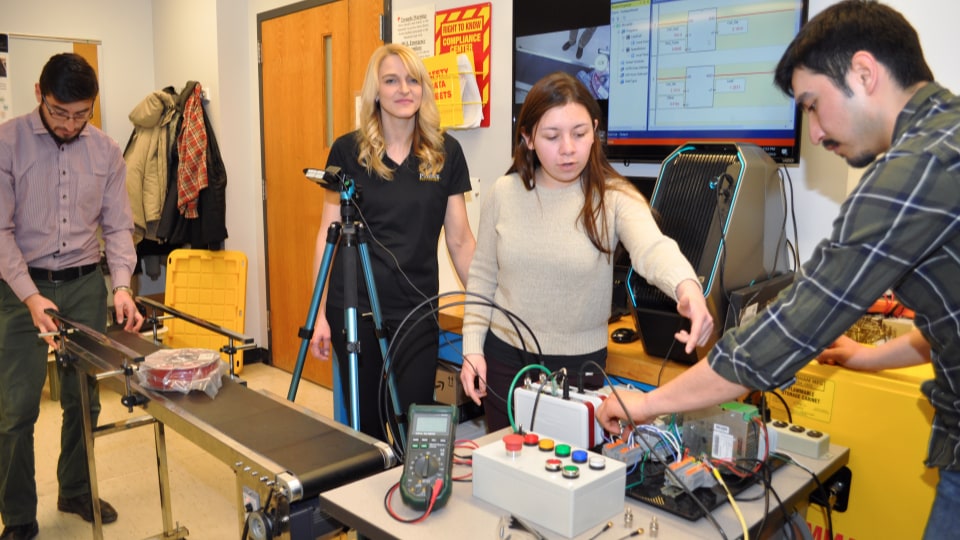 Jose Garcia Bravo and Brittany Newell, assistant professors of engineering technology, along with Jose Chamorro, Santiago Guevara, Jose Solorio, Laura Vallejo and other colleagues, collaborated to design a system that predicts the health of conveyance systems. Improving the reliability of conveyor belts, which are ubiquitous in industry, has the potential to improve efficiencies and reduce costs in a variety of industries.
"The idea is to use the data from sensors to predict failure," said Garcia Bravo. "We want to correlate that information so that preventive maintenance can be scheduled before failure."
Garcia Bravo said the team created software that uses sensor data to determine if a conveyor belt is operating correctly. Their software also moves data to the cloud for remote monitoring of the system's health.
"We spent a significant amount of time on the communication between each piece," said Newell. "Sensors record a lot of data that needs to be sent to a programmable logic controller, filtered and changed, sent wirelessly to an IoT (Internet of Things) gateway and then into the cloud. We would like to integrate different types of sensors, including some that we're designing in our own lab for integration into the belt itself."
Garcia Bravo and Newell believe the technology could potentially be adapted for use in mobile equipment at construction sites and mines and in automotive applications, including autonomous vehicles.
Richard Voyles, the Daniel C. Lewis Professor of Robotics and head of the Collaborative Robotics Lab, and Bedrich Benes, professor of computer science, are collaborating with Karthik Ramani, the Donald W. Feddersen Professor of Mechanical Engineering, and six other faculty members on a project to create 3D-printed objects infused with sensing, computation and actuation abilities. The research could lead to the creation of a "smart product printer" that combines the printing of a structure with the printing of electronics, sensing and other functions.
When COVID lockdowns began in 2020, Voyles and an interdisciplinary group of students worked to create an autonomous robot to disinfect classrooms. He is also working toward the creation of a doctoral program in robotics in Purdue Polytechnic.
Additional information