Product Lifecycle Management Center of Excellence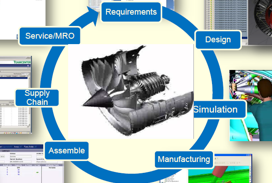 The Product Lifecycle Management Center is an interdisciplinary research center at Purdue University. The center fuses the talents and resources of experts from the Purdue Polytechnic Institute, the colleges of Engineering and Science and Krannert School of Management into a single focused entity to serve as an industry resource. Through high technology-readiness-level (TRL) research, training and implementation of product lifecycle management, the center provides its partners in business and industry with knowledge and tools to improve their bottom line. Through the center, companies and employees have access to certificate programs in Product Lifecycle Management, Model-based Definition, and Digital Technical Data Packages. These programs provide instruction that bridges the gap between management's strategy for PLM and software-specific training.
PLM is an environment in which information technology tools and processes allow a company increased access to product definition data to better develop, manage and support their products. It is a collection of interconnected technologies that enable companies to make better business decisions throughout the lifecycle of a product. PLM defines and controls data collection processes, integration, transformation, analysis, and visualization processes; from establishing a product's requirements, to the design, manufacturing, maintenance, and recycling of the product.
The mission of Purdue University's Product Lifecycle Management (PLM) Center of Excellence is to promote the advancement and implementation of PLM through research and education in partnership with industry.