Through high technology-readiness-level (TRL) research, training and implementation of product lifecycle management, the center provides its partners in business and industry with knowledge and methods to improve their bottom line.
The Digital Enterprise Center was originally formed in 2002, and over the years since then, the Center has acquired additional corporate members, and has received larger increments of funding through other sources, such as SME, NIST, and NSF, to extend its research and education programs.
The Digital Enterprise Center is a key partner for several large research initiatives, in addition to numerous smaller research grants and internal initiatives:
In an effort to develop relevant materials and resources for the current workforce, the Digital Enterprise Center has been instrumental in creating continuing education programs in the digital manufacturing and transformation space. Through the center, companies and employees have access to certificate programs in Product Lifecycle Management (PLM), Model-based Definition (MBD), and model-based Technical Data Packages (TDP). These programs provide instruction that bridges the gap between management's strategy for PLM and software-specific training. The courses have been taken by employees of several companies, including Boeing, Caterpillar, the U.S. Army, the U.S. Navy, the U.S. Air Force, Newport News Shipbuilding, Lockheed Martin, Mitutoyo and Booz Allen Hamilton to name a few. Participants who complete all modules receive continuing education credits. As a result of developing and deploying these programs, the Digital Enterprise Center has also funded and established a digital enterprise infrastructure that parallels industrial installations in its breadth of tools and hardware.
The objectives of the Purdue Digital Enterprise Center are:

Conducting research that promotes the digital transformation of the manufacturing sector, both in the U.S. and abroad.
Promoting the evolution and use of model-based digital product data throughout the enterprise.
Promoting the use and development of tools and practices that emphasize the concept of a "digital twin" for products.
Promote the author/consumer communication model around the use of digital product data.
Establishing industry partnerships that guide, support, and validate digital enterprise research and education activities.
Enabling the creation of curriculum to support the next-generation manufacturing workforce.
Enabling the adoption of digital enterprise methods and tools across industry sectors.
What is a Digital Enterprise?

Digital enterprise is a concept focused on the way organizations think about and use technology – it is a key element of their operations and strategy – and is a major factor in how people work. However, one of the lingering challenges facing the manufacturing sector is how to define the concept, and how to know when they have become a digital enterprise
Becoming a digital manufacturing enterprise is not just about leveraging technology, but using it to enable and sustain productivity to gain a competitive advantage. The key to increasing productivity is not by simply adding new processes or adopting new technologies in a singular fashion. Companies must be willing to reorganize their operations and change the manner in which their employees work, which typically involves the elimination of paper-based processes and artifacts by digitizing and automating the communication and collaborations mechanisms at our disposal. Process complexity and inefficiency is replaced by simplicity and democratization of information.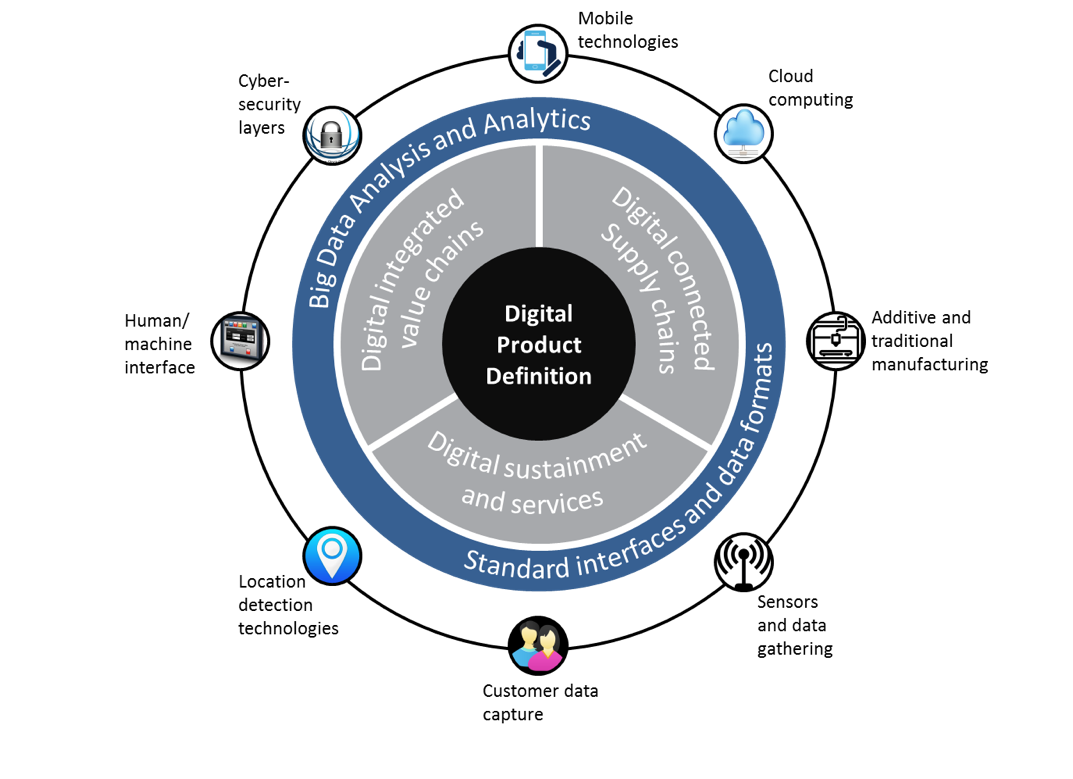 An organization that has transformed into a digital enterprise will integrate digital product and process information, workflows and processes, and job roles such that efficient and effective collaboration and automation across the enterprise will produce valuable products and services. A digitally transformed organization is potentially more profitable than others as well, from how it generates revenue to how it produces value. It is a more substantial revolution than in previous decades, and digitalization will have a tremendous impact on the way people work, especially through the tools they use.
While the focus of digital enterprise transformation is not necessarily on the use of tools, it is impossible to ignore the impacts that computing platforms have had on this latest industrial revolution. Tools designed to help productivity, such as those associates with product lifecycle management, configuration management, enterprise resource planning, and visualization to name a few, can play a significant role in an organization's transformation and will have a dramatic impact on the professions of knowledge workers.
While the focus of digital enterprise transformation goes well beyond technologies such as CAD, PDM, or ERP, tools like those are often at the heart of the information backbone that enables this change. Product lifecycle management at its core is a methodology for product development, production, and sustainment in which information technology tools and processes allow a company increased access to digital product definition data to make better business decisions.
Underlying this methodology is a collection of interconnected tools and processes that form a digital thread of product information that reaches throughout the lifecycle of a product. PLM defines and controls data collection processes, enables systems integration, promotes and supports corporate transformation, aids in analysis and visualization processes, and establishes an information framework for the design, production, supply, and sustainment of a product. PLM tools and methods are inextricably linked to a manufacturing organization's digital transformation.
These transformation efforts are done in the context of the business environment, where proper access to information by those who need it is increasingly important. Business decisions and communications are informed by the ability to leverage and digest digital product data when making a decision according to defined business metrics. Yet none of the information needed by the various authors and consumers within the organization can be made available without standard interfaces, data models, and exchange formats between the various systems used on a daily basis. Inadequate interoperability is a currently a daily occurrence with modern PLM tools and technologies, costing companies billions of dollars annually in an inefficient struggle to achieve accurate communications. For the Digital Enterprise Center at Purdue, this is an ongoing area of research, and a vexing challenge to be solved, if the manufacturing sector is to be successful in its digital transformation.