EXPLORE PURDUE POLYTECHNIC
Hands-on learning, including industry-sponsored class projects and experiential learning — enhanced by a community of doers, makers, and problem-solvers.
ADMISSION REQUIREMENTS

Learn about Purdue University minimum requirements for admission and make sure you are academically prepared to submit a competitive application.
(noun) 21st century: An academic college at a world-class university that uses innovative learning methods, real-world experiences, and industry partnerships to produce graduates uniquely qualified for technology-driven careers.
HEAR WHAT OUR RECENT GRADS HAVE TO SAY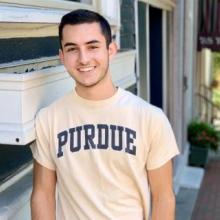 The extensive amount of collaboration with my peers in the Polytechnic has given me the skills to communicate effectively and work well with other team members.
Peter DeNatale
Account Manager at Able Aerospace Services at Textron Aviation
Every giant leap starts with one small step

STILL HAVE QUESTIONS?

Visit Us

Learn more about the unique educational approach the Polytechnic uses in the 30+ majors of our six academic areas – computing and graphics, aviation, construction, technology leadership and education, and engineering technologies – and review our degree programs in high-demand career fields. Register for an upcoming session on the Purdue University campus so you can finally find the major that matches your passions and career goals!
Scholarships

Purdue University and the Purdue Polytechnic Institute award scholarships each year to beginning and continuing students. Scholarships may be based on merit and/or financial need, but you must apply in order to be considered.