Games Innovation Laboratory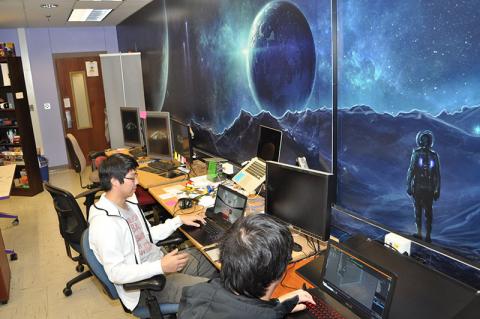 The Department of Computer Graphics Technology is a global leader in preparing students for careers in the games and animation industries. Alumni have gone on to work at Disney, DreamWorks and Industrial Light and Magic. The hotbed of that creativity is the Games Innovation Lab.
Gaming technology and virtual reality aren't limited to motion picture special effects, however. For instance, students who are interested in health care can apply the same spatial lessons learned in virtual reality classes to design hospital environments that improve patients' medical experiences.
The custom-painted murals set the Games and Innovation Lab apart from other classrooms. One wall, a solar system painted by student Priya Johal, represents the scientific applications of gaming technology. The opposite wall features an illustrated vignette by artist Samantha Thompson, and represents the story-telling applications of the technology. The wall that joins the two opposite walls was painted by both artists in collaboration and represents the intersection of science and art within the program.