POLYTECHNIC AT
PURDUE UNIVERSITY IN INDIANAPOLIS

Welcome to Purdue University in Indianapolis—the new urban campus brought to you by Purdue, one of the most innovative companies in the world. Indianapolis students enrolled in Purdue Polytechnic majors will join a prestigious college for technology and innovation. As Purdue grows to meet the needs of high-tech industries around the world, this new campus in Indiana's capital city sits at the center of the action. Because Purdue Polytechnic hosts the largest number of academic programs of any Purdue college on the Indianapolis campus, we are committed to creating a thriving hub of activity for all incoming students who want to bring technology of all kinds into the next generation.
The urban campus of the future

Purdue University has started accepting applications for the Fall 2024 semester in Indianapolis. Earn a Purdue degree via a Polytechnic major to meet the growing demands of Indianapolis, the State of Indiana, and beyond.
Join Purdue in downtown Indianapolis, a vibrant city with a rich cultural heritage, sports, music, arts, and a diverse culinary scene awaits you. Indianapolis is also known for its thriving industries, including healthcare, education, finance, and technology, providing ample job opportunities for students post-graduation.
The new Indianapolis campus continues Purdue Polytechnic's legacy of excellence—Purdue's college for technology over nearly 60 years.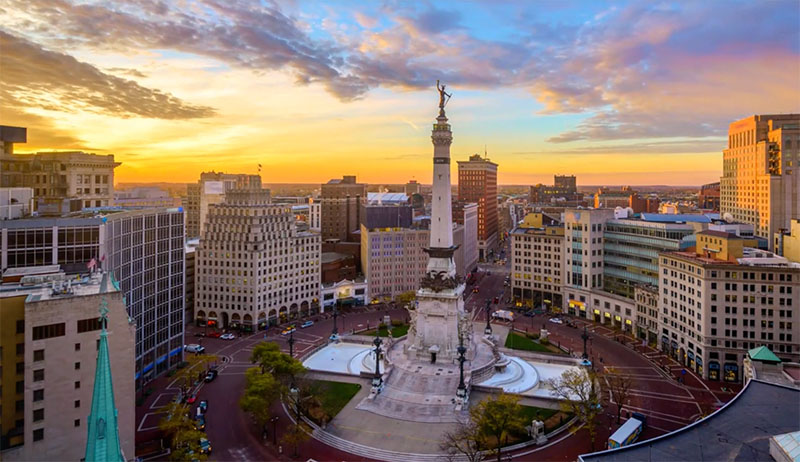 ACADEMIC OFFERINGS AT INDIANAPOLIS

Come see all the options on offer at Purdue Polytechnic in Indy, the college with the largest number of programs to choose from on the new campus:
GRADUATE OFFERINGS

MS in Cybersecurity and Trusted Systems
The MS program in cybersecurity prepares students for a career in the rapidly advancing field by providing a comprehensive background in cybersecurity engineering, a multidisciplinary area that combines information technology, computing, and engineering to address daily security challenges and risks in various industries.
MS in Organizational Leadership
An MS in Organizational Leadership is beneficial as it equips students with advanced leadership skills, strategic planning abilities, and a deep understanding of organizational dynamics, thereby preparing them for leadership roles in various industries.
MS in Technology: Concentration in ADMA-Applied Data Mgmt Analytics
This degree emphasizes the high demand for professionals who can effectively process and interpret large data sets to improve business operations, a skill that students in this data science concentration will learn, including data collection, cleaning, modeling, reporting, and product building from various data sources.
MS in Technology: Concentration in Info Assurance & Security
The Information Assurance & Security (InfoSec) is a graduate concentration in the Master of Science in Technology program, recognized by the National Security Agency (NSA) National Center of Academic Excellence, providing a rigorous curriculum in cybersecurity.
Graduate Certificate in Human Resource Development
Gain specialized knowledge and skills in managing, developing, and training a workforce, which are crucial for organizational growth and success.
Post-Baccalaureate Certificate in Project Management (Online)
Earn a specialized educational credential designed for individuals who have already earned a bachelor's degree and wish to gain further expertise in project management.
Hands-On Learning
The new Purdue campus is located in downtown Indianapolis. A central location in Indiana's largest city, Purdue Polytechnic's programs bookend America's Hard Tech Corridor, which extends from West Lafayette to Indianapolis. You'll get close proximity to top businesses and leading industries, providing new and exciting opportunities. Combined with the Polytechnic's focus on student success, the opportunities are endless.
Real-World Experiences
Take your education to new heights: Join student groups, get involved in the local community, and leverage the bustling metropolis of Indy to find internship opportunities with world-class employers. You will be able to leverage the same opportunities to study abroad and be part of the global community of Polytechnic alumni. Between our world-class faculty, industry partners and thriving campus community, you can forge your personal goals for small steps and giant leaps.
Industry Ready, Day One
Purdue Polytechnic's alumni secure jobs with a placement rate exceeding 96% in their first year after graduating. And they go on to work in many of the world's top companies, like Amazon, Caterpillar, Boeing, Lockheed Martin, Salesforce, and dozens more.