Holleman-Niswonger Simulator Center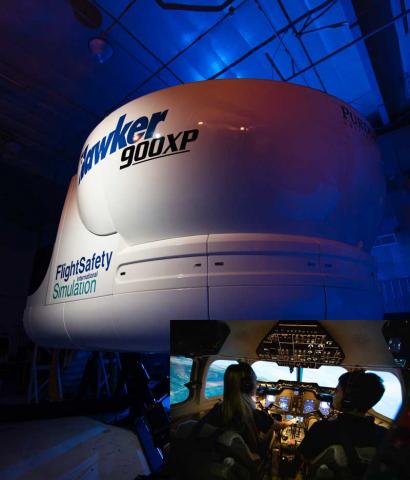 In addition to their access to a fleet of aircraft, Purdue Polytechnic Institute students augment their aviation training without leaving the ground. The Holleman-Niswonger Simulator Center features several types of flight training devices for hands-on training in controlled environments.
Simulators and Task Trainers
From routine procedures to complex skills, a suite of task trainers and simulators are a key component of Purdue's world-class aviation training. Flight technology available to students includes simulators for Cirrus SR20, Airbus, a full-motion Hawker 900XP Level D simulator and the Redbird XWind crosswind landing trainer.
The seats, controls and digitized displays of this simulator are accurate to within 1/16 of an inch of the real plane's equipment. Projection screens can simulate any weather condition, and the instruments and displays respond exactly as their real counterparts would. This allows student pilots and co-pilots to experience life-like taxiing, flying and landing experiences.
Purdue is the only university in the U.S. to offer students the competitive advantage of training in a Hawker 900XP Full-Motion Simulator. This level D simulator - the highest level of flight simulator available - imitates all the aircraft systems that are accessible in the cockpit. Its full-motion platform enables it to turn, pitch and accelerate realistically in response to the pilot's commands.