Electrical Engineering Technology

A major in Purdue's Electrical Engineering Technology Program
When you study electrical engineering technology, you study the lifeblood of today's technology: electronics and computers. Electronics technology is a part of most everything society relies on, from air conditioning to airplanes, and from trains to televisions. And, because technology is constantly evolving, you will engage in learning methods that help you adapt to and embrace new technologies and their uses.
The principles you learn in electrical engineering technology can be applied in a wide range of careers, including communications, controls, power electronics and technical management. Our graduates have played a part in scientific advancements in a variety of industries, including biomedical, green energy, transportation, communications, entertainment and manufacturing, where they impact lives and improve everyday uses of technology.
SPECIAL FEATURES

Start your impact early by creating interesting electronic projects your first semester.
Capitalize on real-world experience of your professors and industry partners.
Apply all you've learned to a senior design project aimed at solving a current business or industry problem.
If you participated in PROJECT LEAD THE WAY courses during high school, you can redeem up to 12 credit hours toward this major.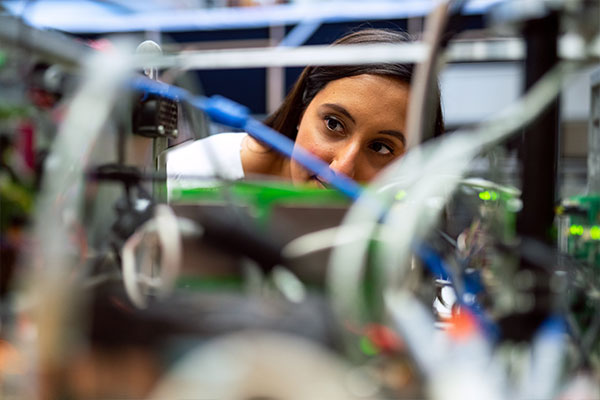 What can I do?

Electrical engineer
Applications engineer
Controls engineer
Systems engineer
Where can I go?

ArcelorMittal USA
John Deere
Subaru of Indiana Automotive
Caterpillar
The electrical engineering technology program is accredited by the Engineering Technology Accreditation Commission of ABET, http://www.abet.org.
WHERE TO STUDY

This degree is offered at the following locations:
ADDITIONAL INFORMATION