Realizing the Digital Enterprise

Student Involvement

Do you like to solve problems and use technology to improve the world around you? Even if you're just getting started on the path to your Ph.D., there may be a place for you on our interdisciplinary research team. We would be delighted to chat with you in person or over the phone about opportunities for graduate study and research.
Contact us today to learn more
Relevant RDE Graduate Courses

Cloud Computing & Data Analytics - 21098 - CNIT 48101 - 001, with a lab component: (CIT 48101 – 002) [Hacker]
"Programming Robots in ROS" is proposed as MFET 642. It is currently available as prototype class ECET 581 [Voyles]
CGT 670 Applications in Visual Analytics [Chen]
SOET – developing 600 level Metrology course [McNally]
ATT – developing 600 level Bayesian inferential statistics for transportation course [Mott]
CNIT 623 – Applied Machine Learning [Yang]
Join alumni who now work at:

» ExxonMobil
» JPMorgan Chase
» Lockheed Martin
» Pratt & Whitney
» Google
» Microsoft
» Rolls Royce
» Toshiba
2018 RDE Graduate Student Poster Session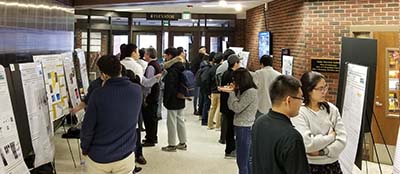 Shown: best poster award recipients with Gary Bertoline.