Technological advances like artificial intelligence, automation, and digitalization are changing the work landscape and displacing workers at all levels. Organizations are critically suffering from the lack of employees who possess competencies needed to excel in a rapidly changing workplace while increasing numbers of unemployed or underemployed individuals cannot adequately support themselves. Neither decision-makers nor researchers fully understand the interconnected factors or solutions that will enable society to successfully take advantage of these technological advances. Therefore, we will scientifically study the intersection between work, learning, and technology to enable an inclusive and cutting-edge workplace of the future through participation, engagement and lifelong learning.
Projects Faculty Faculty Mentored Student Research
Current Projects


The creative and ill-structured nature of graphic design tasks creates difficulty in terms of assessment validity and reliability. Further, best practices in teaching and assessment are hampered by issues around scalability and efficiency. Finally, increasingly validated indications that good design(s) may be a function of a group consensus rather than the opinions of a few extensively trained individuals, have all led to an increased emphasis on researching new approaches to improving graphic design education.

HapTutor-Lab: Promoting Complex Learning in STEM Domains through Intelligent Tutors and Haptic Feedback.
There has been a breakthrough in recent years concerning artificial talking head agents that can have a conversation with the human learning in natural language in the form of intelligent tutoring systems. Faculty members are leading a project to integrate two lines of research.

Drs. Bartholomew & McGraw and Mr. Charlesworth hypothesize that some of the struggles with data-driven decision-making instruction stem from the lack of context and real-world application for students (Merrill, Custer, Daugherty, Westrick, & Zeng, 2009). Further, they believe that placing students in positions requiring data-driven decision approaches may increase the effectiveness of these experiences and foster student interest in pursuing related education and careers.
Involved Faculty Expertise

Computational Thinking & Cyberlearning
STEM Education Research
Design
User Experience
Organization and Leadership
Workforce Development
Select Faculty Scholarly Activities

Reference Documents

Faculty Fellows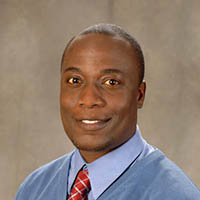 Paul Asunda
associate professor of technology leadership and innovation
Luciana de Cresce El Debs
assistant professor of construction management technology
"It is critical to study future work and learning and their implications so that we can rigorously explore potential directions and identify effective practices to harness our human potential and contribute to our nation's competitiveness."
Explore our research impact areas