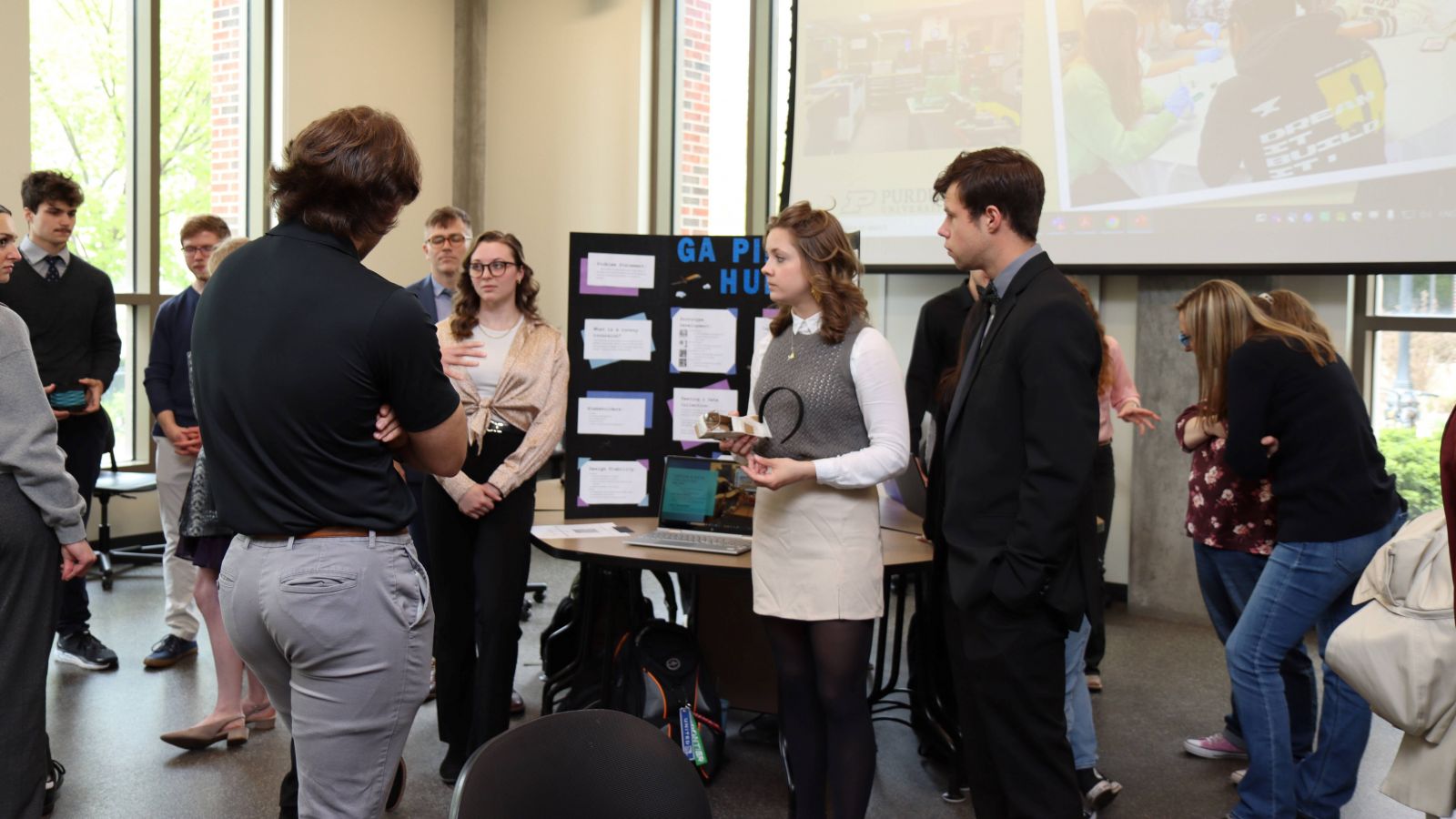 On April 28, more than 30 students competed in the Design and Innovation Challenge, the culminating event of Purdue Polytechnic's academic minor of the same name. Hosted in the Wilmeth Active Learning Center, students in the minor showcased their products designed to solve problems with novel technology.
The Design and Innovation Challenge functions as a reward for student effort, and as a useful indicator for how business-viable their ideas really are. A recent case-in-point comes from a 2019 winning student group that recently patented their product.
Brock Langley, Zackary Roth and Jackson Williams recently got their business called FreedomWare LLC off the ground with a product originally showcased at the 2019 Design and Innovation Challenge. The team created the seal spoon, a utensil designed to help individuals with impairments that might make eating with traditional kitchenware difficult. The creators stated that their team began as "a randomly assigned group" from TECH 12000 who ended up "[becoming] passionate about the cause of helping those with dexterity disorders." In 2019 they received the crowd favorite award in the Design and Innovation Challenge; four years later, a successful patent application has allowed them to get the seal spoon to market.
2023's student group looked for similar feedback during the April 28 event. Between all Design and Innovation courses, a grand total of $15,000 was given to the most innovative student teams. This financial incentive is designed to help the creators pursue their ideas as a business enterprise.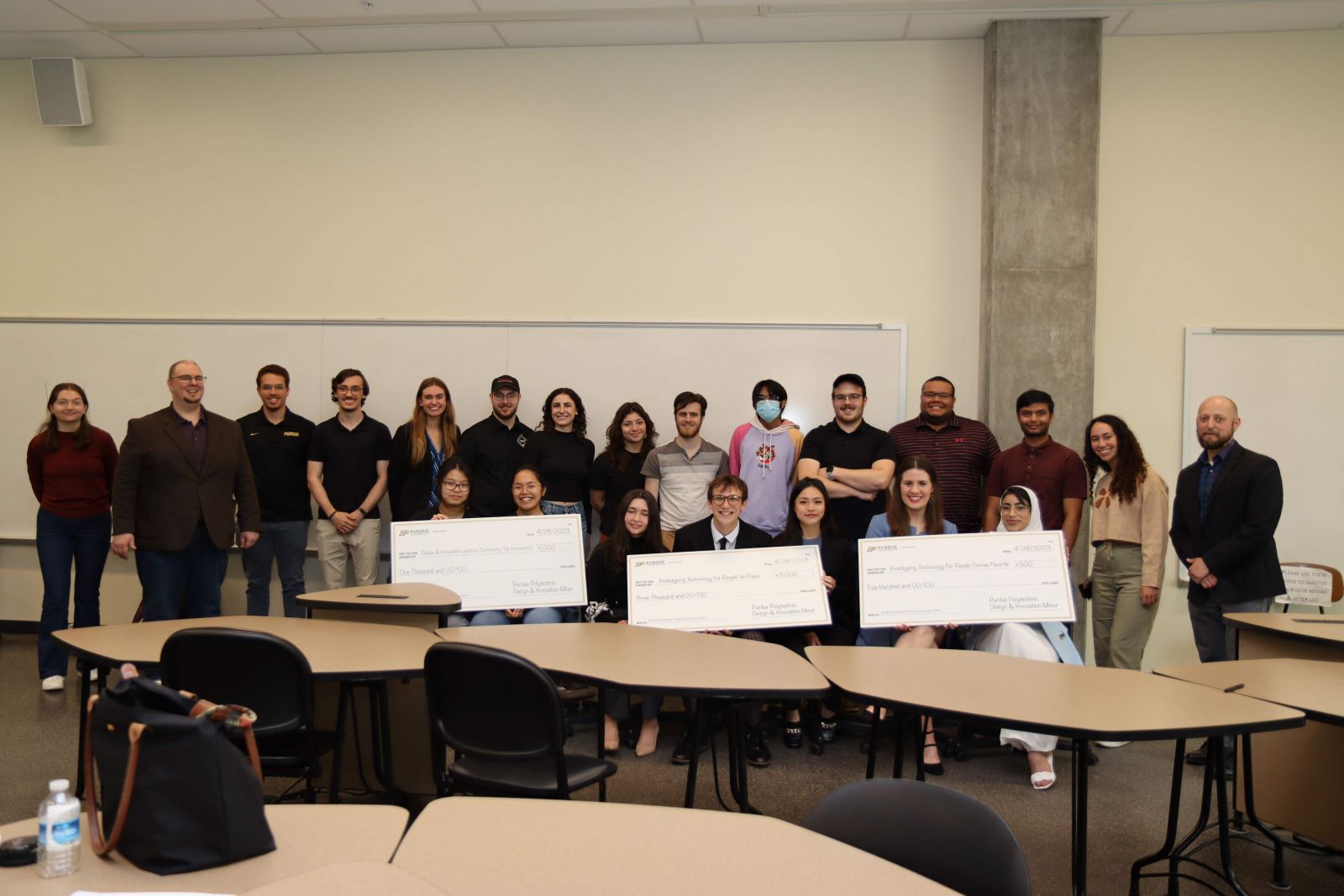 TECH 12000

This course, billed as "Design Thinking in Technology," prepares students with the foundational skill set needed to conceptualize their own problem-solving inventions. Course curriculum indicates that students must "demonstrate the ability to recognize opportunity and to take initiative in developing solutions applying the principles of human centered design."
First place: Electromyography Mouse
This team was comprised of the following students:
Daniel Bryan (Aeronautical Engineering Technology)
Ethan Erickson (Interdisciplinary Engineering)
Milo Pineau (Mechanical Engineering Technology)
Scott Rueben (Manufacturing Engineering Technology)
The team's product is a computer mouse designed to help individuals with limb disabilities navigate a desktop or laptop through electromyography. Electromyography uses electrodes attached to the skin to convert muscle contractions into electrical signals. In effect, an individual can control and click a computer mouse via an electrode sleeve attached to the forearm, with no actual clicking movement required.
Team lead Ethan Erickson stated sought "a more intuitive and engaging experience while mapping [movements] on a limb." This could be especially useful for children with limb difference who have to use a computer, as Erickson stated the mouse could help children overcome frustration or attention span difficulties during the muscle-mapping process.
Crowd Favorite: Pilot HUD
The crowd favorite, as voted by the general public, was made by a team comprised of the following students:
Robbie DeVergillo (Aviation Management)
James Drury (Electrical Engineering Technology)
Andrew Pagan (Aviation Technology)
Carissa Seneczko (Aviation Technology)
Ashley Trudeau (Aviation Technology)
"The General Aviation Pilot HUD is a solution to one of the biggest safety threats that we face as pilots: runway incursions. A runway incursion is when two or more aircraft are on the same runway when they are not supposed to be," said Andrew Pagan. He added, "We set out to make something that could display more information to a pilot without taking away their view of the runway. [We sought] increased situational awareness without adding distractions. This led us to develop a heads-up display that a pilot can wear."
The team's headset is capable of taking information about obstacles in the plane's path and displaying it through wearable glasses. The team is in further discussions about not only adding more in-depth object recognition, but also further reducing costs in order to make the Pilot HUD a more attractive option to companies.
TECH 22000

Called "Designing Technology for People," TECH 22000 is a Purdue Polytechnic collaboration with the Department of Anthropology in Purdue's College of Liberal Arts that "brings together perspectives from technology and anthropology to address this by exploring ethnographic studies of people and technology interactions." This allows for the students to reach the next step in advancing product designs, as they are meant to practice "problem scoping skills … to identify and define problems and begin to generate appropriate design solutions."
First Place: Helping Pilots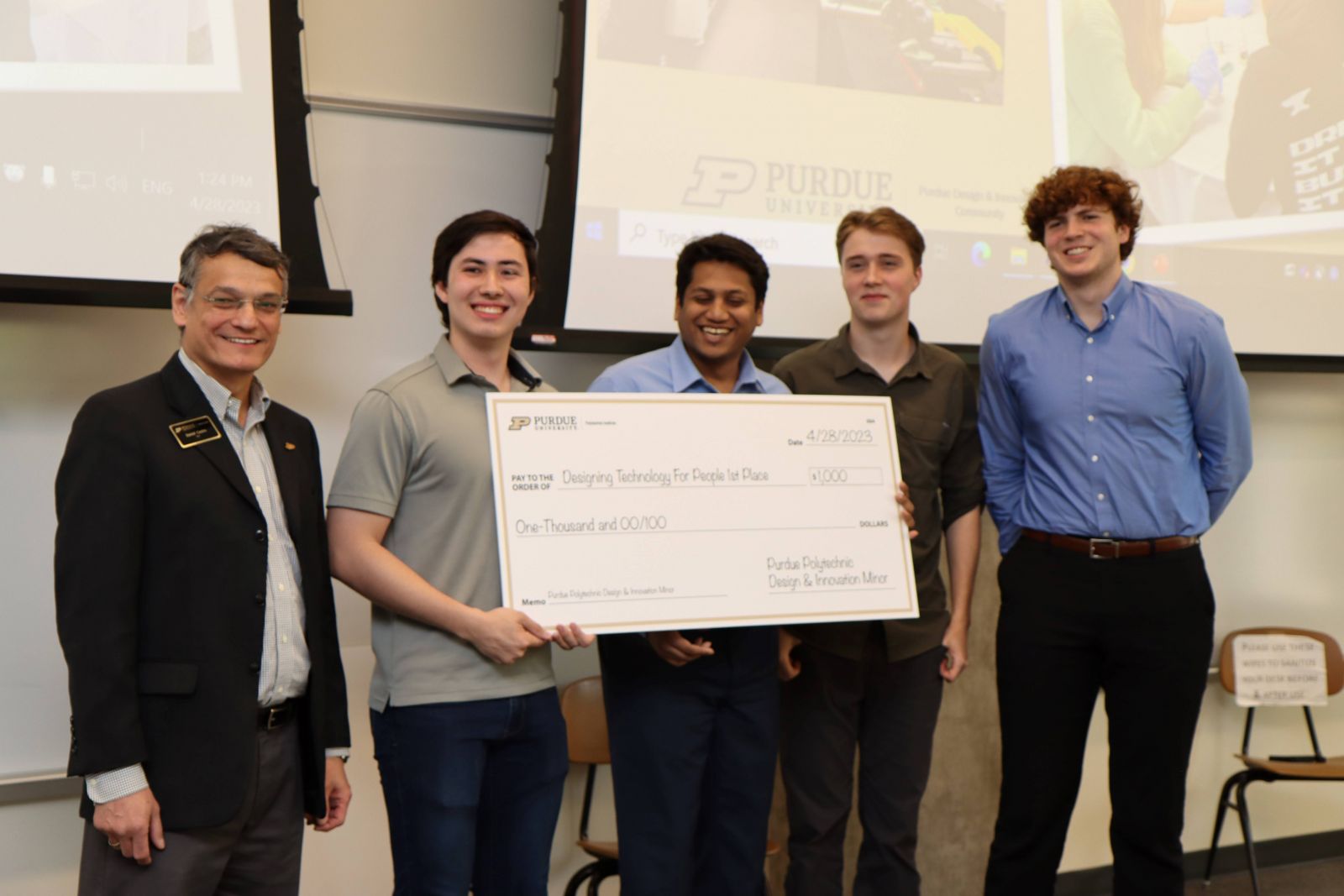 This team was comprised of the following students:
Tristen Brideweser (Applied Mathematics)
Pert Burns (Professional Flight Technology)
Will Shumway (Anthropology, Economics)
Harsh Singhal (Economics, Entrepreneurship and Innovation)
The Helping Pilots team designed a product to prevent fuel waste in the aviation industry. Most useable fuel for planes is in fact stored in their wings. Even when fuel is stored correctly, the team found that leaking still occurs. Their presentation stated that "planes are fueled in cooler weather [and then] brought into warmer environments." The temperature change makes the fuel expand, and inevitably causes a leak.
In order to combat this issue, the team designed a unique fuel cap to fit on the wing which makes collection and re-storage possible. Without it, leaked fuel would be completely lost. The team estimated that Purdue University may lose around "$65.20 per day, and up to $23,798.00 per year" in lost fuel during normal operations. Since the members each came from separate disciplines, they had a laundry list of potential ideas before determining that this fuel loss problem was a serious, meaningful issue for pilots that inventors hadn't made a concerted effort to solve.
TECH 34000

This final course in the Design and Innovation minor is called "Prototyping Technology for People," a Daniels School of Business collaborative that calls for students to create "iterative prototypes [of products providing] innovative solutions." The students seek to solve industry-relevant problems of their own choosing by creating products that are prototyped and tested throughout the semester.
First Place: Nudge
The winning team was made up of:
Brady Hawk (Industrial Design)
Cecilia Sanchez (Industrial Design)
Shannon Su (Industrial Design)
"We realized that there's a large group of people [with sustained hearing loss] that basically need a new way to receive non-auditory alerts," commented Brady Hawk, one of the three industrial design majors who created the Nudge device. He explained, "We wanted to create something that was simpler to use [than competing products like smart watches.] … Nudge is simpler – it's a wearable patch that can be placed anywhere on the skin, and it's really low-profile. It basically takes any input signal and converts it from an auditory alert into a tactile response that the user can feel through the patch."
The Nudge team originally pitched their product at the Spring 2023 Moonshot Competition at Purdue's Burton D. Morgan Center for Entrepreneurship. It was chosen as a winning pitch. At the time they envisioned Nudge primarily as a wake-up alarm for users with hearing impairment, as a traditional alarm clock would prove inadequate. But Hawk indicated that his team sees "use cases across different industries as well."
Crowd Favorite: Scholarable
The favorite among the student population was Scholarable, a team comprised of:
Bridget Arnold (Anthropology, Organizational Leadership)
Baylasan Al-Shubbar (Cybersecurity)
"We were both in student organizations where, as seniors, leadership turnover was going to become a big logistical problem," said Bridget Arnold. "You know, Slack already exists, BoilerLink already exists, but we needed something that was really designed to make the transition to the next generation of leadership easier."
Arnold continued, "We wanted our app to really get into the nitty-gritty of passing along information – passwords, meeting minutes, document access, team charters, bylaws, things of that nature. There are things that should make it through the transition, but if you have no formal training or if this is your first leadership role you might need something to guide you through. So Scholarable consolidates all of the info that new teams might need on one platform, rather than having it distributed around a dozen different places where it isn't easily accessible."
About the Design and Innovation Minor
The Design and Innovation Minor is 15 credits, with a core sequence of three courses: TECH 12000 (Design Thinking in Technology), TECH 22000 (Designing Technology for People) and TECH 34000 (Prototyping Technology for People). TECH 22000 is offered in the spring semester and is the next step for students pursuing the minor after TECH 12000. More information can be found online.
Additional Information