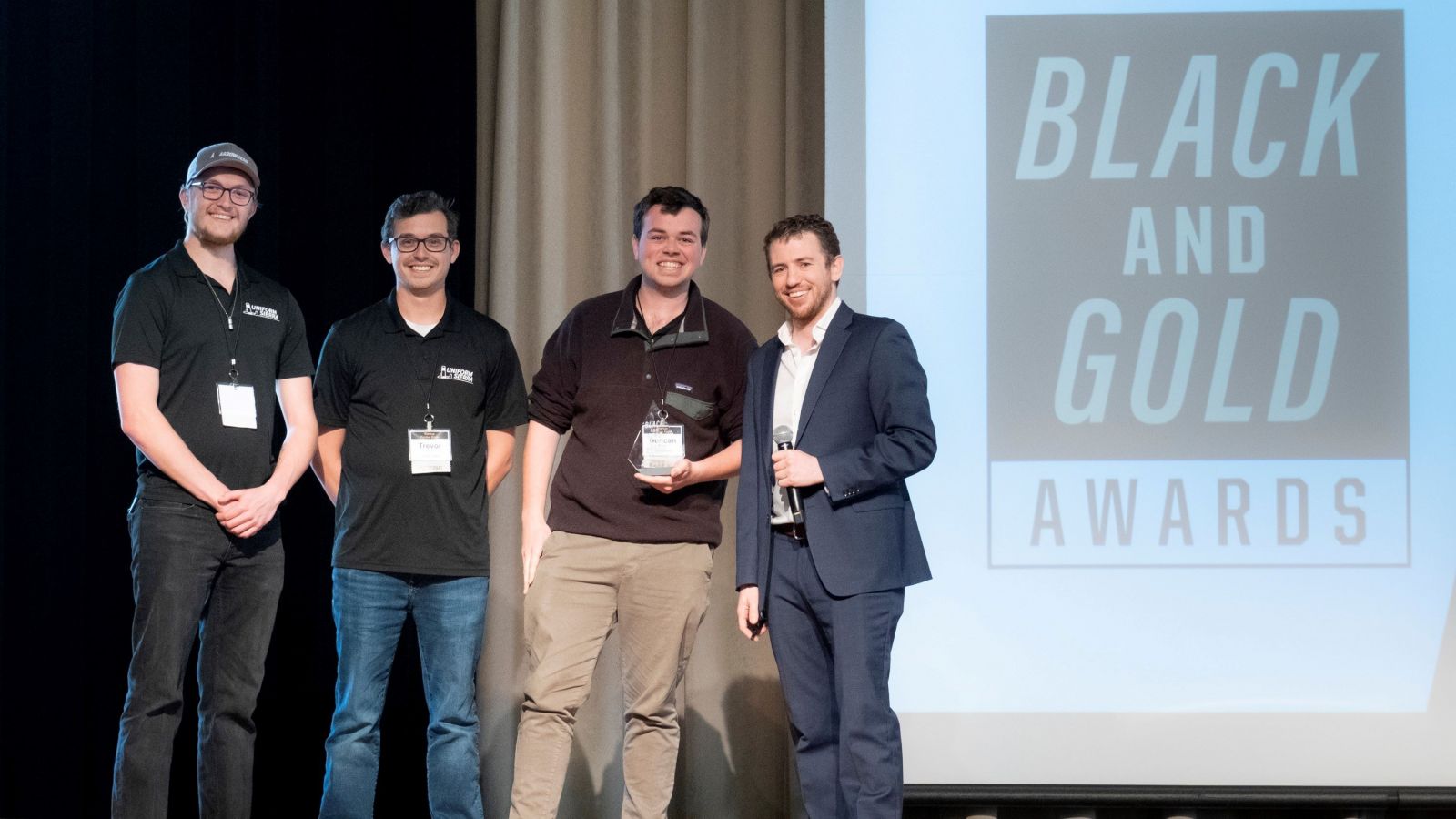 As reported by the Purdue Research Foundation, Purdue Innovates Startup Foundry awarded $100,000 to Uniform Sierra Aerospace, a startup founded in part by alumni of Purdue Polytechnic. The Startup Foundry's mission is to teach and assist startups as they prepare to scout their for own venture capital investments.
Uniform Sierra Aerospace is a drone manufacturer for public safety departments. Purdue alumni Duncan Mulgrew, Trevor Redpath and Jeremy Frederick founded the company. Mulgrew and Redpath (CEO and COO respectively) are both graduates of Purdue Polytechnic's program in unmanned aerial systems, an offering from the School of Aviation and Transportation Technology that teaches graduates to be drone technology experts.
After winning $100,000 from the biannual Black and Gold Awards pitch competition, Mulgrew said the Startup Foundry investment will aid Uniform Sierra Aerospace's future fundraising efforts.
"It has been challenging to raise venture capital, given the vast majority of funds are exclusively focused on business-to-business SAAS (Software as a Service) companies," Mulgrew said. "Having the backing and the name Purdue in our raise has helped us both to get the money we need for the current stage and trajectory of the business and to close some other investments faster."
The Startup Foundry provides companies who are founded by alumni or affiliated with Purdue in some meaningful way with "non-dilutive" funding. This means the Foundry grants monetary awards, rather than asking to own a percentage of the company in exchange for funding.
Mulgrew said Uniform Sierra Aerospace is moving into a new production facility in the Purdue Technology Center, a business incubator in the Purdue Research Park of West Lafayette.
"This will allow us to greatly improve the production rate of our aircraft," Mulgrew said. "Right now, manufacturing speed and space are our largest limiting factors; this will be a massive improvement for us. We are on track to deliver more than 32 full systems to users this year."
In addition to early-stage funding, the Startup Foundry also helps prepare startups future rounds of seed funding by providing "entrepreneur-in-residence support, enhanced pitch coaching [and] graphic design services."
The next Black and Gold Awards competition is scheduled for the fourth quarter of 2023. The competition is industry-agnostic, meaning that Purdue-connected startups across all industry sectors are encouraged to apply.
Read the full story from Purdue News Service.
Additional information